Introduction
On the back of a couple of recent reviews (here, here and here), we've developed a fair amount of admiration for Gigabyte's line of Super Overclock graphics cards.
The premium variations on either NVIDIA or AMD products tout "top performance" and "insane speed" from the very best cherry-picked components, and from what we've seen thus far, they tend to deliver.
But such high-end modifications are begging to be applied to the best GPUs available, and while the Super Overclocked GTX 460, GTX 470 and GTX 560 have all impressed, many will have waited for this; the Super Overclocked GTX 580.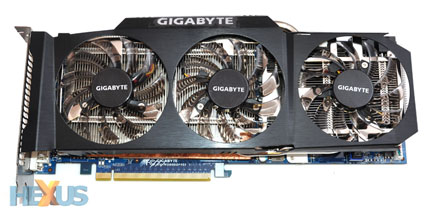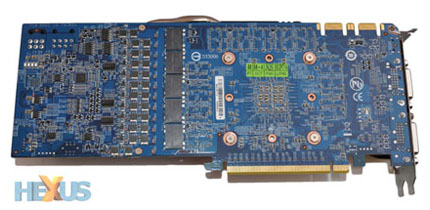 By giving NVIDIA's fastest single GPU the coveted Super Overclock (SOC) treatment, Gigabyte has created one of the very best factory-overclocked GTX 580s currently available. It's mighty powerful right out of the box, it's comfortably cooler under load than NVIDIA's reference design, and it continues to overclock like a dream, too.
But with a price tag that's likely to be in the region of £450, it's roughly £80 more expensive than a regular card, and the SOC isn't the only variant on the market - it's up against competing solutions that have opted to imbue the GTX 580 with a 3GB frame buffer; double NVIDIA's standard specification. Gigabyte might have missed a trick in sticking with the default memory allocation of 1,536MB, but there are plenty of other tricks up the SOC sleeve.
GTX 580 Super Overclock laid bare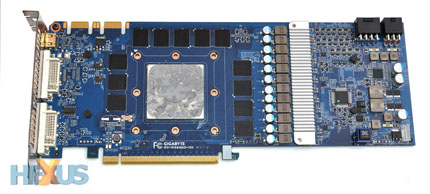 Measuring 275mm in length, Gigabyte's trademark blue PCB is fractionally longer than NVIDIA's default 267mm board, and Gigabyte's making good use of the space by implementing all of its usual enthusiast-orientated goodies.
Out the box, the 580 SOC is shipped to run with its GPU clocked at a blazing 855MHz (up from 772MHz), its 512 CUDA cores running at a swift 1,710MHz (up from 1,544MHz) and a 1.5GB GDDR5 frame buffer operating at an effective 4,100MHz (up from 4,008MHz). That makes this one of the fastest GTX 580s on the market.
Supplementing all that speed is a 14 phase PWM design - each with individual LED status indicators - a voltage read point, and a 40nm Fermi processor that has passed through Gigabyte's GPU Gauntlet Sorting process.
By cherry-picking the very best GPUs for its Super Overclock line, Gigabyte practically guarantees a fair amount of additional overclocking headroom and beefs up the card's tweaking potential by including its own Extreme Dual BIOS technology. The latter, toggled via an on-board switch, makes use of two integrated BIOS chips - the first carrying the default SOC BIOS, and the second equipped with an LN2 BIOS that's specifically designed to avoid any potential cold bug issues. Pretty niche stuff, but useful if you're planning on cracking open a bottle of liquid nitrogen.
As you'd expect, Gigabyte has also adorned the card with a bevy of niceties - including a 2oz copper PCB, tier-one Samsung memory, Ferrite cores, Japanese solid capacitors and support for three-way SLI - but what's really likely to set this card apart is the WindForce 3X cooler.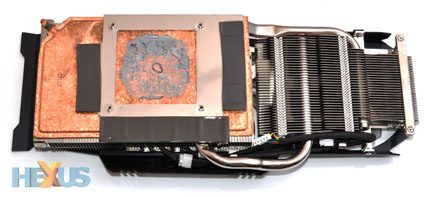 Consisting of two 8mm-thick copper heat pipes, a large 140mm x 86mm vapour chamber and an array of card-encompassing aluminium fins, the WindForce cooler is a dense amalgamation of metals that give the card a total weight of 922g.
It's a mighty meaty heatsink, and it's kept cool by a trio of "ultra-quiet PWM fans" with outward-inclined fins. If it all looks familiar, it's because a similar design was employed by last year's GTX 480 version. Why spoil a winning formula?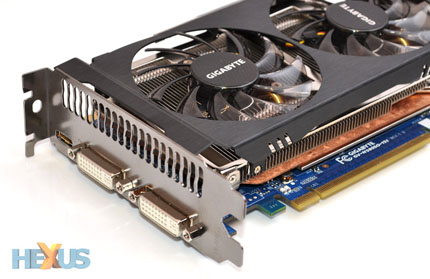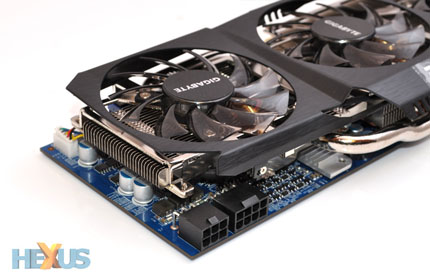 Finished neatly with a pair of dual-link DVI connectors alongside a single mini-HDMI v1.4a port, the card carries NVIDIA's default selection of connectivity options and the same six-pin and eight-pin PCIe power connectors.
Is it the card enthusiasts have been waiting for? Let's find out by seeing how it performs, how well it cools and how far it overclocks.