Gigabyte GeForce GTX 550 Ti OC
In keeping with recent NVIDIA launches, add-in-board manufacturers are being given the freedom to customise the GeForce GTX 550 Ti as they see fit.
NVIDIA proudly proclaims that the card "overclocks to 1GHz", so there's plenty of headroom available and Gigabyte's using it to deliver the GTX 550 Ti OC.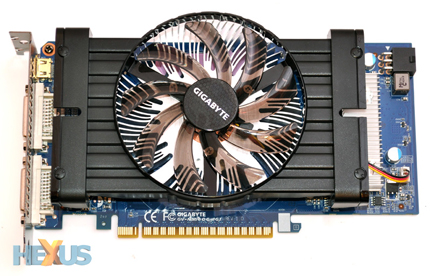 The pre-overclocked twist on NVIDIA's reference design fetches £130 at retail and attempts to justify its £10 premium by vowing to run six per cent quicker and almost nine per cent cooler than NVIDIA's reference design.
On the speed front, Gigabyte increases the core clock from 900MHz to 970MHz, while the 1GB GDDR5 frame buffer is boosted to run at an effective 4,200MHz (up from 4,104MHz).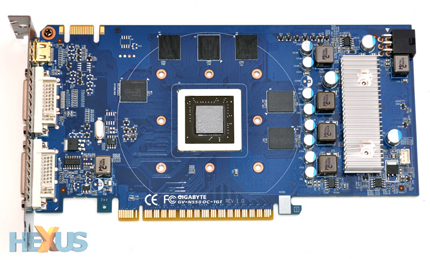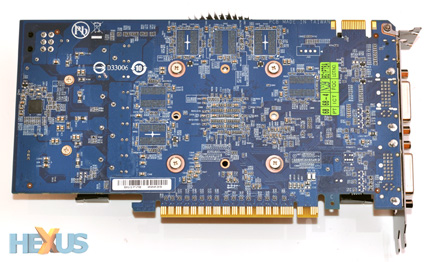 It's a simple-looking board, but you do get Gigabyte's promise of "Ultra Durable" components - including a 2oz copper PCB, tier-one memory, Japanese solid capacitors and ferrite chokes.
A single SLI connector paves the way for dual-GPU configurations, and at under £130, a pair of GTX 550 Ti graphics cards represent an affordable route to SLI performance.
Fairly standard stuff under the skin, but it's what sits on top that sets Gigabyte's card apart.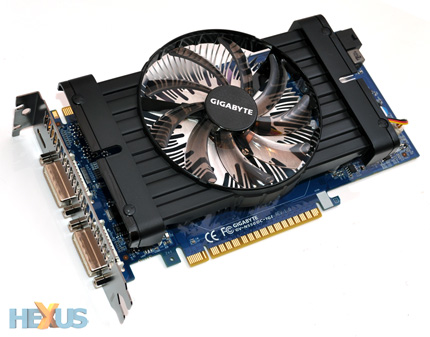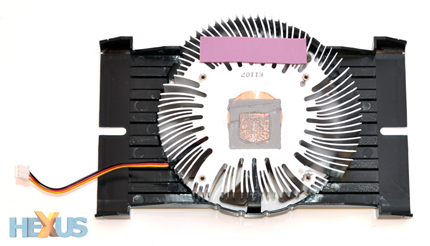 A large 10cm PWM fan - attached to a chunky circular heatsink - is on hand for cooling duty, and its size suggests that Gigabyte's design will run both cool and quiet under load. Without spoiling the benchmarks later on, the cooler's really rather good.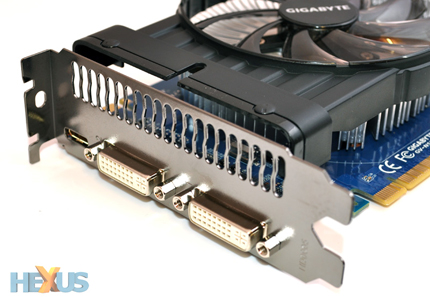 There's no change to the board's I/O panel, though. Sticking to NVIDIA's default configuration, the board's trio of connectivity options include dual-link DVI and a mini-HDMI port.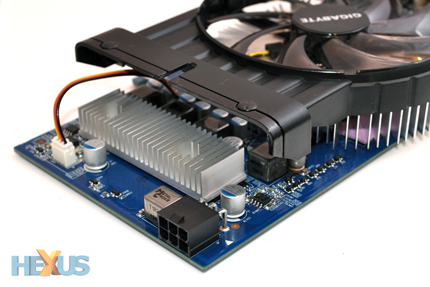 And, thanks to the GTX 550 Ti's frugal 116W TDP, the card requires just a single six-pin PCIe power connector.
As you'd expect from Gigabyte, the board looks well built and more than adequately cooled. The factory overclock is a bonus, but there could be a major stumbling block; cost. At £130, Gigabyte's GeForce GTX 550 Ti OC is stepping mighty close to GTX 460 1GB territory - and the latter's almost certain to be the better performer. Let's find out, shall we?