Introduction
Knowing that NVIDIA's GeForce GTX 560 Ti has ample overclocking headroom, a slew of custom-cooled and pre-overclocked derivatives were always on the cards.
We've already seen Gigabyte hit 1,000MHz on the core with its Super Overclock version, and KFA2 has left us impressed with a LTD OC model that hums along nicely at 950MHz.
Today, we're turning our attention to MSI's answer to the custom-cooled GTX 560 conundrum; the N560GTX-Ti Twin Frozr II/OC.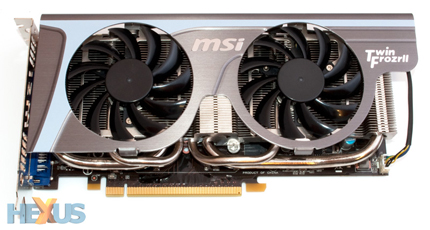 Look just a tad familiar? It should, as MSI has adopted largely the same design as 2010's GTX 460 HAWK. But that's no bad thing. By employing the same Twin Frozr II cooler on a custom PCB, MSI's card should in theory run both cooler and quieter than NVIDIA's reference design.
Completing the holy trinity, the N560GTX-Ti Twin Frozr II/OC is faster than reference, too, shipping direct from the factory with its core clocked at 880MHz (up from NVIDIA's default 822MHz) and its 1GB GDDR5 frame buffer running at an effective 4,200MHz (up from 4,008MHz).
That's actually slower than the Gigabyte and KFA2 cards we've already looked at, but MSI has an advantage - its Twin Frozr II/OC is the cheapest of the lot, priced at around £215. But that's roughly £20 more than a bog-standard, stock-clocked card, so what do you get for your money?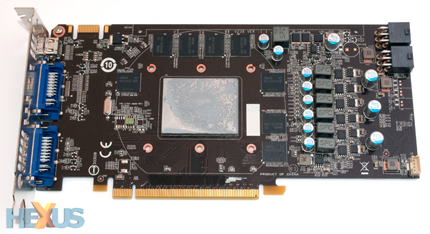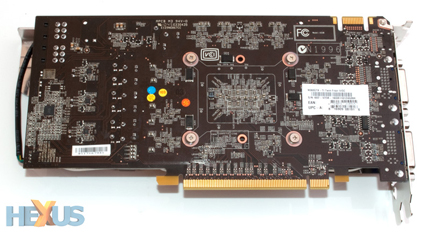 Let's start under the skin. Aware of the fact that many enthusiast users are going to want to push the Twin Frozr II/OC that little bit further, MSI's 238mm-long card makes use of a 7+1 phase power design and all the usual "Military Class II Components" - including super ferrite chokes and Hi-c CAP capacitors.
Sitting atop of the GF114 core is the meaty Twin Frozr II cooler.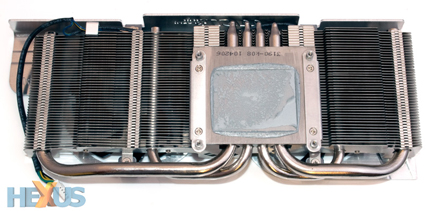 Making direct contact with the GPU through a large nickel-plated copper base, MSI's heatsink dissipates heat through two 6mm and two 8mm heatpipes connected to a large, thick slab of card-encompassing aluminium fins.
Airflow is provided by a pair of 80mm PWM fans, and if recent opinions of the Twin Frozr II are anything to go by, this should make for an excellent GTX 560 cooler.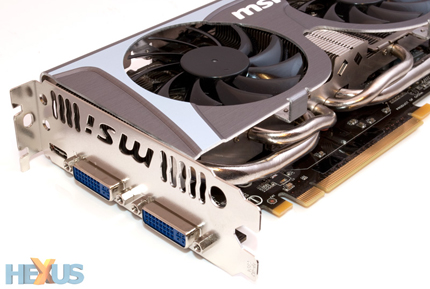 There's no change in terms of connectivity options, with MSI sticking to two dual-link DVI ports and mini-HDMI, and the card is fed by two standard six-pin PCIe power connectors.
The N560GTX-Ti Twin Frozr II/OC will of course be a tad quicker than NVIDIA's reference card, but what we're really interested in seeing is the performance of the Twin Frozr II cooler. Can MSI's card drop operating temperatures significantly, and if so, how far can the card be overclocked? Those are the questions we'll be answering later in the review. First, let's run a couple of games.