A different take
What to buy?
A question we're often asked is how much should one spend on a graphics card in order to deliver a solid gaming experience for today and tomorrow? The answer is becoming more difficult as AMD and NVIDIA jockey for position, releasing new GPUs at an ever-increasing rate. Any attempt to provide sage buying advice must, in 2011, also take into account the value offered by multi-GPU setups, where two, or more, cards are tied together for near-perfect scaling.
Erring on the side of caution and looking at historical price points, spending £200 has always enabled you to purchase a quality GPU. The Radeon HD 5850 and GeForce GTX 260 are just two recent examples in a line that can be traced all the way back to a Voodoo 2 16MB card for this particular reviewer.
NVIDIA's best £200 GPU right now is the GeForce GTX 560 Ti card, released just over a week ago. Building on the fundamental strengths of the GTX 460 1GB and primed for serious partner-based overclocking, Gigabyte has already shown that the architecture has serious legs.
GTX 560 Ti the KFA2 way
Segueing nicely, NVIDIA partner KFA2 has been making a name for itself by releasing genuinely custom-designed GPUs in the previous six months. Epitomised by the single-slot-cooled GTX 460 1GB and soon-to-be-reviewed WiFi GTX 460, we were keen to see what it could do with the GTX 560 Ti.
KFA2's current 560 Ti catalogue spans two cards - the EX OC and LTD OC - that are wholly non-reference in design. The cooler one of the two is the latter, so let's have a peek.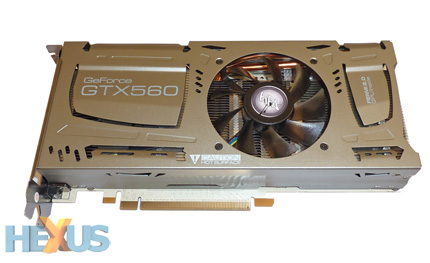 Based on a vanilla-coloured PCB - well, KFA2 calls it white - and using a custom cooler the Limited nomenclature is well-deserved. The industrial-looking design of the aluminium cover - complete with in-view heatpipes, vents, and aluminium fins - looks good and should appeal to folk who have modded chassis. Measuring the same 9in and using a dual-slot cooler as the reference card, it'll fit into most regular cases just fine.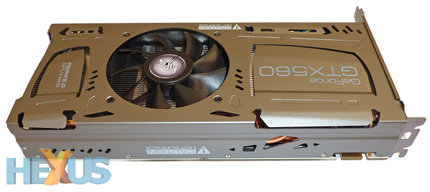 If one of the screws holding the aluminium cover wasn't completely burred we'd show you a picture of the four thick heatpipes that run through a large copper block and out to huge aluminium fins that extend almost the length of the card. What's more, a separate chunky heatisnk covers the hotter-running components on the right-hand side, though there's no explicit cooling for the memory.
We know that a regular 560 Ti is clocked in at 822MHz core and 4,008MHz memory. KFA cranks this up to 950MHz and 4,400MHz, respectively, leading to a stock clock that's considered above average for the GPU. However, folk looking to push it even further are advised that the card does not feature GPU voltage adjustment - at least from KFA2's Xtreme Tuner HD software, anyway.
KFA2 indicates that it brings together a number of technologies aimed squarely at the enthusiast market, including the use of Sanyo capacitors, eight-phase PWM, four NEC film capacitors (Proadlizers), voltage-measurement points, and super-fast GDDR5 memory rated at 0.4ns. That's a lot of information to take in, but going by the recent trend of enthusiast-orientated cards, notably led by Gigabyte, the feature-set on the LTD OC can be considered generous.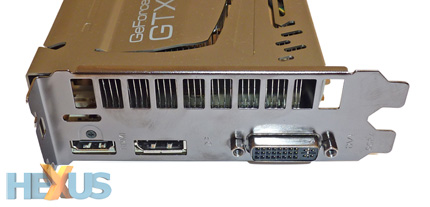 KFA2 also deviates away from the reference design with the choice of outputs: the LTD OC removes a dual-link DVI port in favour of a centrally-located DisplayPort connector.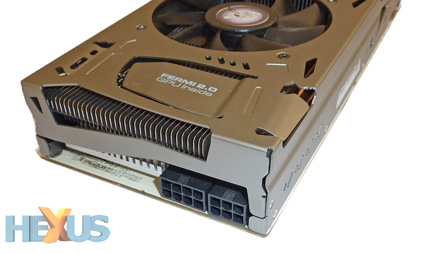 One of the reference card's twin six-pin PCIe connectors is upgraded to an eight-pin. The reason for doing so is, we believe, to remove any possible power limitations that might come into play when pushing the already-overclocked card even further: good, sensible design.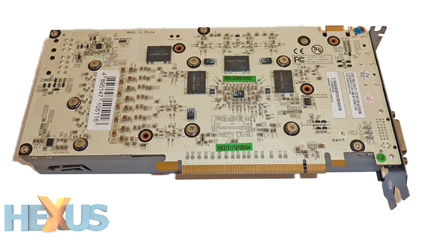 Note the NEC film capacitors and cooling-looking PCB?
First-page summary
KFA2 comes out all guns blazing with the Limited Edition GTX Ti 560 that's high on features and aesthetics. Sensible design and a plethora of enthusiast-friendly features mean that, at first glance, it has all the feature-boxes ticked. Priced at £240 and attracting a 20 per cent premium over bone-stock cards, let's examine if it's worth the extra expense.