Introduction
You wait months for Gigabyte to give NVIDIA's Fermi architecture the coveted Super Overclock treatment, and before you know it, you've got not one but two products to choose from.
Following on from last month's award-winning GeForce GTX 470 Super Overclock, the Taiwanese manufacturer is now trickling out a Super Overclock'd take on NVIDIA's mid-range crowd pleaser, the GeForce GTX 460.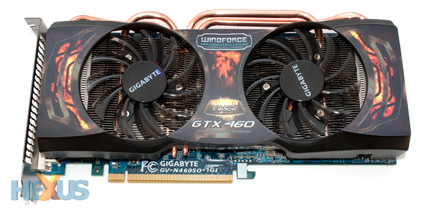 Now you're probably thinking this is just the latest addition to a long line of pre-overclocked GTX 460s, and in a way, that's true, but Gigabyte's GTX 460 Super Overclock stands out. Instead of just attaching a few stickers, applying a little extra voltage and shipping with higher out-the-box frequencies, Gigabyte's card is built from the ground up and claims to offer 20 per cent better performance, 19 per cent lower temperatures and an 8 per cent reduction in power consumption when compared to a reference model.
Shipping with a core clocked at 815MHz (up from a reference 675MHz) and a 1GB GDDR5 frame buffer operating at an effective 4,000MHz (up from NVIDIA's default 3,600MHz), it isn't the fastest pre-overclocked GeForce GTX 460 on the market, but then at £175 it isn't the most expensive, either. Putting the price tag into perspective, that's roughly £20 more than a stock-clocked card, and you seem to be getting plenty more for your money.
And we're not just talking higher frequencies. Using a custom PCB (printed circuit board), Gigabyte's GeForce GTX 460 Super Overclock measures a sizeable 242mm in length - that's over 30mm longer than NVIDIA's reference design, and about the same size as the high-end GeForce GTX 470. Tipping the scales at 623g means it's 42g heavier than a standard 460, too.
As you'd expect, Gigabyte arms the card with many of the niceties you come to expect from its Super Overclock line, the most obvious of which is the WindForce 2X cooler. Utilising a duo of anti-turbulence inclined-fin fans, the cooler - which also features four copper heatpipes and a card-long array of aluminium fins - touts improved heat dissipation and lower temperatures whilst keeping noise levels below 32dB a full speed. It's every bit as impressive as it sounds, and we'll cover GPU temperatures in more detail a little later in this review.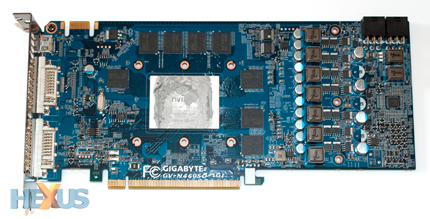 A quick look at the card's circuitry intimates that enthusiastic users are the target market here. In keeping with previous Super Overclock cards, Gigabyte's GTX 460 SOC features a 2oz copper PCB, tier one Samsung/Hynix memory, Japanese solid capacitors, ferrite-core chokes, an NEC Tokin Proadlizer that lowers electronic noise and increases power efficiency, and a seven-phase PWM design. That's six phases for the GPU - each with an LED status indicator - and one for memory.
Such is the design that Gigabyte's 815MHz factory overclock almost seems conservative, though raising that figure to 900MHz and beyond shouldn't prove to be too difficult considering the card's overclocker-friendly features. The GTX 460 SOC's GPU is cherry picked through Gigabyte's "GPU Gauntlet" sorting process, and voltage-checking points are conveniently located to the rear of the PCB.
In keeping with NVIDIA's reference design, the card provides a single SLI link for two-way GPU configurations and necessitates two six-pin PCIe power connectors.
Unlike most reference cards, the two six-pin power connectors are upward-facing, and the WindForce heatpipes protrude from the cooler by about 10mm - something to keep in mind if you're planning an installation in a low-profile machine.
We're admittedly not big fans of Gigabyte's blue PCBs, but this one is for the most part covered by a cool-looking shroud.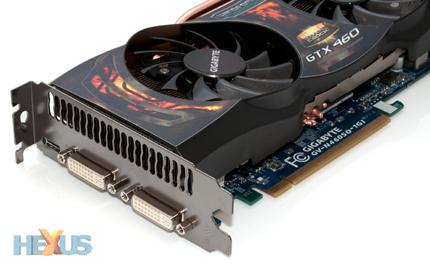 Nothing's changed on the back panel. Sticking with NVIDIA's standard array of outputs, the Gigabyte card provides a pair of dual-link DVI ports and a single mini HDMI connector.
Seems a solid bet at £175, and NVIDIA's currently sweetening the deal by throwing in a free copy of Tom Clancy's H.A.W.X. 2 with every GTX 460 purchase. Interested? Read on to see how well the Gigabyte GeForce GTX 460 Super Overclock fares.