Card appearance
The XFX GeForce 9600 GSO XXX Edition comes clocked at 680MHz core, 1,700MHz shaders and 1,900MHz for the 384MB GDDR3.
These represent massive increases of 23.6 percent on the core and shaders, and 18.8 percent on the memory, over the reference clocks of 550MHz core, 1,375MHz shaders and 1,600MHz memory. Naughty increases indeed, and we imagine that XFX has bought some of the very best binned cores.
The rear of the card is free from any additional memory chips. The most notable feature is the single SLI connector allowing for two-card multi-GPU fun.
The matte-finish black PCB has a highly tactile quality that makes it feel like a quality product.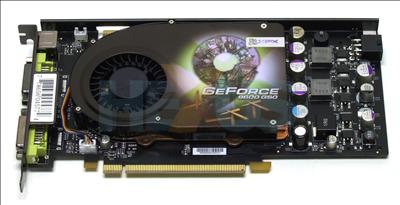 The cooler is a single-slot model, consisting of a copper heatsink and 50mm fan. The small, fast-spinning fan means that it is not particularly quiet, but it's certainly no dust-buster, either.
The top of the card has a metal support rail that adds rigidity.
In terms of power, the card requires a single six-pin PCIe connector, with XFX recommending the use of at least a 500W PSU for single-card operation, and 600W for dual-card SLI. Though if all PSU manufacturers were honest in their PSU output ratings, then we wonder if these recommendations could be overkill.
Output provisions consist of two dual-link DVI connectors and a TV-out. VGA and Component outputs are available via bundled adapters.