Meet the GeForce RTX 3070 Founders Edition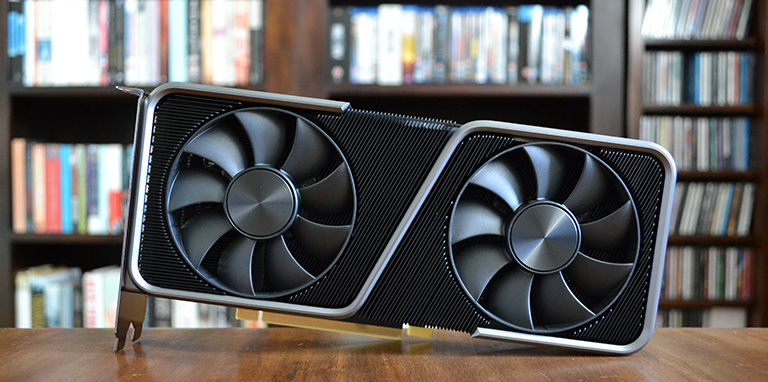 Ah, that stealthy black aesthetic first in evidence with the RTX 3080 FE. This model can reasonably be thought of as a smaller version of that card, and that is no bad thing.
Measuring 242mm long, 112mm high and taking up a strict two-slot form factor, the card is 43mm shorter than RTX 3080 FE. Tipping the scales at 1,036g, it's also 322g lighter, so there's no opportunity of card sag if screwed in properly.
Nvidia keeps to the shortened PCB of its stablemate but this time opts for a dual push-fan cooling solution instead, with the right-hand spinner blowing air over the card-wide heatsink, through the heatpipes, and out of the rear. Both spinners switch off at low loads, as well.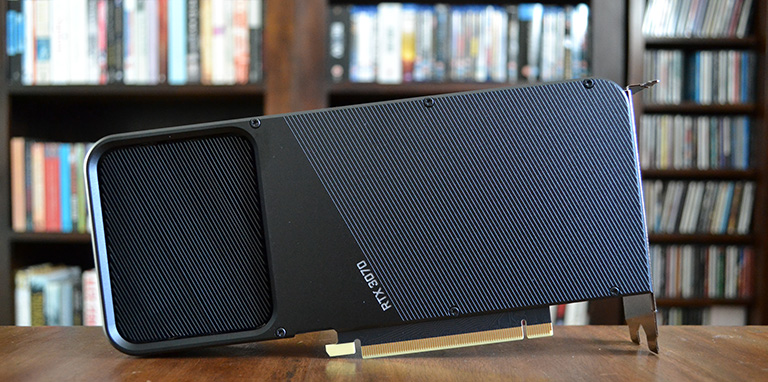 Build quality remains excellent, and we'd go so far as to say the design looks better than any partner card. Unlike RTX 3080, however, there's no white LED lighting ringing a couple of sections, which is a real shame as this card would look great with it.
The clean lines on the back indirectly tell you there's neither SLI capability nor a dual-BIOS switch. Partners may choose the latter on their premium designs.
Clocked in at the reference 1,725MHz boost speed, our sample actually hummed along at an average in-game 1,865MHz during testing.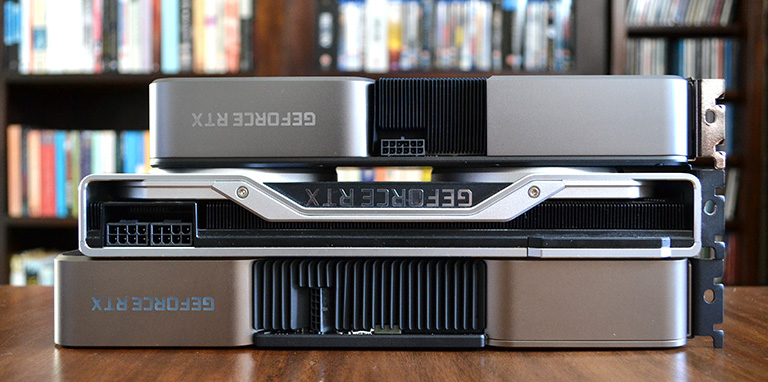 Its relative size is best evidenced by comparing directly to the RTX 3080 FE (bottom) and RTX 2080 Ti (middle). Nvidia's continued use of a really small PCB brings its 12-pin connector to the fore again. This time, it's rotated and more central. A 12-pin-to-8-pin connector is bundled in the box. Partners will use their own designs with regular connectors, most likely dual 8-pin.
As before, it would have been better to have the 12-pin connector on the other side, where one could hide the cabling - 8-pin from PSU and Nvidia connector - out of view for a really tidy build.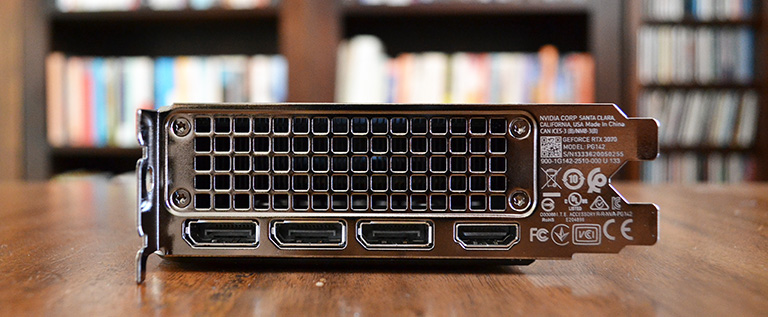 Outputs remain a standard arrangement of three DisplayPort and single HDMI. Being a member of the 30-series family means this model is also part of the Watch Dogs: Legion bundle.
A new, specific GPU and a $499/£469 price tag bode well for the RTX 3070's gaming aspirations. Time to fire up the benchmarks, don't you think.