Introduction
Renewed competition in the GPU marketplace has resulted in key players jostling for position with new models that pad out the respective product lines, leaving no price point left uncontested. This is the key contributor to Nvidia's burgeoning portfolio of Turing-based GeForce graphics cards, that now come firstly in either RTX or GTX flavours, each of which is then broken down into regular, Super or Ti variants.
Proving that there's still plenty of mileage left in the current-generation tank, today's release sees the GeForce GTX 1660 Super squeeze into the gap that exists between the GTX 1660 Ti and GTX 1660 cards launched back in Q1 this year.
GeForce GTX 16 Series goes Super

GPU

GTX 1660 Ti

GTX 1660 Super

GTX 1660

GTX 1650 Super

GTX 1650

GTX 1060

GTX 1050 Ti

Launch date

Feb 2019

Oct 2019

Mar 2019

Nov 2019

Apr 2019

May 2016

Oct 2016

Codename

TU116

TU116

TU116

TU116

TU117

GP106

GP107

Architecture

Turing

Turing

Turing

Turing

Turing

Pascal

Pascal

Process (nm)

12

12

12

12

12

16

16

Transistors (bn)

6.6

6.6

6.6

6.6

3.7

4.4

3.3

Die Size (mm²)

284

284

284

284

200

200

132

Base Clock (MHz)

1,500

1,530

1,530

1,530

1,485

1,506

1,290

Boost Clock (MHz)

1,770

1,785

1,785

1,725

1,665

1,708

1,392

Shaders

1,536

1,408

1,408

1,280

896

1,280

768

Peak GFLOPS

5,437

5,027

5,027

4,416

2,984

3,855

2,138

Memory Size (MB)

6,144

6,144

6,144

4,096

4,096

6,144

4,096

Memory Bus (bits)

192

192

192

128

128

192

128

Memory Type

GDDR6

GDDR6

GDDR5

GDDR6

GDDR5

GDDR5

GDDR5

Memory Clock (Gbps)

12

14

8

12

8

8

7

Memory Bandwidth (GB/sec)

288

336

192

192

128

192

112

ROPs

48

48

48

32

32

48

32

Texture Units

96

88

88

80

56

80

48

L2 cache (KB)

1,536

1,536

1,536

1,024

1,024

1,536

1,024

Power Connector

8-pin

8-pin

8-pin

TBC

-

6-pin

-

TDP (watts)

120

125

120

100

75

120

75

Suggested MSRP

$279

$229

$219

TBC

$149

$249

$139
On paper, the Super shares plenty in common with the regular GTX 1660. Indeed, the front-end of the card is equipped with an identical TU116 GPU comprised of 1,408 shaders clocked at up to 1,785MHz. Said chip continues to be tied to a 6GB frame buffer via a 192-bit bus, but the memory itself is what has changed. In order to achieve Super status, Nvidia has made the switch from 8Gbps GDDR5 to 14Gbps GDDR6, taking memory bandwidth from 192GB/sec on the GTX 1660 to 336GB/sec on the GTX 1660 Super. Quite a jump.
A 75 per cent increase is most welcome, and though GTX 1660 Super maintains a shader deficit compared to the GTX 1660 Ti, we're curious to see whether or not the addition of faster memory helps narrow the gap dramatically. Going by specification alone, the $229 GTX 1660 Super could render its immediate siblings almost pointless. The hike in memory bandwidth makes it a far better choice than the $219 GTX 1660, and at the other end, the small gains from GTX 1660 Ti don't appear to do enough to warrant an extra 50 bucks.
Why go to such bother? GTX 1660 Super appears to be a pre-emptive strike against the rumoured Radeon RX 5600, and further down the product stack, Nvidia is also gearing up to introduce a GTX 1650 Super to stave off any threat from the Radeon RX 5500 soft-launched earlier this month. Due to arrive November 22 for a yet-to-be-disclosed fee, GTX 1650 Super is interesting insofar as it happens to be a downgraded GTX 1660, rather than an upgraded GTX 1650, and features 1,280 shaders and 4GB of 12Gbps GDDR6 memory.
Nvidia is also acutely aware of the interest that rival AMD has gained from its Radeon Image Sharpening (RIS) enhancements, implemented by a post-processing filter that enables the user to turn down the resolution without a manifest decrease in image quality, all in the name of increasing frame rate. That's a feature which is especially important for mid-range cards. Nvidia integrates its own improved image-sharpening filter for better performance in DX9, 11 and 12 games through the release of its accompanying Game Ready Driver today. What's more, the same driver implements G-Sync alongside the company's ultra-low-latency mode (NULL), meaning you don't have to choose one or the other.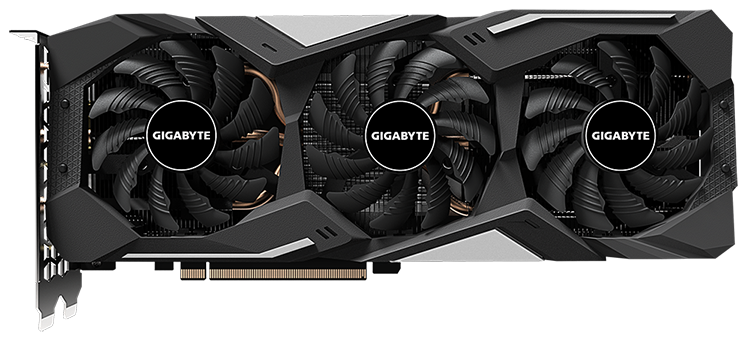 Getting back to the GTX 1660 Super launching today, it is no surprise to find that the majority of Nvidia's partners are repurposing existing designs for the latest GPU. Gigabyte's awkwardly-titled GeForce GTX 1660 Super Gaming OC 6G employs the same cooler as the non-Super variant launched back in March.
A sensible choice, as the triple-fan cooler is proven to be more than capable with a GPU of this ilk. As before, all three fans switch off when temperature drops below 60ºC, and the central blower spins in the opposite direction to the outer two in an effort to reduce turbulence and maximise heat dissipation.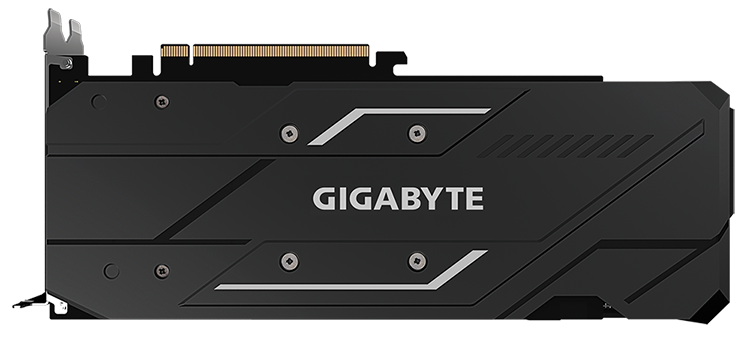 Elongated dimensions of 280mm x 117mm x 40.4mm are to be expected given the trio of 80mm fans, yet while the card is longer than necessary on this range of GPU, we like that Gigabyte keeps height and width down to a standard dual-slot format. Three copper heatpipes traverse the good-sized aluminium heatsinks, and there's a dedicated aluminium plate for cooling the GDDR6 memory and MOSFET components.
Overkill for the 12nm TU116? Sure, but the Gaming OC is practically guaranteed to run both cool and quiet, and it looks reasonably smart, too. The PCB - which runs only about 75 per cent of the full length - is covered with a plastic backplate whose purpose is almost entirely aesthetic. A total weight of 670g suggests that no reinforcement is needed, but we prefer the backplate to a bare PCB, and rounding off the look is an RGB-backlit Gigabyte logo across the top edge.

As you might have guessed by the Super Gaming OC branding, Gigabyte takes the opportunity to increase core speed above Nvidia's reference mandate. Boost clock climbs from 1,785MHz to 1,860MHz, which conveniently happens to be the exact same overclock that was applied to Gigabyte's regular GTX 1660. The key change this time around is the faster 14Gbps GDDR6 frame buffer, while power continues to be sourced from a single eight-pin connector.
There's nothing unusual happening in terms of outputs - three DisplayPort 1.4 and a single HDMI 2.0b are standard fare - and if you happen to be partial to synchronised effects, the backlit Gigabyte logo thankfully isn't overly bright and can be easily customised using the free-to-download RGB Fusion software utility.
We imagine the forthcoming graphs will be unpleasant reading for anyone who recently purchased a GTX 1660 or GTX 1660 Ti, but for gamers who are still waiting to upgrade from previous-generation hardware, GTX 1660 Super could be a useful option, particularly if you're running into frame-buffer limitations.
Enough chit-chat, let's get to the games.