Test Methodology
Gigabyte GeForce RTX 2060 Gaming OC Pro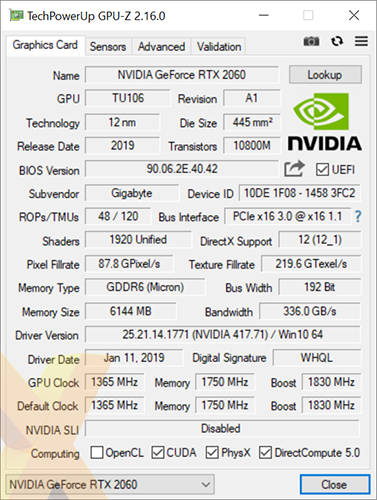 GPU Comparisons

GPU

Memory

Miscellaneous

Cores

Base
(MHz)

Boost
(MHz)

Type

Size
(MB)

Clock
(MHz)

Bus
(bits)

Power Config

Driver

Gigabyte GeForce RTX 2060 Gaming OC Pro

1,920

1,365

1,830

GDDR6

6,144

14,000

192

8

417.71

AMD Radeon RX Vega 64

4,096

1,247

1,546

HBM2

8,192

945

2,048

8+8

19.1.1
HEXUS Graphics Test Bench

Hardware Components
Product Page
Processor
Intel Core i7-8700K (overclocked to 4.8GHz)
intel.com
CPU Cooler
Fractal Design Celsius S24
fractal-design.com
Motherboard
Asus ROG Maximus X Hero
asus.com
Memory
G.Skill Trident Z 32GB (2x16GB) DDR4-3200
gskill.com
Power Supply
be quiet! Dark Power Pro 11 1,000W
bequiet.com
Primary Storage
256GB WD Black PCIe SSD
wdc.com
Secondary Storage
1TB Crucial MX300 SATA SSD
crucial.com
Chassis
be quiet! Dark Base 700
bequiet.com
Monitor
iiyama ProLite X4071UHSU-B1
iiyama.com
Operating system
Windows 10 Pro
microsoft.com
Benchmark Suite

Synthetic Benchmarks
3DMark
Time Spy, Time Spy Extreme, Time Spy Stress Test
Gaming Benchmarks and Settings
Battlefield V
DX12, 4xMSAA, Ultra Quality
Civilization VI
DX12, 8xMSAA, High Quality
Far Cry 5
DX11, TAA, Ultra Quality
Forza Motorsport 7
DX12, 4xMSAA, Ultra Quality
Forza Horizon 4
DX12, 4xMSAA, Ultra Quality
Gears of War 4
DX12, TAA, Ultra Quality
Middle-earth: Shadow of War
DX11, TAA, Ultra Quality
Shadow of the Tomb Raider
DX12, TAA, Highest Quality
World of Tanks enCore
DX11, TSSAA HQ, Ultra Quality
General Benchmarks
Power Consumption
To emulate real-world usage scenarios, we record system-wide mains power draw both when idle and while playing Gears of War 4
Temperature
To emulate real-world usage scenarios, we record GPU core temperature both when idle and while playing Gears of War 4
Noise
A PCE-318 meter is used to record noise levels when idle and while playing Gears of War 4
Overclocking
Maintaining out-the-box voltage, we use the Precision X1 Scanner Tool to determine an optimal frequency curve while applying a manual memory overclock
Notes
We are changing things up somewhat with this review. Previous editorials on a same-clocked RTX 2060 show exactly where it fits into the wider GPU landscape. Our focus here is to see how Gigabyte's card compares to its nearest price rival on the red side, namely the Radeon RX Vega 64. Both are available for between £375-£400, making the comparison apt and just.
What's more, we have tested with the latest drivers for both cards and also introduced two further games that will likely be in our 2019 suite - Battlefield V and Forza Horizon 4.
Want to know which premium card to buy for today's latest games? Read on.