Introduction
AMD finally released its next-generation graphics architecture for consumer cards earlier in the week. In case you have been living under an anti-technology rock, the red team debuted Radeon RX Vega 64 and RX Vega 56, and these two GPUs now compete with rival Nvidia GeForce GTX 1080 and GTX 1070. Our launch-day analysis found that Vega 56 fared better, but it is yet to be made available to the public.
RX Vega 64 is now available in reference form for £550, and not the £450 that AMD pitched it to us at. Nevertheless, whilst the AMD-supplied card put up a good fight in the benchmarks against a GTX 1080, the poor Radeon cooling solution - neither good on acoustics nor temperature - made us favour an aftermarket card from Nvidia.
AMD's partners are bringing their own, custom-cooled designs to market within a month, we're told, hopefully rectifying some of the reference card's design flaws, and today's editorial gives a peek into what to expect.
Asus has been developing its fully-custom Vega boards longer than most, so much so that it took the unusual step of inviting key press to benchmark its card just a few days after AMD's launch. No other partner, as far as we can tell, has a card ready for evaluation. Jumping on this advantage, we popped down to Asus' UK HQ in Hemel Hempstead for a quick benchmarking session, testing rig in tow.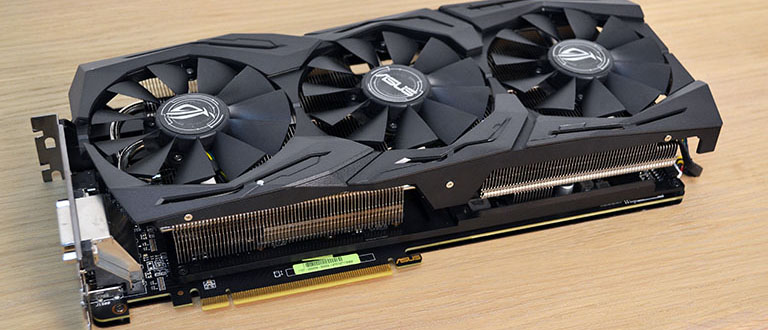 Here is the card we're speaking about, the Republic of Gamers take on RX Vega 64. The company's graphics division designs more for TDPs than individual SKUs, we were told, and this RoG Strix Gaming could easily be mistaken for the GTX 1080 Ti at first glance. The pertinent point is that the tri-fan cooling is rated to handle upwards of 300W without breaking a sweat, and if our previous measurements are anything to go by, it'll be able to tame the wattage-thirsty Vega architecture easily enough.
Though it would be easy to presume that Asus has simply slapped on the extant cooler used on a number of premium GPUs, that isn't strictly the case, as the PCB had to be modified to accommodate the huge RX Vega die that also houses 8GB of HBM2 memory literally next to the GPU.
Whatever the case - and Asus wouldn't allow us to take the cooler off - this 12in-long card is the epitome of graphics meatiness.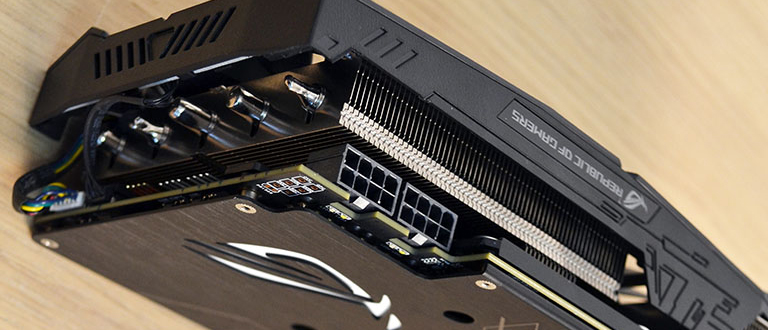 AMD has a confusing array of TDPs and power profiles for the RX Vega line, which still remains unclarified to us. Like the reference card, Asus' version has dual BIOS and each can have one of four power profiles active - Power Saver, Balanced (default), Turbo and Custom. AMD's primary settings call for 200W and 220W limits with the BIOS switch in the secondary and primary positions, respectively, but given the heavy-duty Asus cooling this card increases those to 240W and 260W, respectively. The other profiles take their cue from these, meaning that Turbo offers another 15 per cent on top, or 299W instead of AMD's 253W.
Serving these higher power limits is a custom board design that uses a total of 12 power phases - 10 for the GPU, two for the memory - and better-quality components than AMD. It makes sense for Asus to use the standard dual eight-pin power connectors, which are needed once you start overclocking Vega. As we saw in the reference review, the power consumption escalates very quickly.
Other Strix family features include FanConnect II, which takes the form of two four-pin headers at the far end of the PCB that allow the user to attach case fans for focussed air flow. These automatically respond to GPU temperature, but should you choose to keep a closer tab on proceedings, the Asus software can be used to create a custom fan curve set to respond to your choice of CPU or GPU temp.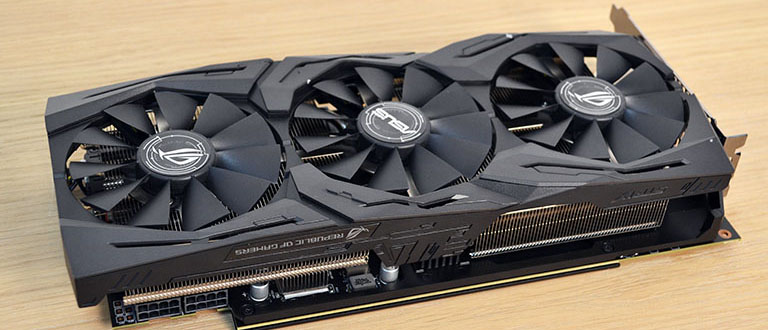 The Strix Gaming backplate is familiar to those who follow Asus, while six internal heatpipes run through to a 'MaxContact' copper bottom that the company says is flatter than previous generations. Asus engineers also mentioned that these cards use a special, non-expanding thermal compound that is especially important for the GPU+HBM2 die used by RX Vega. We expect this to lead to best-in-class temperatures and little noise.
Speaking of fans, the trio switches off at below 60°C, as usual, and as you will see later on in this editorial, don't spin too quickly even when RX Vega is busting out its maximum performance.
AMD's frequency settings work differently to the ones used by Nvidia. RX Vega has a peak boost clock and also an absolute maximum frequency, which can be thought of as the GPU equivalent of the CPU's XFR. Point is, reference RX Vega 64 boosts to 1,546MHz but can also step up to 1,630MHz if there is (limited) scope to do so. Asus uses the same frequencies on this card and also leaves the HBM2 memory at the default 945MHz, fed through a 2,048-bit-wide bus.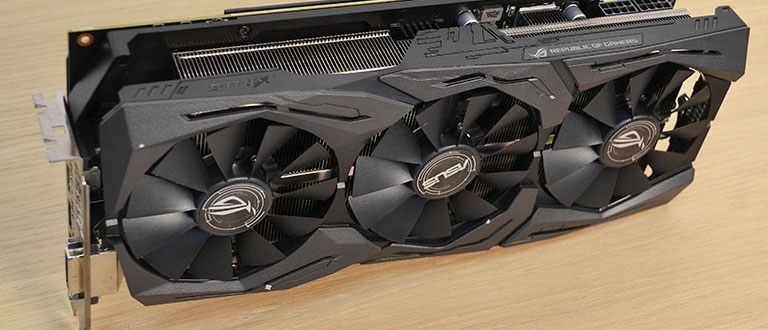 That sounds disappointing on first perusal, right, yet things aren't so simple in AMD's world. A better, more efficient cooler, such as the Strix, is able to keep the GPU in a higher dynamic power management state than a lesser one, especially as it has more wattage to play with. This translates to higher average frequencies, so whilst the reference and Asus card both share the same nominal frequencies, you will see that this card performs more strongly because it is able to maintain peak speed for longer.
This being a Strix, Asus adds RGB LEDs on the heatsink shroud and on the backplate, and they can be synchronised with other Aura hardware. If that is not enough, there's a  four-pin Aura RGB header alongside FanConnect II for further expansion.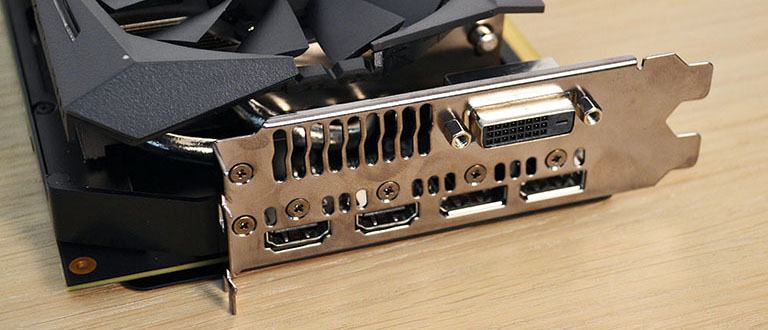 Another key difference is that Asus brings back the DVI port, missing from the reference card, and it sits alongside dual HDMI and dual DisplayPort.
All this extra goodness will inevitably come at a price. It would be sensible to assume that the Strix Gaming model will fetch £600 at retail in a month's time, a figure that's consistent with its GTX 1080 model.