Introduction
Want to build a gaming PC with the very best GPU? Look no further than Nvidia's GeForce GTX 1080 Ti. Introduced just last week, the new addition to the 10-series range offers all of the performance of the suddenly nonsensical Titan X at a far more palatable $699 price point.
Such a figure is by no means pocket change, but when you consider that Titan X was priced at $1,199, GTX 1080 Ti can rightly be viewed as a comparative bargain. The lower fee is a major attraction for this 11GB, 3,584-shader range topper, yet what really makes GTX 1080 Ti intriguing is that it won't be restricted to a Founders Edition guise. Nvidia's reference cooler serves a purpose, but our initial review revealed that it struggles to tame the underlying GPU, and in the hands of AIC partners the GTX 1080 Ti should be able to further extend its performance lead.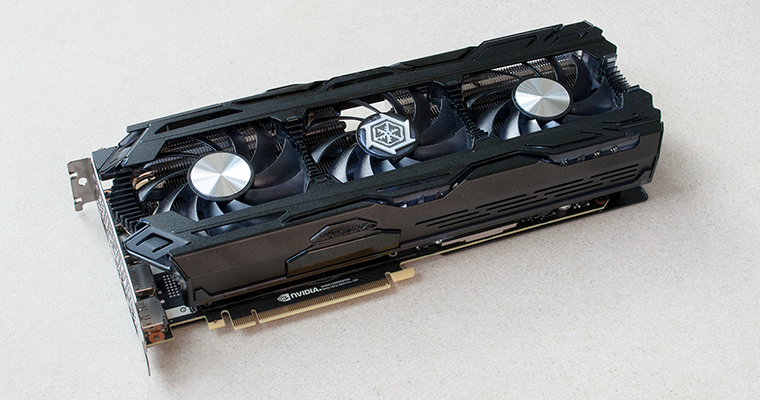 To find out how fast a custom-cooled variant will go, we've been able to spend some quality time with a very early sample of Inno3D's iChill GeForce GTX 1080 Ti X3. Priced at around £760 here on UK shores ahead of retail availability next month, this monster card measures 302mm in length, stands 111mm tall, occupies the best part of three slots and tips the scales at 1,188g.
It looks and feels like a tank. And so it should as this here beastie isn't designed for your Nan to play Peggle, no ma'am, it's a no-holds-barred solution geared strictly for enthusiast gamers who appreciate high framerates and extreme resolutions, or preferably both.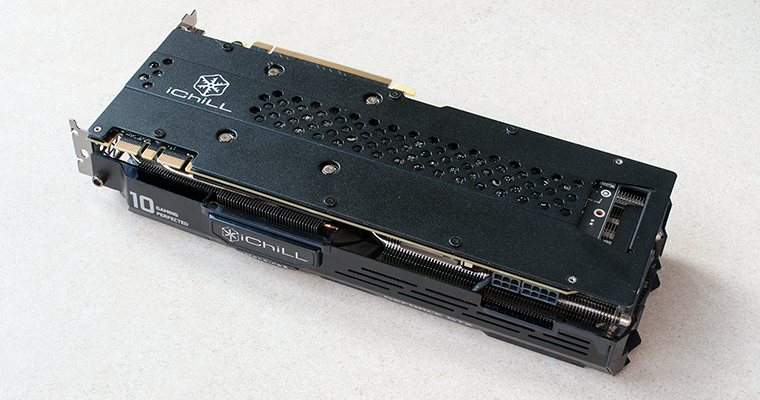 Inno3D has been refining its iChill X3 cooler over the years and the result is essentially more of everything. Underneath those three 92mm fans, the copper GPU contact plate has been enlarged from 44mm x 40mm to 68mm x 68mm, and there are now five heatpipes connected to the block. As if that weren't enough, Inno then adds a second block to the 7+2-phase power components. Four heatpipes connect the two contact plates and the duo attaches to aluminium heatsinks that cover almost the full length of the card. In case you were counting, the number of fins has also increased from 123 to 140.
There's a full-length backplate, as you would expect on a card of this ilk, and the front shroud is also mostly metal, providing plenty of rigidity throughout. Inno3D has opted for an aesthetic that's more bullish than sleek and there are, of course, a bunch of LEDs included as standard. White lights give the three fans a nice glow, while the iChill logo across the top is backlit to illuminate blue when idle, green under light load and red when the GPU is hard at work.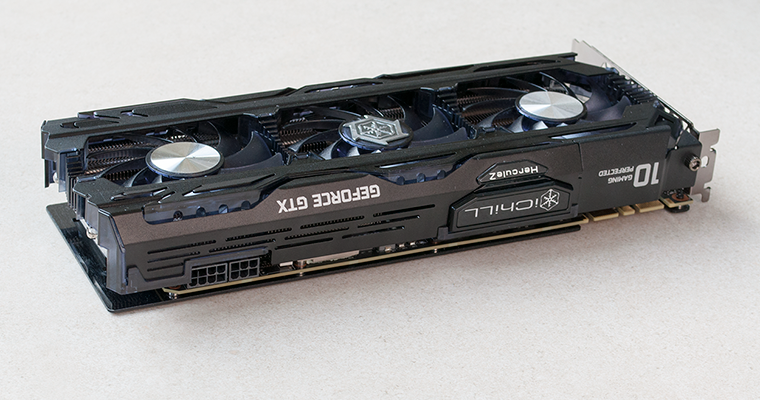 Such elaborate cooling hints at a healthy factory overclock and the X3 doesn't disappoint. Base clock has been increased from 1,481MHz to 1,607MHz, boost clock rises from 1,582MHz to 1,721MHz, and the 11GB GDDR5X frame buffer has also been given a nudge in the right direction, climbing from 11,008MHz to 11,408MHz.
It's interesting to note that Inno3D's card is rated with a 280W TDP - a 30W increase over the Founders Edition - so we imagine the GPU will be able to maintain higher real-world speeds with relative ease. Power is still sourced from eight- and six-pin connectors, while a couple of SLI fingers are at hand for anyone conjuring up an ultra-premium SLI configuration.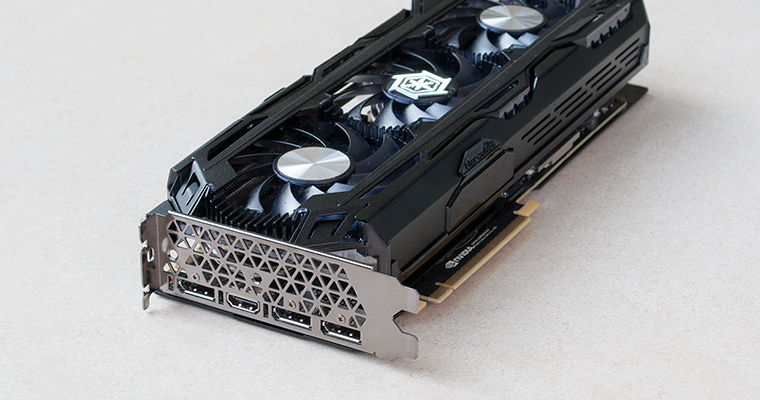 Given that our review sample is an early pre-production model and uses the reference PCB, it's worth pointing out a few elements that will differ on final retail units. Inno3D has confirmed that the fans on the production run are configured so that the outer two switch off when core temperature drops below 46ºC and the central fan turns off when the temperature falls to 44ºC. The central fan on our review sample continues to spin at all times, albeit at a very low speed when idle, but retail units will be practically silent when the GPU isn't stressed.
There will also be a change with regards to outputs. Our review sample is equipped with Nvidia's default selection of three DisplayPort 1.4 and a single HDMI 2.0, emanating from the reference board, but Inno3D is adding DVI-D to all retail units. The card is also backed by a three-year warranty, but that's enough preamble, let's get to the benchmarks and see if this custom GTX 1080 Ti can make Titan X look like an expensive children's toy.