Introduction
The focus of 2016's AMD CPU line-up is a processor that doesn't exist in retail form. Codenamed Zen, the brand-new architecture is mooted to deliver meaningful gains in performance over anything currently residing in AMD's arsenal. Depending on what you read and how much of it you believe, Zen has the potential to give Intel's premier CPUs a solid run for their money. That's good news for the enthusiast.
Yet AMD will argue that extant processors already provide an excellent alternative to Intel, particularly in the mainstream market. Slipping in quietly a couple of months ago, AMD announced a trio of A10-series APUs - 7890K, 7870K and 7860K. Perhaps of most interest is the 65W 7860K that ships at a £90 price point.
Still part of the Kaveri APU update stemming back to 2014, A10-7860K is a quad-core processor with a 3.6GHz base clock and 4.0GHz boost. The graphics component arrives from the Radeon R7 family in a familiar 512-core configuration that, for this 65W chip, is clocked in at a reasonable 757MHz. The memory portion is taken from the system memory.
The specifications are of no surprise to anyone who follows the machinations of the retail consumer CPU market closely, but what is new this time around is the bundled cooler. Based on a cut-down version of the Wraith shipping with higher-end APUs, the A10-7860K's cooler, built by CoolerMaster, has a distinctive red fan on top of a well-designed heatsink.
AMD A-Series APUs - March 2016

Model

CPU Cores

CPU Base Clock

CPU Turbo Clock

GPU Brand

GPU Processors

GPU Clock

Max. DDR3

TDP

Suggested Price

A10-7890K

4

4.1GHz

4.3GHz

Radeon R7

512

866MHz

2133MHz

95W

$165

A10-7870K

4

3.9GHz

4.1GHz

Radeon R7

512

866MHz

2133MHz

95W

$140

A10-7860K

4

3.6GHz

4.0GHz

Radeon R7

512

757MHz

2133MHz

65W

$118
We'd happily trade a little performance loss for a reduced TDP, enabling quieter systems in truly small-form-factor chassis, so the A10-7860K's stats read well. The K suffix, of course, means the processor is unlocked on both the CPU and graphics, which is handy if you want to squeeze a touch more performance out of an architecture that usually presents itself in a 95W thermal envelope.
It's easy to imagine one of these processors in a sub-£500 base unit that's also equipped with a graphics card capable of high-quality graphics at a 1080p resolution and, given the falling prices of SSDs, a fast boot drive with adequate capacity. The A10-7860K, then, is very much a mass-market processor.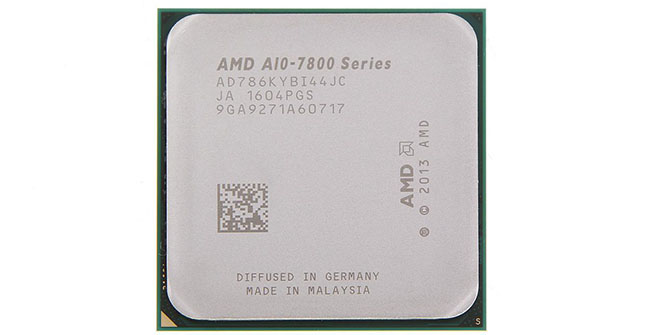 No surprises here; it's an FM2+ processor
We're using the pretext of receiving an A10-7860K sample to examine the relative performance of sub-£100 CPU-and-GPU processors from AMD and Intel. Batting for the blue team in this two-way line-up is the Skylake-infused Core i3-6100, outfitted with a 51W TDP, and officially retailing for a dollar less than AMD but actually costing a few more pounds at UK retail.
Both processors harness the latest technology from both companies, so why not join us to see which one is the better overall bet for a budget system?