Overclocking
Overclocking the chip requires more thought than on the K-series APUs. The best method by which to overclock the CPU cores is to shift the all-core multiplier to its maximum setting in AMD Overdrive, 37x, and then raise the bus speed along with various voltages. We managed to increase all-core speed to 4.16GHz.
| Mode | CPU speed | CPU Turbo | GPU speed | Memory speed | Memory timings |
| --- | --- | --- | --- | --- | --- |
| Default | 3.4GHz | 4.0GHz | 760MHz | 1,600 | 9-9-9-24-1T |
| Overclocked | 4.16GHz | NA | 940MHz | 2,095 | 11-12-12-30-2T |
Pushing up the main clock also increases the GPU and memory frequency, and by fiddling around with various settings we hit 940MHz on the IGP and 2,095MHz on the memory (run at 1,866MHz default). Note, however, that our sample chip would not run 2,133MHz memory at default speeds, unlike the two K-series chips.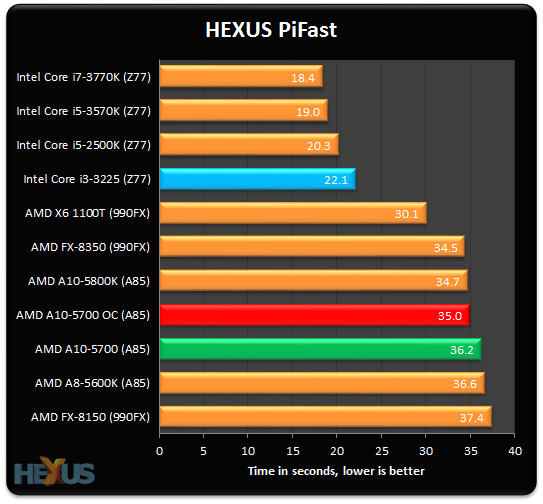 Overclocking the CPU pays surprisingly little dividend. We surmise the reasoning behind this is due to the all-core overclock not being significantly higher than the 4GHz Turbo the chip can potentially run at in low-load tests.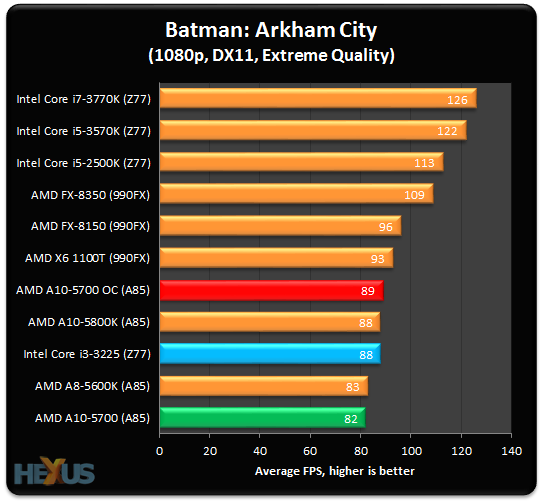 Here's Batman: Arkham City run with a discrete GeForce GTX 680 GPU. The overclocked A10-5700 manages to just about beat the performance of a stock-clocked Core i3-3225.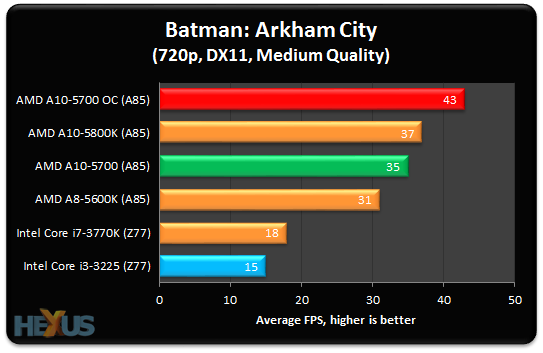 But we all know where a three-way overclock - CPU, memory, and GPU - plays out best for AMD's APUs: IGP gaming. The 5700 'OC' storms to the top of the chart.