Gaming at low and high resolutions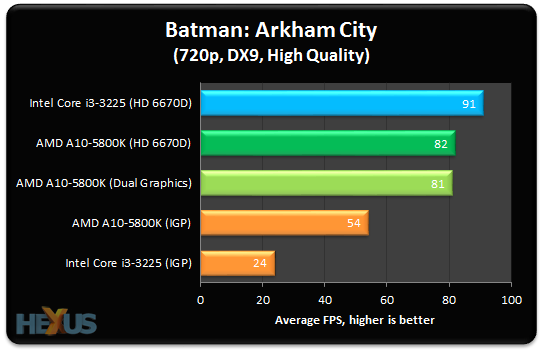 Five combinations in total, of which three use a discrete Radeon HD 6670. The slowest of the bunch, understandably, is the Core i3-3225's built-in HD 4000 Graphics, and the game's lack of smoothness on Intel's IGP is annoying. Jump to the integrated HD 7660D graphics on the A10-5800K APU and matters look up: the gaming experience is manifestly better.
We can also run the same test on the discrete Radeon HD 6670, ignoring on-board graphics, where performance is lovely and lush. It runs somewhat quicker on Intel hardware, interestingly. Note, however, that instigating AMD Dual Graphics actually lowers the score a touch. We wondered if this was to do with CPU bottlenecking at the low-ish resolution of 1,280x720. A simple way to find out was to increase the resolution to full-HD - 1,920x1,080.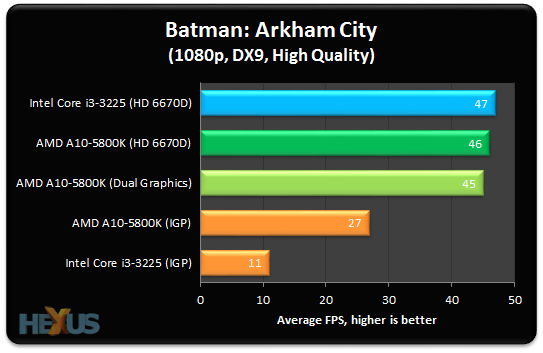 This is the same test but at the higher resolution. The discrete Radeon HD 6670 pulls some way ahead of the A10-5800K's APU, with the performance increase most likely from the faster RAM on the card. There's no real difference between the discrete card scores on either platform, but Dual Graphics doesn't provide the scaling we'd expect. Indeed, it provides no scaling whatsoever.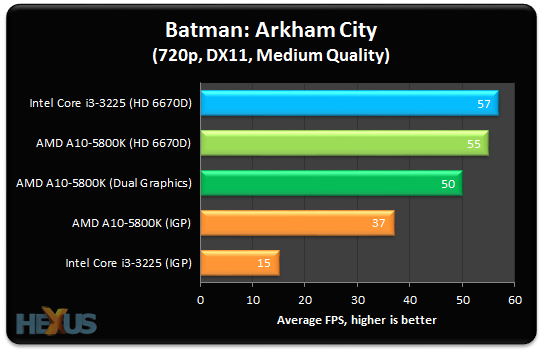 Invoking the DX11 path causes the Dual Graphics combo to lose more ground to running with just the Radeon HD 6670. We can put this one down to non-optimised CrossFire scaling, even though we had the latest Catalyst Application Profiles installed.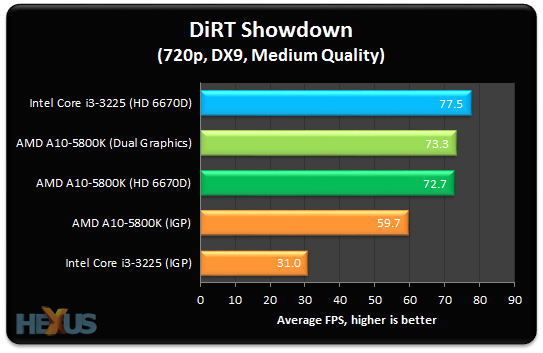 Moving titles to DiRT: Showdown reveals much of what we saw in Batman: Arkham City. The A10-5800K's IGP is more than competent on its own, beating the Intel Core i3-3225's by almost 2x. A discrete Radeon HD 6670 is faster still, but Dual Graphics shows no further increase in perf.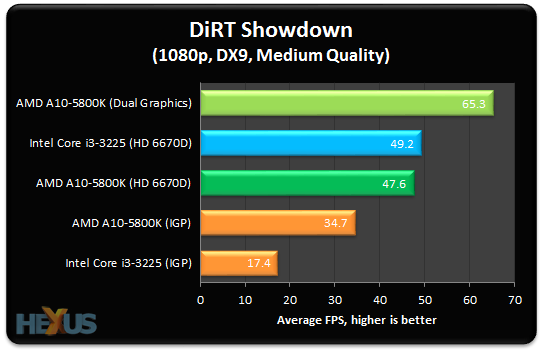 Scaling the resolution up to 1080p lets Dual Graphics finally strut its stuff. Harnessing the 5800K's IGP and HD 6670 leads to performance that's almost 40 per cent better than the discrete card's and almost 2x the speed of the best-in-class IGP.