Something Intel cannot do
Our third installment of AMD's A10-5800K 'Trinity' evaluation follows on from a review of the APU and a look at the wholesome impact that faster RAM has on the built-in GPU's performance. AMD asserts that it's in a unique position as far as the platform - CPU, motherboard and graphics card - is concerned. It is the only company to provide all three parts to the consumer, and it makes full use of the chips' GPU by providing extra gaming performance through a method called Dual Graphics.
You see, the A10-5800K's built-in graphics, HD 7660D, perform much like a discrete, add-in Radeon HD 6600-series card costing around £50. This is the 'free' graphics capability baked into the £100 APU chip. Yet add a Radeon HD 6670 card into an APU system and the discrete and integrated GPUs can be lassoed together via AMD's CrossFireX technology, to provide that extra dollop of performance. It goes without saying but we'll say it nonetheless, this combining of GPUs, which AMD dubs Dual Graphics, is not available on an equivalently-priced Intel platform.
The purpose of this article it to explore any performance benefits arising from running Dual Graphics on an AMD Trinity-based system. We've chosen to use this Radeon HD 6670 card for Dual Graphics purposes. It's worth noting that while its architecture is near-identical to the A10-5800K APU's, the discrete card ships with more stream processors and significantly faster on-board memory.
Simply tying the Radeon HD 6670 to the APU doesn't provide the full picture, however. We can add more context by also investigating performance on similar setups.
CPU
Graphics
Model
CPU + GPU cost
AMD A10-5800K
Built-in
HD 7660D
£100
AMD A10-5800K
Discrete
HD 6670
£150
AMD A10-5800K
Dual Graphics
HD 7660D +
HD 6670
£150
Intel Core i3-3225
Built-in
HD 4000
£110
Intel Core i3-3225
Discrete
HD 6670
£160
OK, we have five different setups that provide the guts of a low-to-mid-range PC build. Including the discrete Radeon HD 6670 adds some £50 to the platform cost. Software-based Dual Graphics, only available on an AMD platform, doesn't increase the cost and it's considered to be AMD's ace in the hole.
We can also look at performance from an equivalent Intel machine, powered by an Ivy Bridge Core i3-3225 chip, and evaluate just how well it runs games on its IGP and on the aforementioned Radeon card. Of course, this article is geared towards examining the potential benefits of AMD Dual Graphics; we could have chosen an NVIDIA discrete graphics card or non-optimised-for-Dual-Graphics Radeon.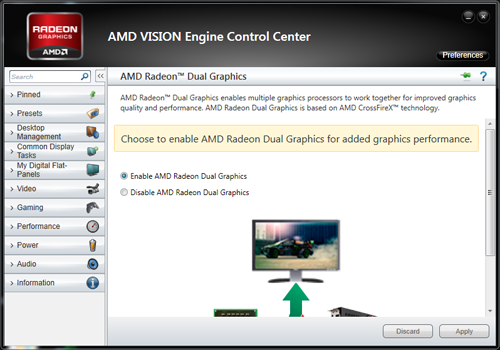 Enabling Dual Graphics on a Trinity platform is a cinch. You install the discrete graphics card, put on the software driver - the same one as on the IGP - reboot, and then enable both via the VISION Engine Control Center.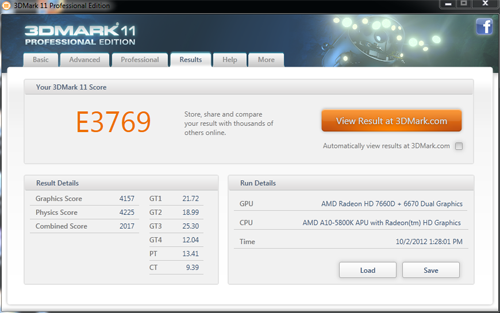 Jumping ahead of ourselves and giving you a peek into performance, the Dual Graphics combo is transparent to the user; just like CrossFire on two discrete board, the only mention of dual-graphics rendering is within benchmark details.
Full system setup details can be found here. We're sensibly focussing on the gaming and power-draw tests for this article, because the CPU benchmark scores remain unchanged.