Benchmarks: Encoding and System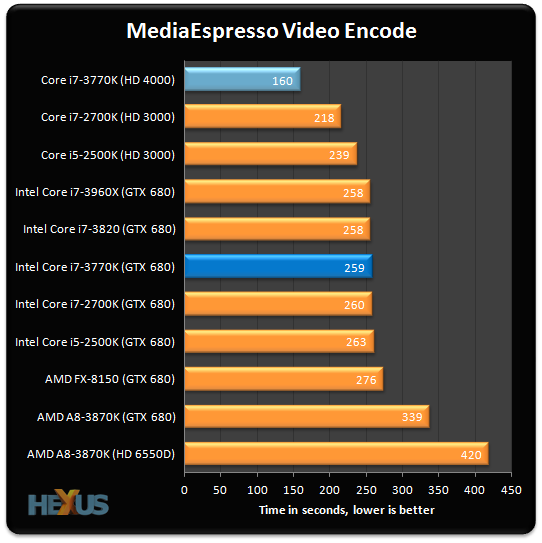 For this benchmark, we're specifically testing the performance of Intel's Quick Sync technology by using CyberLink's MediaEspresso to convert an hour-long 720p movie clip to a 480x360 .mp4 file that's friendly with our BlackBerry Bold smartphones.
We've previously been impressed with Quick Sync performance, but Intel has clearly gone one better; the i7-3770K manages to encode the clip in less than three minutes. That's a good 26 per cent quicker than the best Sandy Bridge part (i7-2700K) and a stonking 38 per cent quicker than using a discrete GPU (NVIDIA's top-of-the-range GeForce GTX 680, no less).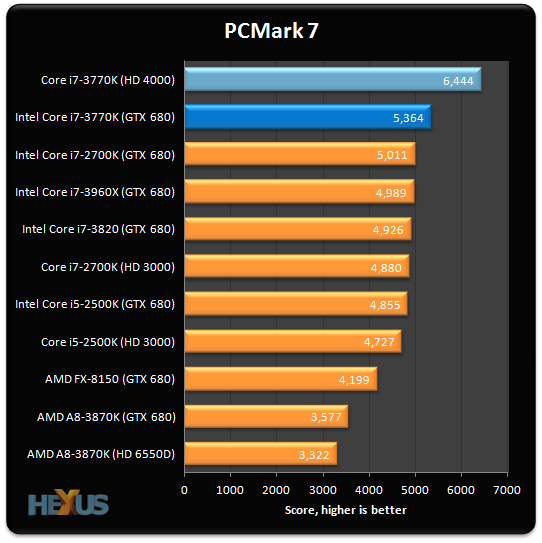 Here's an interesting graph. The latest version of PCMark is designed to measure every aspect of PC performance save for gaming. The benchmark runs a myriad of tests that include tasks such as loading applications, viewing and editing photos, loading web pages, using home office applications, and entertainment tasks such as recording, viewing and transcoding video.
Generally speaking, it's a good indication of how well equipped your PC is for everything other than gaming, and the results speak for themselves. Thanks partly to the top-notch performance of Quick Sync, the Core i7-3770K stands alone in scoring over 6,000 PCMarks. Heck, if you're not gaming, PCMark reckons you're better off using Intel's IGP as opposed to a high-end GeForce GTX 680 graphics card.