The support crew: Gigbayte A75-UD4H
The desktop A6 and A8 chips are presented in a new form factor known as FM1. This means, understandably, they are incompatible with existing AM3 motherboards. New boards are needed that take advantage of the APU's video outputs - you can run an A6 or A8 without the need for discrete graphics - and the major players have already shown FM1-supporting logic at this month's COMPUTEX trade show.
With general focus on the budget and mainstream part of the market, due to the relatively low price of the APUs, expect FM1 boards to put emphasis on value before features. Gigabyte, in typical fashion, is trotting out several motherboards. We received the GA-A75-UD4H a short while before launch.
The A75 sub-name derives from the supporting core-logic chip, otherwise known as Fusion Controller Hub, that's used to route out the up-to six SATA 6Gbps, USB 2.0 and 3.0, audio and a smattering of PCIc and PCIe lanes. Partners who need to produce a value-orientated board can opt for the A55, which does without integrated USB 3.0 and knocks down SATA speed to 3Gbps. Together the APU and chipset are collectively referred to by AMD as the Lynx platform.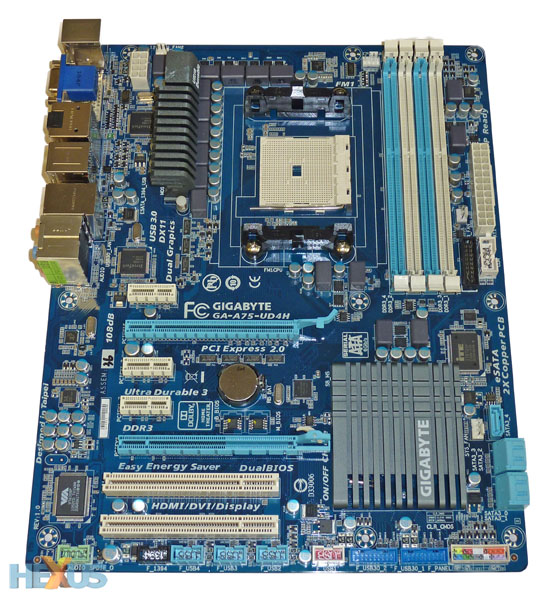 Keeping costs in check, the UD4H is a slimline board that's about an inch narrower than a standard ATX. The provision of a single supporting chip translates to a neat-looking board.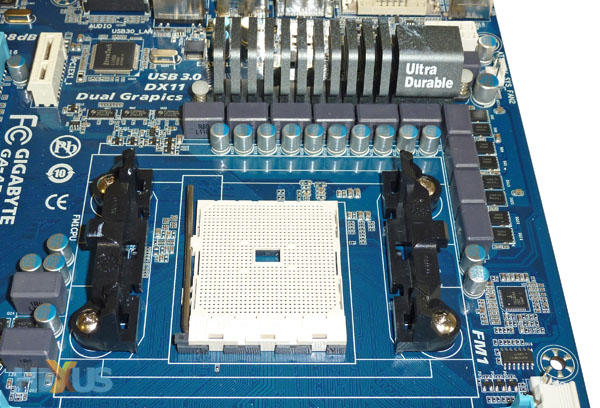 The socket has changed but the type of coolers required hasn't. FM1 uses the same retention-bracket system as AM2/AM3, which is good news for folk who have a heatsink spare. Appreciating that the TDP of the fastest APU is 100W, below that of top-line Athlons and Phenoms, cooling shouldn't be a problem. The CPU-exclusion zone is marked clearly and attaching the heatsink is easier than on Intel's Sandy Bridge counterparts.
Desktop Llano uses a dual-channel memory setup. Limited to DDR3-1,600MHz on the fastest laptop APUs, AMD and Gigabyte provision for DDR3-1,866 here. It's worth repeating that the memory frequency plays a larger role in determining overall performance for an APU - the CPU and GPU both need access to it - so it's advisable to go for the fastest memory you can afford. Trouble is, a 4GB DDR3-1,600 kit is readily available for around £30 while the same-capacity DDR3-1,866MHz kit costs an additional £20, eroding some of the value benefits of the Lynx platform.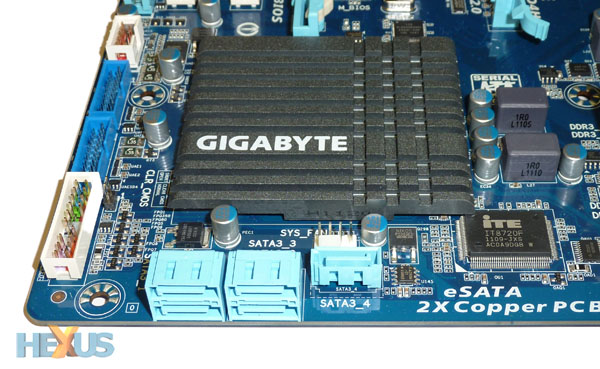 Keeping the layout nice and clean on the edges, Gigabyte throws in five SATA 6Gbps ports on the PCB - supporting RAID0, 1, and 10 flavours.. Housing the premium A75 chipset, there are four USB 3.0 ports that run off the chip..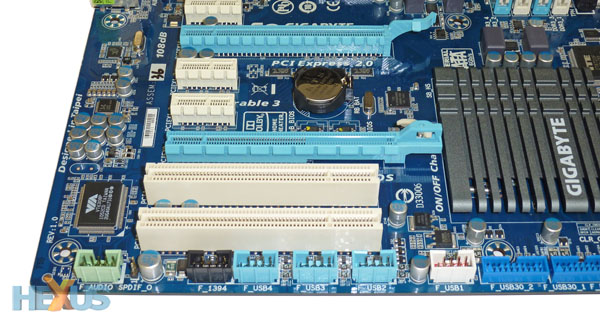 But the UD4H also adds in a further four USB 3.0 ports via two on-board headers powered by an EtronTech chip, thus useful for connecting to the front panels of modern chassis. It also amalgamates FireWire, too. In a sensible layout, three PCIe x1 and two PCIc slots are available for expansion duties.
Two PCIe x16 mechanical slots can be used for two-way CrossFireX operation with each card grabbing eight PCIe 2.0 lanes from the A6 or A8 chip. A single Radeon HD 6400-, 6500-, or 6600-class GPU can be paired up with the APU's Radeon core for what AMD calls Dual Graphics, and, together, they support multi-screen Eyefinity usage.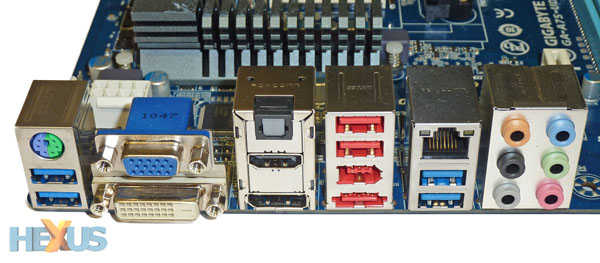 The four main video outputs are all available on the UD4H. DisplayPort 1.1a, HDMI v1.4a. dual-link DVI and VGA get a collective outing, though only two digital outputs - accessed by eight PCIe lanes from the Llano chip - can be used at one time. Four USB 3.0 ports are nice, and FireWire and eSATA both find a home here.