Test Methodology
AMD Ryzen Threadripper 2990WX Specification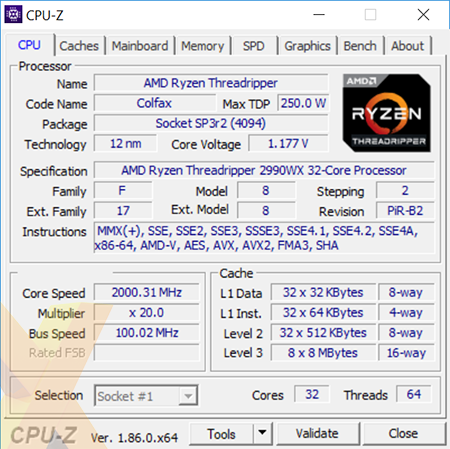 Intel Core Processor Configurations

CPU

Core i9-7980XE

Core i7-8700K

CPU Base Clock

2.6GHz

4.2GHz

CPU Turbo Clock

4.4GHz

4.5GHz

CPU Cache

24.75MB

8MB

CPU Cores / Threads

18 / 36

4 / 8

CPU TDP

165W

95W

Integrated Graphics

-

HD 630

IGP Base Clock

-

350MHz

IGP Turbo Clock

-

1,150MHz

Socket

LGA 2066

LGA 1151

Lithography

14nm

Motherboard

Asus Prime X299-A

Asus Maximus V Hero

BIOS

0802

0801

Memory

Corsair Dominator 32GB DDR4

Corsair Vengeance 32GB DDR4

Memory Config

4x8GB

2x16GB

Memory Timings

16-17-17-36-2T

16-16-16-39-1T

Memory Speed

2,666MHz

2,400MHz

Disk Drive

SK hynix Canvas SC300 (512GB)

Power Supply

be quiet Dark Power Pro 11 (1,000W)

Graphics Card

Nvidia GeForce GTX 1080 Ti FE (391.35)

CPU Cooler

Noctua NH-D15S

Operating System

Microsoft Windows 10 (64-bit)
AMD Ryzen Processor Configurations

CPU

Threadripper 2990WX

Threadripper 1950X

Ryzen 7 2700X

CPU Base Clock

3.0GHz

3.4GHz

3.7GHz

CPU Turbo Clock

4.2GHz

4.0GHz

4.3GHz

CPU L3 Cache

64MB

32MB

16MB

CPU Cores / Threads

32 / 64

16 / 32

8 / 16

CPU TDP

250W

180W

105W

Integrated Graphics

-

-

-

IGP Base Clock

-

-

-

IGP Turbo Clock

-

-

-

Socket

TR4

TR4

AM4

Lithography

12nm

14nm

12nm

Motherboard

Asus X399 Zenith Extreme

Asus Crosshair VI Hero

BIOS

0078

5704

Memory

G.Skill Trident Z RGB 32GB DDR4

Corsair Vengeance 32GB DDR4

Memory Config

4x8GB

4x8GB

Memory Timings

16-17-17-36-1T

16-17-17-36-1T

Memory Speed

2,933MHz

2,666MHz

2,933MHz

Disk Drive

SK hynix Canvas SC300 (512GB)

Power Supply

be quiet Dark Power Pro 11 (1,000W)

Graphics Card

Nvidia GeForce GTX 1080 Ti FE (391.35)

CPU Cooler

Cooler Master Wraith Ripper

Noctua NH-D15S

Operating System

Microsoft Windows 10 (64-bit)
Benchmark Suite

CPU Benchmarks
HEXUS PiFast
Our number-crunching benchmark stresses a single core by calculating Pi to 10m places
Blender 2.79c
Using all available cores, we run the BMW CPU_Blend benchmark and Victor benchmark
Cinebench
Using Cinebench's multi-CPU render, this cross-platform benchmark stresses all cores
Corona 1.3
Using the high-performance renderer's default benchmark that stresses all cores
Keyshot 7.3
Using ray-tracing and global illumination that scales across all cores.
Arnold via Maya 2018
Using the model village scene rendered via Arnold at 2,616x1,952px. Scales across all cores
HandBrake 1.1.0
Free-to-use video encoder that stresses all CPU cores (64-bit)
Memory Benchmarks
AIDA64
Benchmark that analyses memory bandwidth and latency
Gaming Benchmarks (Nvidia GeForce GTX 1080 Ti)
3DMark
Graphics benchmark run using Fire Strike and Time Spy tests
F1 2017
1,920x1,080 and 3,840x2,160, ultra settings
Middle-earth: Shadow of War
1,920x1,080 and 3,840x2,160, ultra settings
Total War: Warhammer 2
1,920x1,080 and 3,840x2,160, ultra settings
Miscellaneous Benchmarks
Power Consumption
To emulate real-world usage scenarios, we record system-wide mains power draw when idle, when encoding video via HandBrake and while playing Middle-earth
Notes
We've tested a number of platforms from each performance group. The Intel Core i9-7980XE is the obvious many-core competitor while the Core i7-8700K is the mainstream champ. We've also got Threadripper 1950X, ostensibly to show the performance uplift from the best of the previous TR generation and, going mainstream again, the Ryzen 7 2700X.
The graphics card has been upgraded to a GeForce GTX 1080 Ti FE and we've also kept to the maximum supported memory frequency on each platform.
You'll note that we have added a number of professional apps in the CPU tests to better reflect how the Threadripper 2990WX is most likely to be implemented.