Test Methodology
AMD Ryzen 5 2400G and Ryzen 3 2200G Specifications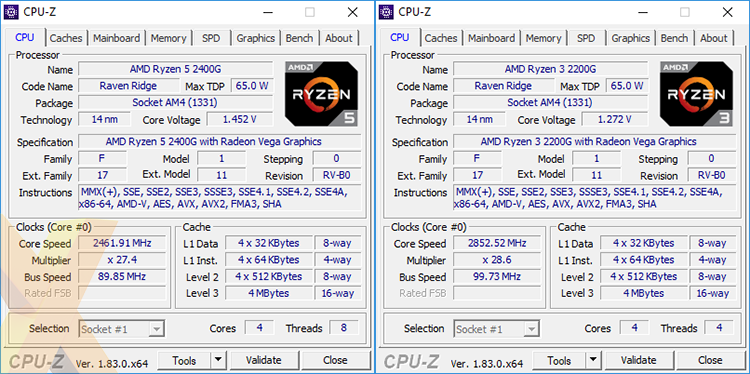 AMD Ryzen Processor Configurations

CPU

Ryzen 5 1600X

Ryzen 5 1600

Ryzen 5 1500X

Ryzen 5 1400

Ryzen 3 1300X

Ryzen 3 1200

Ryzen 3 2400G

Ryzen 3 2200G

CPU Base Clock

3.6GHz

3.2GHz

3.5GHz

3.2GHz

3.5GHz

3.1GHz

3.6GHz

3.5GHz

CPU Turbo Clock

4.0GHz

3.6GHz

3.7GHz

3.4GHz

3.7GHz

3.4GHz

3.9GHz

3.7GHz

CPU L3 Cache

16MB

16MB

16MB

8MB

8MB

8MB

4MB

4MB

CPU Cores / Threads

6 / 12

6 / 12

4 / 8

4 / 8

4 / 4

4 / 4

4 / 8

4 - 4

CPU TDP

95W

65W

65W

65W

65W

65W

65W

65W

Integrated Graphics

-

-

-

-

-

-

Radeon Vega

Radeon Vega

Shaders

-

-

-

-

-

-

704

512

IGP Turbo Clock

-

-

-

-

-

-

1,250MHz

1,250MHz

Socket

AM4

AM4

AM4

AM4

AM4

AM4

AM4

AM4

Lithography

14nm

Motherboard

Asus Crosshair VI Hero

Gigabyte AB350-Gaming 3

Gigabyte AB350N-Gaming WiFi

BIOS

5704 (1002 for Ryzen 5)

F7

T20f

Memory

Corsair Vengeance 32GB DDR4

G.Skill Flare X 16B DDR4

Memory Config

4x8GB

2x8GB

Memory Timings

16-17-17-36-1T

14-14-14-34-1T

Memory Speed

2,666MHz

2,933MHz

Disk Drive

SK hynix Canvas SC300 (512GB)

Power Supply

be quiet Dark Power Pro 11 (1,000W)

Graphics Card

EVGA GeForce GTX 1080 FTW (378.66)

CPU Cooler

Noctua NH-D15S

Operating System

Microsoft Windows 10 (64-bit)
Intel Core Processor Configurations

CPU

Core i5-8400

Core i3-8350K

Core i3-8100

Core i5-7600K

Core i3-7350K

Core i3-7100

CPU Base Clock

2.8GHz

4.0GHz

3.6GHz

3.8GHz

4.2GHz

3.9GHz

CPU Turbo Clock

4.0GHz

-

-

4.2GHz

-

-

CPU Cache

9MB

8MB

6MB

4MB

3MB

3MB

CPU Cores / Threads

6 / 6

4 / 4

4 / 4

4 / 4

2 / 4

2 / 4

CPU TDP

65W

91W

65W

60W

51W

51W

Integrated Graphics

UHD 630

UHD 630

UHD 630

HD 630

HD 630

HD 630

IGP Base Clock

350MHz

350MHz

350MHz

350MHz

350MHz

350MHz

IGP Turbo Clock

1,050MHz

1,150MHz

1,100MHz

1,150MHz

1,100MHz

1,100MHz

Socket

LGA 1151 v2

LGA 1151

Lithography

14nm

Motherboard

Asus Z370-F Gaming

Asus Z270-E Gaming

BIOS

0410

0801

Memory

Crucial Ballistix 32GB DDR4

Memory Config

2x16GB

Memory Timings

16-16-16-38-2T

Memory Speed

2,666MHz

2,400MHz

Disk Drive

SK hynix Canvas SC300 (512GB)

Power Supply

be quiet Dark Power Pro 11 (1,000W)

Graphics Card

EVGA GeForce GTX 1080 FTW (378.66)

CPU Cooler

Noctua NH-D15S

Operating System

Microsoft Windows 10 (64-bit)
Benchmark Suite

CPU Benchmarks
HEXUS PiFast
Our number-crunching benchmark stresses a single core by calculating Pi to 10m places
Cinebench
Using Cinebench's multi-CPU render, this cross-platform benchmark stresses all cores
HandBrake
Free-to-use video encoder that stresses all CPU cores (64-bit)
Memory Benchmarks
AIDA64
Benchmark that analyses memory bandwidth and latency
Gaming Benchmarks (GeForce GTX 1080)
3DMark
Graphics benchmark run using the Fire Strike and Time Spy tests
VRMark
Virtual reality benchmark run using the Orange Room test
Deus Ex: Mankind Divided
2,560x1,440, ultra settings
Hitman
2,560x1,440, ultra settings
Total War Warhammer
2,560x1,440, ultra settings
IGP Gaming and System Benchmarks (Ryzen G-series and Core i3)
3DMark
Graphics benchmark run using the Fire Strike and Time Spy tests
Final Fantasy XV
1,920x1,080, lite settings
Deus Ex: Mankind Divided
1,920x1,080, low settings
F1 2017
1,920x1,080, low settings
Hitman
1,920x1,080, low settings
PCMark 10
Default test
Miscellaneous Benchmarks
Power Consumption
To emulate real-world usage scenarios, we record system-wide mains power draw when idle, when encoding video via HandBrake and while playing Deus Ex: Mankind Divided
Notes
We have put in all relevant CPUs in the sub-$250 market. You will notice that Ryzen 7, Ryzen Threadripper, and Core i7/Corei9 are not included, for the sake of brevity and context, but you can see their results in a bigger round-up right over here.
Instead, we have added the Core i3-8350K and Core i3-8100 into the results mix, offering an apples-to-apples comparison of the latest technology occupying the budget end of the market. We have also run a number of applications solely on the integrated graphics present on the Ryzen G-series and comparison Core i3 CPUs.
A word that needs to be said on testing and stability. In the interests of full disclosure, we had a torrid time when first testing the new chips last week. Significant instability, random reboots and pull-your-hair-out moments only abated once we fiddled around with the BIOS extensively. At the end of testing stability was better, markedly so, but we had hoped for rock-solid performance from the get-go.