Introduction
Fractal Design's venture into the world of liquid cooling has been common knowledge for a number of months - we brought you a sneak-peek way back in March - and said coolers are now ready to make their retail debut.
Three 'Kelvin' models are officially launched today. The Kelvin T12, featuring a 120mm radiator, is priced at £75 and represents Fractal's entry-level solution. The Kelvin S24 includes a 240mm radiator at a cost of £90, while the range-topping Kelvin S36 offers a triple-fan 360mm radiator for £105.
Fractal has a good selection of price points covered, and it's the middle-of-the-pack S24 that's first under the review spotlight.
First impressions are positive. Offering something a little different to the norm, Fractal hasn't partnered with the usual suspects - Asetek or CoolIT - and has, instead, turned to Alphacool as its manufacturer of choice. The radiator, measuring precisely 30mm x 124mm x 275mm, looks a lot like an Alphacool NexXxos ST30 and touts the same full-copper construction.
Black tubes featuring anti-kink coils and measuring 320mm connect radiator to pump and yep, those two-part brass fittings use standard G 1/4in threads, meaning the loop is compatible with a wide range of enthusiast coolers and can be expanded by the user to incorporate other components.
The glossy pump lid is attractive, and we like the fact that Fractal has refrained from adding any unnecessary LEDs - the entire loop looks simple and stylish, and is in keeping with the company's chassis. Speaking of which, if you're the owner of a Fractal chassis, a comprehensive Kelvin Series compatibility sheet is helpfully available at fractal-design.com.
In order to ensure the right amount of flexibility, Fractal needs a pump with plenty of headroom and the supplied unit feels well-put together. The low-profile design measures 40mm in height and includes a full-copper CPU water block. A single three-pin power cable keeps the pump operating at 2,400RPM, and a side-mounted fill port is on hand for refills.
Another plus point is the bundle, which is more comprehensive than most all-in-one liquid coolers. The two supplied fans are four-pin Silent Series HP 120s and offer fan speeds ranging from 800RPM to 1,700RPM, creating a maximum airflow of 62.4 cubic feet per minute.
A Y-splitter cable is included to ensure that both fans occupy only a single motherboard header, and rather than pre-applying thermal paste, Fractal bundles a good-sized tube of its own 'non-curing nanodiamond' solution, which should be enough for at least a few installations.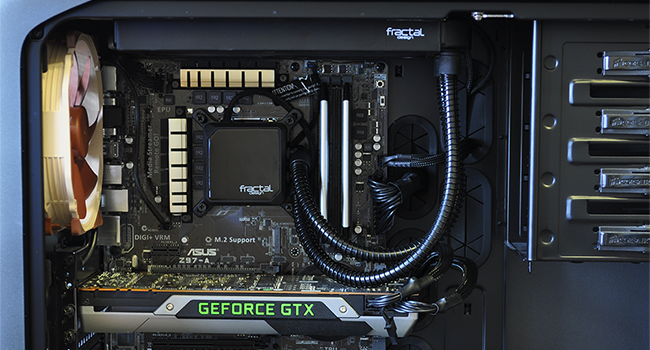 The Kelvin S24 looks smart when in situ, and getting it there is relatively straightforward. Putting the pump mounting bracket together takes a minute or two - 16 parts make up the retaining screws - but once assembled it's a familiar formula: put the backplate into position and fix the pump.
One small caveat is that Fractal's mounting bracket doesn't have defined holes for unique sockets. All of the latest Intel and AMD form factors are supported, naturally, but the mounting bracket features open slots, meaning the retaining screws have to be aligned manually. We wouldn't go as far as to class that as a hardship, but a little extra care has to be taken when putting the water block in place so as not to fudge the thermal paste.
The radiator and fans fit easily into the roof of our Graphite 600T test bed, though we feel the mesh-covered top on this particular chassis is never ideal for a top-mounted radiator. For the record, Fractal recommends having both radiator fans set as intakes when the chassis is equipped with a front intake and a rear exhaust. Opt for front and rear intakes, and the recommendation is to have the S24 fans underneath the radiator as exhausts. Our install takes the former route.
In summary, the S24 is expandable, feels well-built, looks smart, frees up room around the CPU socket and is generally straightforward to install. Now let's take a look at performance.