Introduction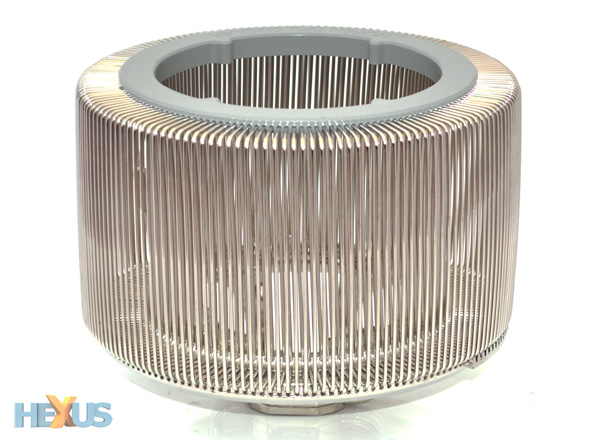 The picture above isn't of an unidentified flying object. It isn't a washing machine component, and it can't be used as a hamster wheel. Nope, what you're looking at here is a good ol' CPU cooler.
Not just any CPU cooler, mind you, as this one's from Korean manufacturer NoFan - who, as you've no doubt guessed by the name, has its heart set on delivering a computing experience without noisy, dust-collecting fans.
NoFan - known as NoFen prior to a May 2011 rebrand - already has a couple of passively-cooled chassis and PSUs in its product range, and it's now augmenting the fanless line-up with a CPU cooler dubbed the CR-95C IcePipe 95W.
There are no fans, of course, so the CR-95C IcePipe instead takes the form of a giant, oversized heatsink. And giant is an understatement. This thing measures 180mm in diameter, stands 148mm tall and tips the scales at 823g.
It is, for lack of a better word, mahoosive, and though we're certain there are more elaborate ways to describe it, the CR-95C is essentially a great big chunk of metal attached to a series of "IcePipe" heatpipes that use natural convection to draw heat away from the CPU.
How much heat exactly? Well, the manufacturer officially supports any CPU with a TDP specification of 95 watts and under, so it is compatible with some of the latest Sandy Bridge chips from Intel and some of AMD's best Bulldozer parts. Though, high-performance computing isn't exactly the idea here. The CR-95C IcePipe isn't designed with extreme users in mind, and you wouldn't want to overclock with this thing.
Instead, it's aimed at those who demand a quiet computing experience. NoFan's selling points are silent operation, no vibration, and less build up of dust than a typical fan-based cooler.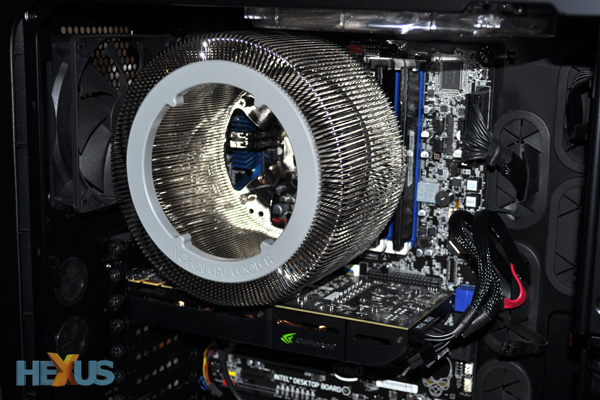 We love quiet computing, and we can see the benefits of a fanless CPU cooler, but the CR-95C IcePipe presents two immediate obstacles; its size is an issue, and the £85 price tag may deter those who're intrigued by the idea.
You don't really get a sense of the sheer scale of thing until you see it in a chassis (we've pictured it above in a sizeable Corsair Graphite Series 600T). There's just enough room to install a graphics card in the first PCIe expansion slot, and the cooler covers a good portion of the motherboard, forcing us to install low-profile DDR3 memory. Other than that, installation is painless; simply attach the backplate to the cooler using the four bundled fixtures.
The CR-95C is suitably easy to use, but it isn't designed for enthusiasts, it's arguably too big for most HTPC chassis, and the price puts its out of reach mainstream consumers. We're struggling to see who'd buy one, which is a shame, as it performs surprisingly well.