Introduction
Following a 2009 collaboration with Asetek, Corsair's line of Hydro Series coolers have become a go-to choice for anyone seeking the benefits of liquid cooling in an easy-to-use, closed-loop unit.
The simple nature of the products make them accessible to enthusiasts and novices alike, and the popularity of both the Hydro Series H50 and Hydro Series H70 intimates that self-installed liquid cooling is here to stay.
All signs suggested that the Corsair-Asetek relationship would flourish for years to come, but how times have changed. Asetek's now producing coolers for Antec, and Corsair's moved on to pastures new by collaborating with Canadian manufacturer CoolIT Systems.
The new partnership got off to a steady start with the entry-level Hydro H60 earlier in the year, and it's now flexing its collective muscle with the launch of the high-end Hydro Series H80 and the extreme Hydro Series H100. Priced between £70 and £80, these latest additions attract a hefty premium for single-component cooling, and they'll need to impress if they're to convince would-be buyers to part with their hard earned. Let's find out if they do.
Hydro Series H80
Up first is the Hydro H80, a £70 all-in-one cooler that at first glance has a lot in common with the H70 it's been brought in to replace.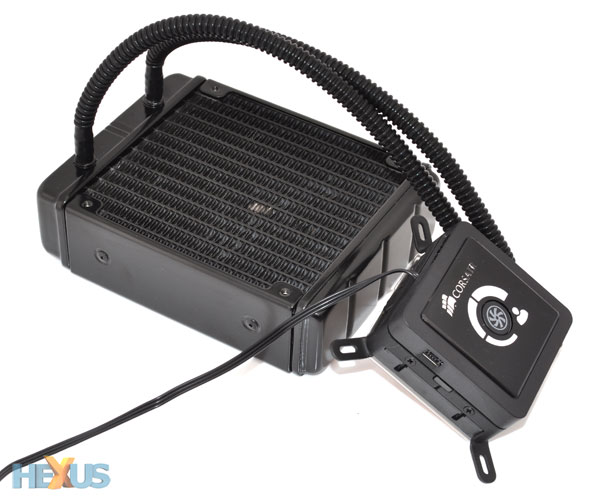 Like last year's H70, this new addition consists of a double-thick radiator attached to a low-profile pump via a pair of flexible Fluorinated Ethylene Propylene (FEP) tubes, creating a sealed closed-loop system.
Two 120mm fans are included in the bundle and are used in a push/pull configuration to draw heat away from the radiator, and the form factor all but ensures compatibility wherever there's a free 120mm rear fan mount. As you'd expect, CPU compatibility isn't a problem either, with Corsair including mounts for all the latest Intel and AMD sockets - including AM2, AM3, LGA 775, LGA 1155, LGA 1156, LGA 1366, and LGA 2011.
It's almost the Hydro H70 all over again, but Corsair and CoolIT have put heads together and introduced a few subtle, but important upgrades. Take for example the radiator - while the H70's unit measured 48mm thick, the H80's radiator takes on a more slender 38mm frame to make installation that little bit easier. A smaller rad should, in theory, reduce the cooling potential of the unit, but there are upgrades elsewhere to help compensate.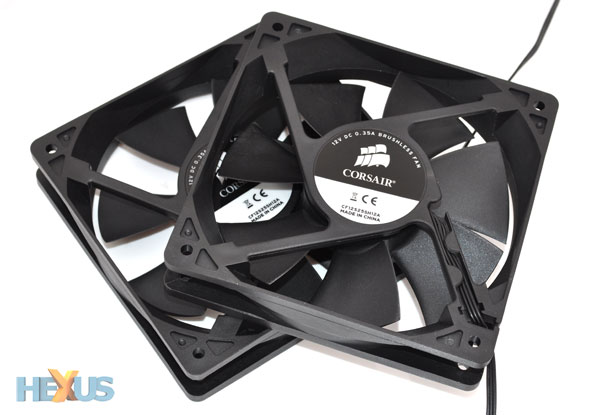 First and foremost, the two fans are the most powerful we've seen in a Hydro Series kit. Measuring 120mm wide and 25mm thick, the duo are capable of operating at speeds of up to 2,600 RPM and deliver some impressive results; air flow is rated from 46 to 92 CFM, static pressure ranges from 1.6 to 7.7mm/H2O, and the noise level will be kept between 22 dBA and 39 dBA depending on fan speed.
The enhanced static pressure will no doubt suit the radiator's tightly-knitted array of aluminium fans, and further improvements lie at the opposite end of the H80 unit.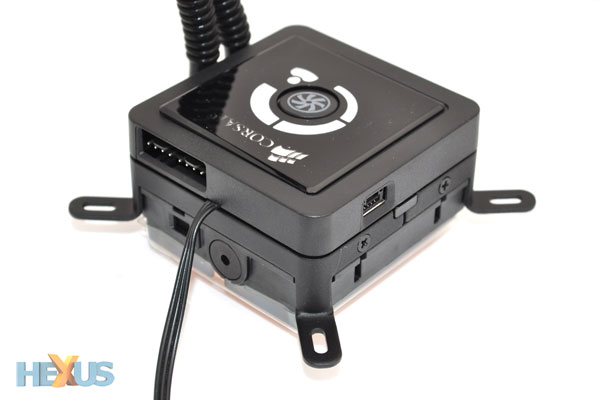 Corsair's new-look pump stands 40mm tall (10mm taller than the Hydro H60) and manages to pack a few useful upgrades. There's now room for the unit's two 120mm fans to be connected directly to the pump (saving those oh-so-valuable motherboard headers), and a dedicated connector for Corsair Link. The latter, scheduled for release in the coming weeks, is an optional accessory that, through a combination of hardware and software, allows users to adjust pump speed and fan speed based on coolant temperature.
We've had a play with an early beta of Corsair Link and suspect it'll be popular among users wanting ultra-tight control of system thermals, but for everyone else there's a simpler solution in the form of the H80's built-in fan profiles. Toggled via a button on the face of the pump and illustrated by white backlit bands, the profiles allow the user to select three modes that vary fan speed according to coolant temperature; Quiet (900 - 1,300 RPM), Balanced (1,300 - 2,000 RPM) and Performance (1,600 - 2,600 RPM).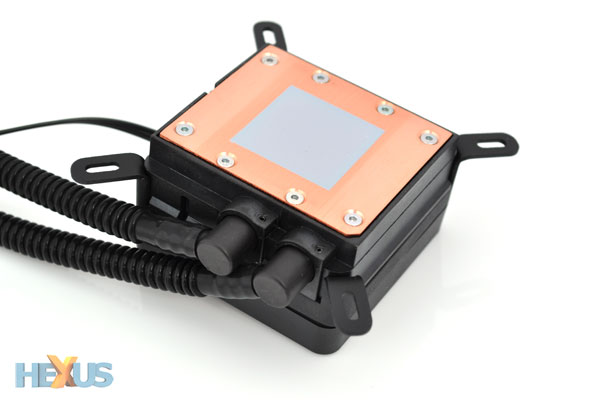 Flip the pump over and you're presented with the same smooth copper plate as the Hydro H60. Making use of a split-flow manifold, the pump draws coolant in from the radiator to the centre of the block and then out to the sides. According to Corsair's blurb, this helps ensure optimum heat absorption before circulating back to the radiator.
So, in a nutshell, the Hydro H80 offers Corsair's best pump, best fans and a double-thick radiator in a familiar easy-to-install package.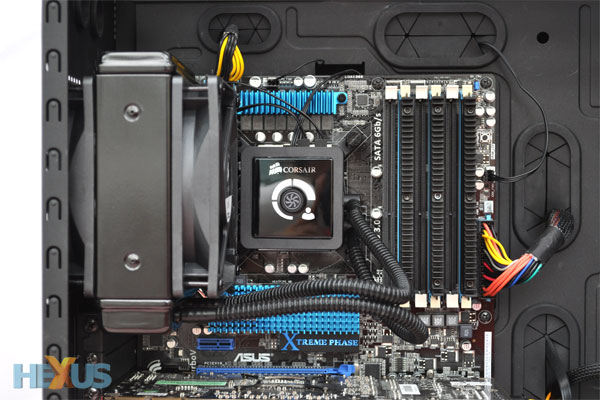 Attach the backplate to the rear of your motherboard, and it's simply a case of tightening the pump's thumb screws and attaching the fans/radiator to your chassis. The pump is connected to a three-pin motherboard fan header for the purpose of RPM monitoring, and it's powered by a four-pin molex connector.
It doesn't come much easier than this, but the Hydro H80 is facing one serious problem: spend an extra £10 and you can bag the range-topping Hydro H100.