Setup and usage
There are many ways to liquid cool a computer's CPU - and indeed various other components - but if you're in need of a solution that offers ease of use and little risk, you can't beat a self-contained kit.
Such solutions arrive as a single, sealed unit, and they offer a few key benefits - they're self-contained, so you never see the liquid (touch wood), they feature a compact and lightweight pump that typically puts less weight on a motherboard than a high-end air cooler, and they require little-to-no experience to use.
Case in point, Antec's KÜHLER H2O 920 can be installed by just about anyone who knows how to operate a screwdriver, and it's backed by a three-year limited warranty.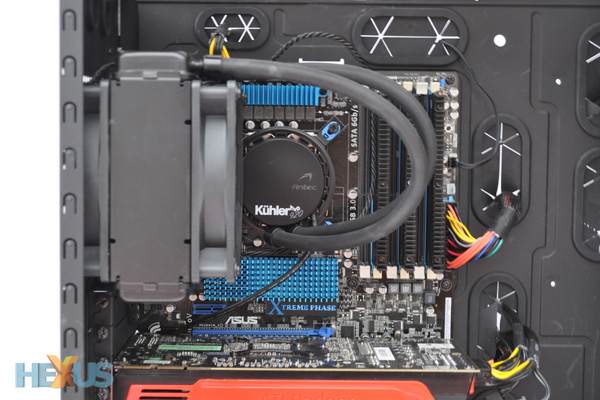 The installation process is practically identical to the Hydro H70 (which you can read about in greater detail over here) and involves a few simple steps. You start by fixing a backplate to the rear of your motherboard - here's where chassis with a dedicated cutout prove their worth - and then loosely attach a metal retention ring using the provided screws. Once the retention ring is in place, the radiator - sandwiched by the two user-replaceable fans - is screwed to one of your chassis' spare 120mm fan mounts. The rear-most fan can be installed outside of your chassis if you're struggling for room, but we had no such problems in our cavernous Obsidian Series 800D. The penultimate step involves sliding the pump - which has thermal paste neatly pre-applied - into the retention ring, twisting it slightly until it locks into place and fastening the screws.
With the radiator and pump installed, power is sourced by connecting both fans to the pump via the attached cables, and a single three-pin cable then runs from the pump to the motherboard's CPU fan header. What's different to Corsair's Hydro H70 is that the KÜHLER H2O 920 also uses a USB cable to communicate with a Windows-based software utility dubbed ChillControl.
The USB connector cable is a good 12 inches in length, making it easy to route from the pump to a spare USB header on your motherboard, but it does consume a port that might be used to serve other components - namely a chassis' front USB ports.
What's also interesting is that Antec doesn't recommend a specific fan orientation. Unlike Corsair, who advises users to configure its liquid coolers to pull cool air in from outside the chassis for optimum CPU temperature, Antec simply states that "users should find the best way to pull air out of their systems". Echoing the concerns of many HEXUS readers, we prefer not to draw air over the warm radiator and into our case, so we've positioned both of the KÜHLER 920 fans to exhaust from front to back.
Installation's a cinch, and Antec provides all the gubbins required for compatibility with a wide range of CPU sockets, including Intel LGA 775, 1155, 1156, 1366, and AMD AM2, AM3, AM2+, AM3+.
ChillControl
What sets this particular cooler apart from many of its immediate rivals is the bundled ChillControl software utility. Available for both 32-bit and 64-bit editions of Windows, the software communicates with the cooler via USB and allows the user to monitor and control fan speed.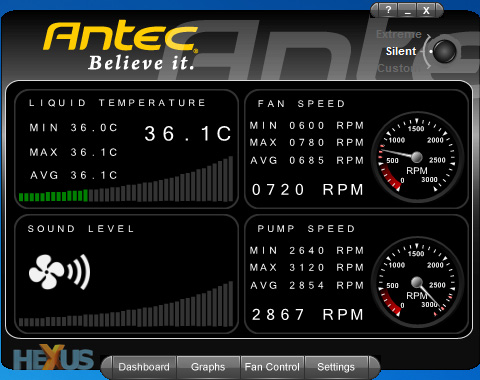 At its core, ChillControl provides three operating modes; Extreme, Silent and Custom. The first cranks both fans up to maximum speed for optimum cooling performance, the second keeps fans running at the lowest possible speed (note: they will ramp up when necessary), and the third allows the user to specify when they'd like the fans to ramp up and hit top speed based on the temperature of the liquid coolant.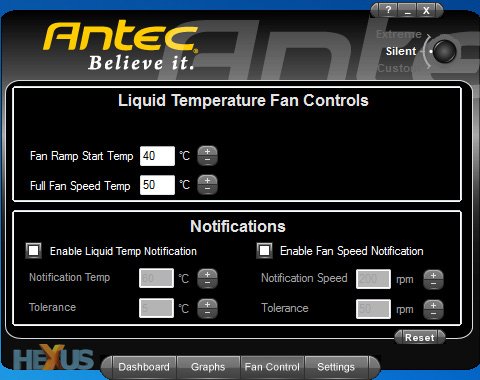 It's a handy utility to have, but neither of the three operating modes are perfect. Extreme mode results in more noise than most users would be willing to put up with, Silent mode isn't quite as quiet as it claims to be, and the Custom setting can only adjust fan speed in reaction to liquid temperature - it won't therefore respond immediately to a quick spike in CPU temperature.
We'll cover noise in greater detail later in the review, but take our word for it - the majority of users will want to stick with the Silent or Custom modes.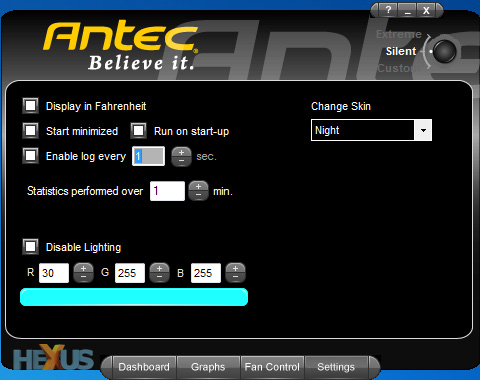 Providing a little more customisation, ChillControl also offers the means to alter the colour of the backlit Antec logo residing on the face of the KÜHLER 920 pump. The RGB colour model makes it easy to find a tone that fits in with the rest of your PC's components, and for those who've grown out of brightly-lit PCs, you'll enjoy the fact that Antec provides an option to disable the lighting all together.
The software adds value to the package, but cooling performance will need to be top-notch for the KÜHLER 920 to warrant its lofty £80 asking price. Let's find out if it is.