Introduction
Chinese manufacturer Deepcool is determined to disrupt the CPU cooling landscape by unsettling established players with a wide range of alternative offerings. The firm caught our attention back in 2014 with the aggressively-priced Lucifer and has since gone on to produce an entire catalogue of coolers that includes eye-catching all-in-ones.
What has changed in 2019? Well, Deepcool is now aiming higher and instead of undercutting the competition, it is introducing premium products that are designed to go toe-to-toe with the crème de la crème. That is very much the case with the new Assassin III.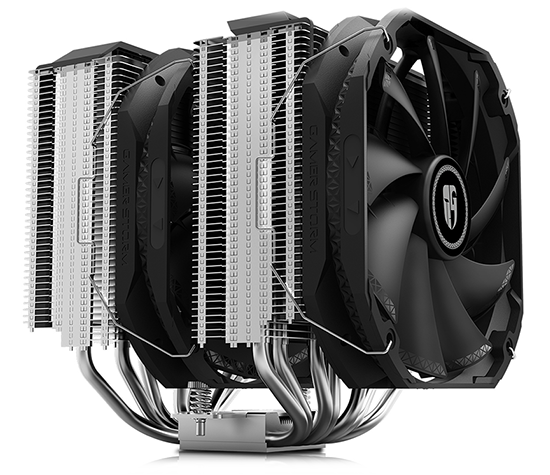 Priced at £80, the Assassin III is viewed as a direct challenger to Noctua's revered NH-D15, and Deepcool isn't shy about taking on such a lauded competitor. The official product page refers to the cooler as a "cold and stylish killer," and the firm's not-so-subtle performance charts use brown-coloured bars to depict the so-called 'former performance leader.'
Look past the bravado, and it soon becomes clear that imitation is the sincerest form of flattery. As soon as you open the Assassin III box, there's a distinct Noctua-esque feel to packaging and presentation. And that's no bad thing, as Noctua tends to be a step ahead of most others in this regard. All the components are individually sorted into separate cardboard boxes, the fixings are packaged and labelled based on socket, there's a bundled screwdriver to aid installation, and Deepcool includes a good-sized tube of thermal paste as standard. Better yet, and somewhat ironic given our recent QOTW, the bundle also includes a makeshift credit card to ensure paste is applied the (ahem!) correct way.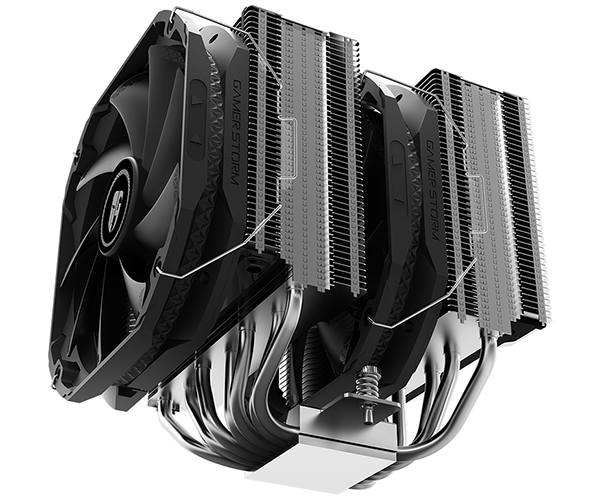 The overriding feeling of familiarity is present throughout. Deepcool's mounting kit is an almost exact replica of Noctua's SecuFirm2, and includes the requisite backplate, spacers, mounting bars and thumbscrews. For consumers, that means a familiar installation that is excellent to work with. Heck, much like the NH-D15, Deepcool also includes a Y-splitter cable and a pair of low-noise adaptors for reducing maximum fan speed from 1,400rpm to 1,000rpm.
Of course, to challenge at this end of the market you need serious cooling potential, and Deepcool claims a TDP of 280W. As you might expect, delivering such performance requires a mammoth heatsink, and the dual-tower Assassin III measures a whopping 161mm x 140mm x 165mm with both fans attached (the heatsink alone measures 135mm x 138mm x 165mm). It also happens to weigh in at almost 1.5kg, so if you're trying to minimise motherboard strain or clear the clutter from around the CPU socket, this clearly isn't the cooler for you.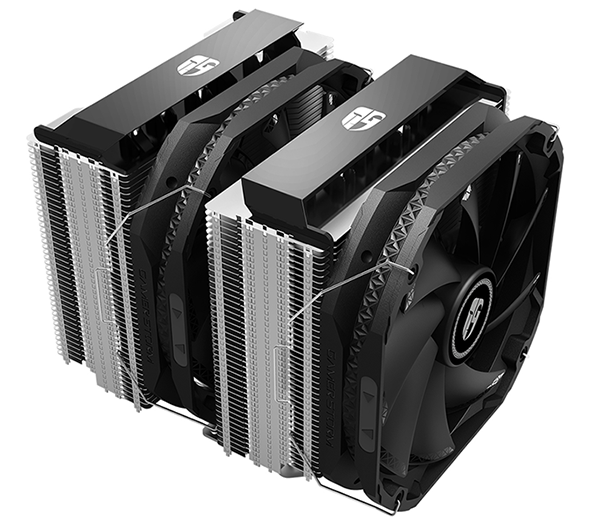 A total of seven 6mm heatpipes (one more than the NH-D15) traverse the twin towers to draw heat away from the smooth copper base, and the nickel-coated caps protruding from the top are masked with plastic covers dubbed spoilers. The overall design isn't re-writing the heatsink rule book, but build quality is solid throughout, and the mirror finish on top of each fin stack is quite eye-catching. Trying to make any cooler as large as this appear elegant is always going to be a challenge, but Deepcool's black-and-silver colour scheme is at least more widely compatible than Noctua's traditional brown-and-beige.
Both fans are of decent quality, too. Granted, they don't boast the remarkably narrow tip clearance of a modern-day Noctua, but each 140mm PWM blower is outfitted with two-layer blades said to amplify airflow, as well as rubber dampeners to help absorb vibration. If you're inclined to put a great deal of emphasis into specifications, note that Deepcool touts airflow of up to 150m³ per hour, representing a seven per cent improvement over the rival NH-D15.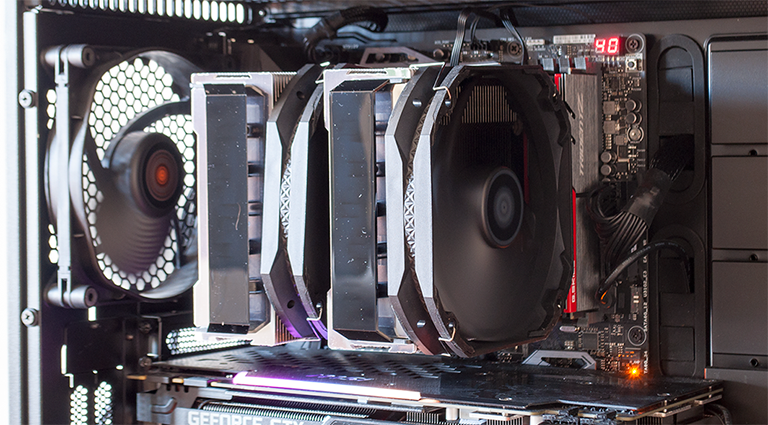 One key concern for coolers of this magnitude is compatibility. A width of 138mm prevents the heatsink from fouling a nearby graphics card on most motherboards, and height shouldn't be a problem for performance chassis, however memory selection may require some care. 54mm of clearance is generous enough, but this is reduced significantly with the front fan attached, and with our dual-channel G.Skill Trident Z pack in situ, the front fan inevitably needed to be mounted a fraction higher than usual. As for sockets, Assassin III supports all recent Intel or AMD consumer platforms, bar Threadripper.
Easy installation and top-notch cooling are guaranteed, yet in order to truly be a thorn in competitors' sides, we feel as though Deepcool needs to maintain an edge in terms of pricing, and at launch that sadly isn't the case. We're told the Assassin III will be arriving at UK stores in a couple of weeks' time carrying the same £80 price tag as the esteemed NH-D15, and Deepcool's five-year warranty isn't quite able to match Noctua's six-year cover. Taking on the industry's best could be viewed as brave or foolhardy, yet Deepcool is so confident that its Assassin III review sample arrived with a retail NH-D15 in tow. It really wants the duo to be compared directly, so let's get to it, shall we?