Introduction
We've been impressed with a couple of air coolers this past week - be quiet!'s Dark Rock Slim and Noctua's NH-U12A have both earned rave reviews - but if you have your heart set on an all-in-one liquid solution, what's the best the industry has to offer?
If price is any indication of quality, the award would have to go to the Asus ROG Ryujin 360, a £232 cooler that headlines Asus's foray into the world of all-in-ones and promises to be "the ultimate thermal solution."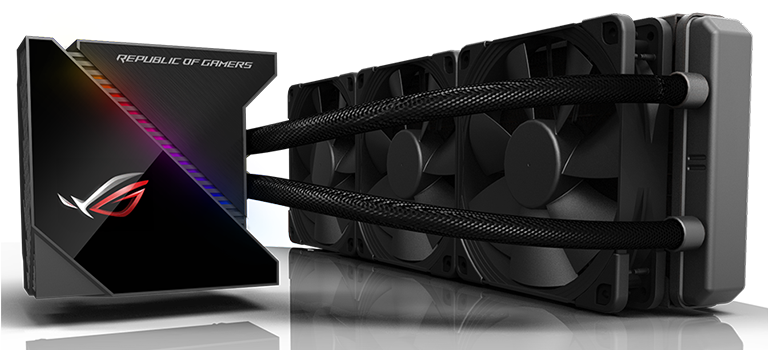 There are no two ways about it, £232 is a huge sum, and Asus needs to go above and beyond when it comes to features and performance if the ROG Ryujin 360 is to warrant such a premium. At first glance, there are some promising signs as the cooler sets itself apart from most competitors through three key features that should enhance the user experience.
Firstly, the radiator isn't just lined with three ordinary fans. Instead, Asus has teamed up with Noctua to include a trio of award-winning NF-F12 industrialPPC PWM fans capable of speeds of up to 2,000RPM. These are arguably the best fans ever to be bundled with an all-in-one, and Asus also uses chromax.black.swap anti-vibration pads to maintain the all-black aesthetic.
The second nicety is the pump head, which in addition to a customary RGB strip, includes a 1.8in colour OLED display that can be used to display a GIF animation or vital system specs such as CPU temperature and fan speed. A nice touch, and last but not least, beneath the pump topper is a 60mm downward-facing fan whose purpose is to circulate air around the CPU socket, helping cool nearby VRMs or M.2 slots.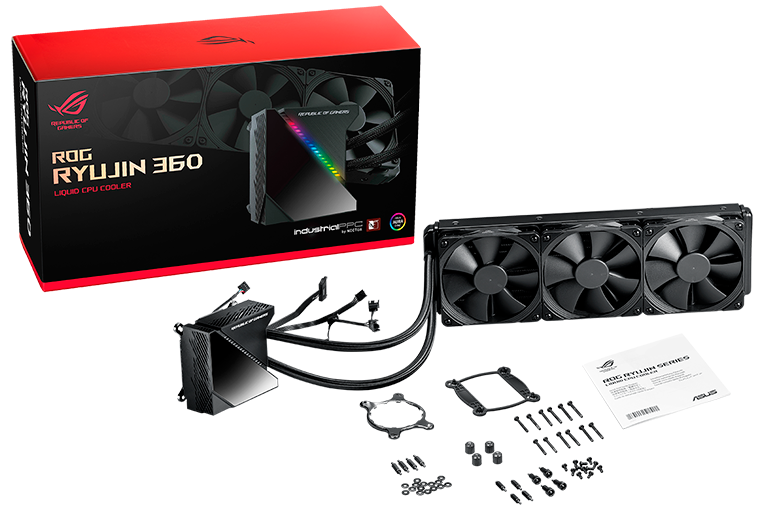 All sounds good in practise, but is it enough to justify a £232 price tag? That's debatable, as at the core of the Ryujin 360 is an Asetek pump and radiator that's practically identical to myriad other Asetek-based solutions already on the market. The 360mm radiator, flexible tubing and accessory bundle all feels very familiar, right down to the plastic backplate and the absence of any additional thermal paste, which at this price point feels borderline criminal.
The aforementioned trio of value-adds need to shine, and the highlight in our estimation is the bundling of Noctua PWM fans. Said blowers have a high-quality feel, with braided cables and a three-phase motor, and generate airflow of up to 121.8m³/h while creating little in the way of noise.
Unfortunately, the OLED display, which perhaps ought to be the star of the show, is a tad disappointing. Sat beneath a transparent section of the top cover, the 1.8in display is dwarfed by the size of the pump and ends up looking like a relatively small afterthought. It isn't particularly bright, either, so doesn't stand out in the way that we'd imagined, and though there are some useful customisation options, there are a fair few limitations, too.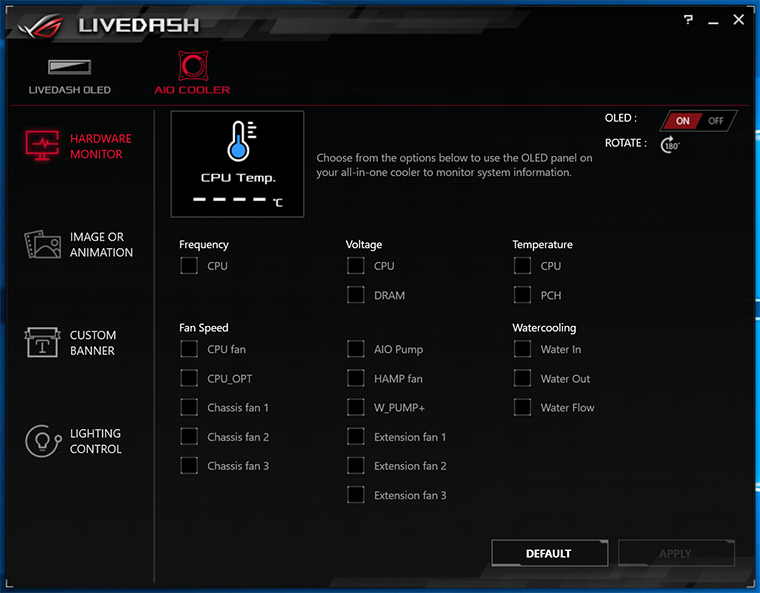 Via the LiveDash software utility, users can configure the display to show system information (pictured above), an image or animation, or a custom banner. Trouble is, there's a caveat to each option. We like the ability to monitor key hardware statistics, however there's no option to change the speed at which the display cycles between the various pieces of information, and the displayed CPU temperature doesn't appear to be accurate. We can only assume that Asus is retrieving temperature from a different sensor, as the number is generally low and doesn't align with what we see in various other CPU monitoring utilities.
Using a 160x128-pixel image weighing up to 1MB in size is an easy way of customising the display with, say, your clan logo or company brand, however the image needs to be stored on the cooler's local memory, which unnecessarily appears as a removable drive in Windows. Choose to opt for a custom banner and you'll be limited to a small amount of text beneath an ROG banner; there's no option to change font nor font size. Asus's software ultimately feels rough around the edges, we experienced the occasional error when trying to detect the cooler, and LiveDash is but one of three utilities needed to take full control. Aura can be downloaded for RGB synchronisation, and if you want to manage fan speeds, you'll need to grab AI Suite, as well.
As a result, the display ends up feeling like more hassle than it's worth, which is a shame as the concept has promise. The same could be said for the 60mm pump-embedded fan, which at speeds of up to 4,800RPM makes for a noisy pump assembly while offering negligible gains in cooling performance. We suspect most users will choose to disable the 60mm blower entirely via the AI Suite software due to the noise alone.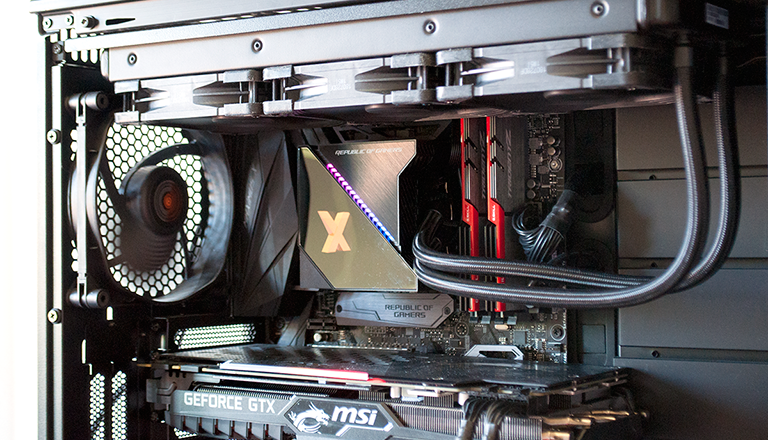 Installation, as you'd expect from any Asetek-based cooler, is reasonably streamlined. It's a classic case of attaching the relevant standoffs to the backplate, before securing the pump via four thumb screws, though in this instance there is more cabling than usual. Emanating from the pump is a three-way, four-pin splitter for the radiator fans, a four-pin motherboard header, a SATA power connector and a USB cable. More clutter than we'd like, and do note that there's no option to refill or expand the loop, both of which you might have expected at this price point. Thermal paste is pre-applied (though, remember, there's no extra paste in the box) and all the latest Intel and AMD sockets are supported, including TR4 via the mounting bracket shipped with Threadripper CPUs.
Once in situ, the pump's aesthetics have elicited a mixed response here at HEXUS HQ. Some like the fact that it's different, but others find it overly large and plasticky in appearance. Let us know how you feel about it, but in the meantime let's take a look at performance on our overclocked Core i7-8700K test platform.