Introduction
Almost a decade has passed since Corsair first unveiled its Hydro Series liquid coolers. The original offering, dubbed the Hydro Series H50, arrived way back in mid-2009 with the goal of bringing all-in-one liquid cooling to mainstream users seeking something a little more potent than your average heatsink and fan.
The floodgates had been opened. Hydro Series has since served as a go-to solution for high-end users and system integrators wanting capable liquid cooling in a single, hassle-free unit. Corsair's Hydro Series product line has flourished, but plenty of competitors have since arrived on the scene with alternatives that are prettier, quieter or just plain bigger.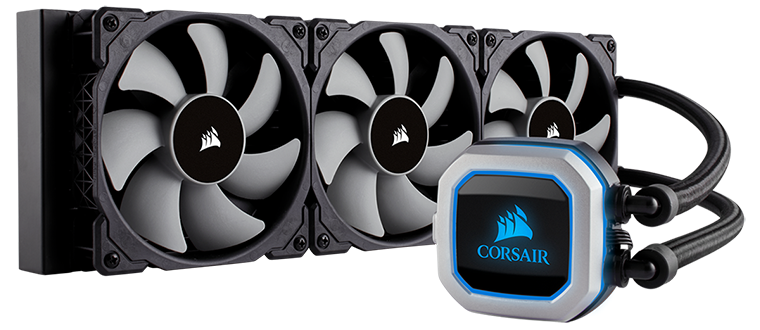 A Hydro Series refresh is long overdue and Corsair is today firing back at its rivals with the release of the 280mm H115i Pro (£135) and the 360mm H150i Pro (£165). The latter is interesting insofar as it is the first 360mm Hydro Series cooler to date, and by pushing the price up to £165 it returns the spotlight to a common question: at that price, shouldn't you start thinking about a more elaborate custom loop?
That's always up for debate, yet for a lot of users there's a lot to be said for convenience and the H150i Pro continues Hydro Series tradition of being easy to work with. So what exactly has Corsair improved for this generation? The first obvious change is aesthetic, with the redesigned pump now sporting an RGB backlit logo and surrounding LEDs. Corsair's lighting provides a nice glow and is easily configurable via the Link software, however the silver trim on top of the pump may divide users - it looks perfectly nice, but is silver going to suit all builds? Black may have been a safer option.
A visual refresh is all well and good, but anyone who has used an older Hydro Series solution knows that noise output is where there is most room for improvement. Earlier models suffered from noisy pumps, plus an initial whoosh of fan noise at boot, and Corsair is rectifying such niggles by employing ML Series magnetic levitation fans as well as a redesigned copper coldplate and pump.
"We acted on the feedback from thousands of users who requested a lower-noise Hydro Series cooler," says Corsair, who adds that the H115i Pro should "perform similarly to the existing H115i cooler, but at up to 17dBa lower noise levels." This is an evolutionary upgrade, yet the noise reduction is keenly felt in today's quieter PCs.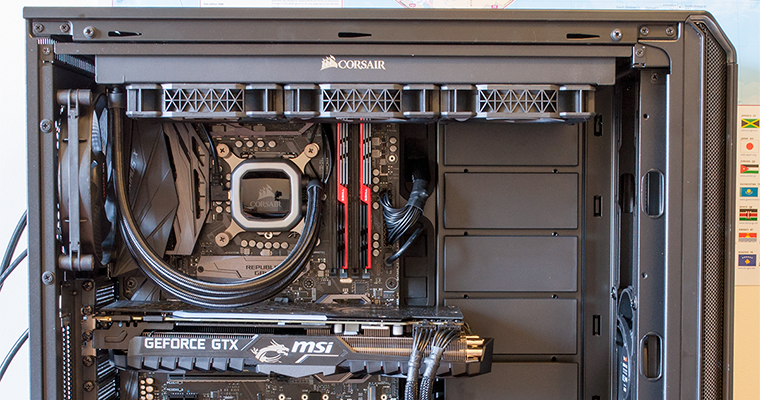 Build quality is good throughout and we quite like the silver Corsair logo emblazoned on the side of the 396mm x 120mm x 27mm aluminium radiator. Sleeved, low-permeation tubing connects radiator to pump and Corsair includes mounting brackets for almost all of the latest AMD and Intel sockets. The only exception is Threadripper. TR4 users may be able to use the Asetek-compatible mounting bracket shipped with the CPU, or alternatively Corsair will be making an optional accessory available in the first quarter of 2018.
Installation on our new Intel Z370 test platform proved a doddle, with the H150i Pro retaining a tried-and-trusted mechanism. Simply fix the backplate to the rear of the motherboard using the supplied standoffs and then secure the pump on top. Thermal paste is pre-applied, however the bundle is otherwise sparse, and at this price point it's a shame a spare tube isn't included in the box for subsequent installations.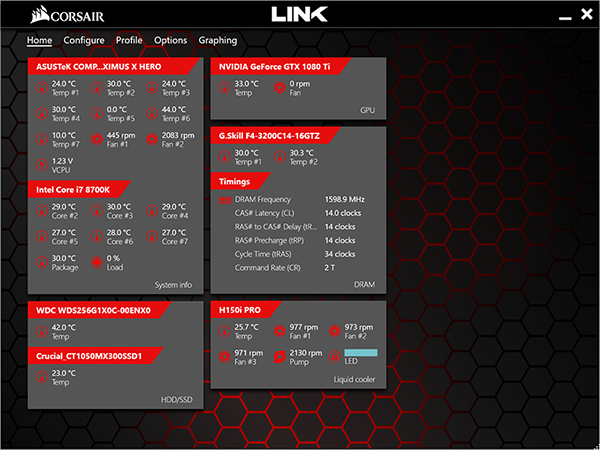 Keeping clutter down to a minimum is another important consideration for an all-in-one cooler and Corsair does a reasonable job. The right side of the pump is home to three required cables - a three-pin connector for attaching the pump to motherboard, a SATA connector for power, and a three-way splitter for hooking up the trio of 120mm ML Series fans. The only point of contention is the optional USB cable that attaches to the left of the pump. Said cable is a bit of an eyesore but is necessary if you wish to take advantage of software customisation via the free-to-download Link utility.
Link offers a familiar array of stats and configuration options, including a wide range of RGB effects and the ability to trigger notifications or events when a certain temperature is reached. Given Corsair's focus this time around, there are also three pump profiles - balanced (default), quiet, performance - as well as a 'Zero RPM' fan mode that turns off all connected fans at low load.