A Maker 5 Build
Building into the MasterCase Maker 5 is simple, straightforward and hassle-free, and when you're working with the case you get the feeling that the design team knows exactly what today's system builders are looking for. Cables are easy to route, the cutout in the motherboard tray is large enough for just about any heatsink, and though the chassis isn't huge, it never feels particularly cramped.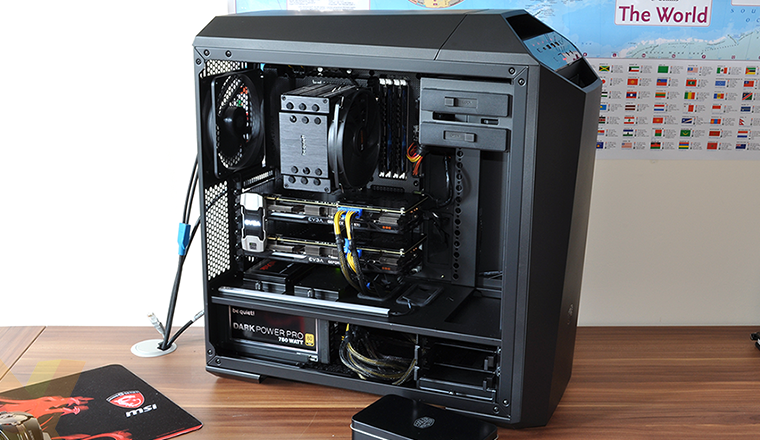 Your CPU cooler can measure up to 190mm tall, graphics cards can extend up to 296mm in length (or 412mm if you relocate a drive cage), while seven expansion slots are par for the course on a chassis of this size. There's evidently plenty of space for a couple of 5.25in optical bays, and it's good to see that they haven't been dropped for the sake of keeping up with modern trends.
Cooling options are reasonably generous, with Cooler Master supplying three fans as standard - dual 140mm front intakes and a single 140mm rear exhaust. Out-the-box airflow ought to be sufficient, yet the stock three-pin fans aren't the quietest and users aiming for an ultra-quiet build may choose to replace them with PWM alternatives. Should liquid cooling be more your thing, you'll find room for a 240/280mm radiator up top, and if you're willing to forego some of the storage bays, a second 240/280mm radiator in the front.
It took us next to no time to put our test platform together, and though we've managed to hide our cables out of sight, they could quite easily be tidied using the provisions available. What makes the MasterCase an intriguing prospect, however, is that there's scope for modifications further down the line.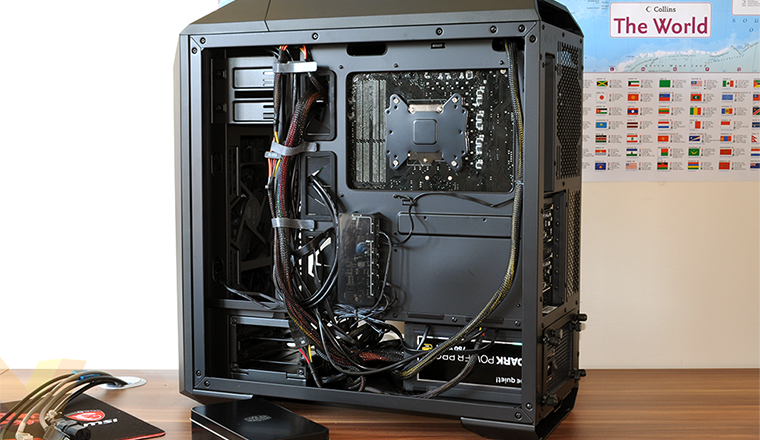 Cooler Master already offers CAD files for creating your own front panels or top covers, but if you prefer ready-made solutions, the company's online store is now home to an array of MasterCase accessories. These include additional HDD cages, quieter PWM fans, a VGA holder and a lush tempered-glass side panel.
It's nice to be able to customise the case, however the optional extras aren't cheap - it's €50 for the glass side panel alone - and we haven't yet seen any major UK retailers stock any of the aforementioned accessories. Right now, they're only available from Cooler Master's EU store. What is handy, however, is that owners of the original MasterCase will be able to upgrade to the Maker 5 feature-set by purchasing the individual parts. We've yet to see how much the revamped I/O panel will cost, but we like the fact that early adopters are being given an upgrade path.
Accessory compatibility between MasterCase models is key, though Cooler Master has missed a trick with its fan controller. It only supports three-pin fans, needlessly sacrificing compatibility with four-pin blowers, while the LED connections are also two-pin, ruling out any four-pin strips you happen to have lying around. And if you have a rainbow of colours in mind, there's a chance you'll lament the fact that the I/O panel indicators only come in red.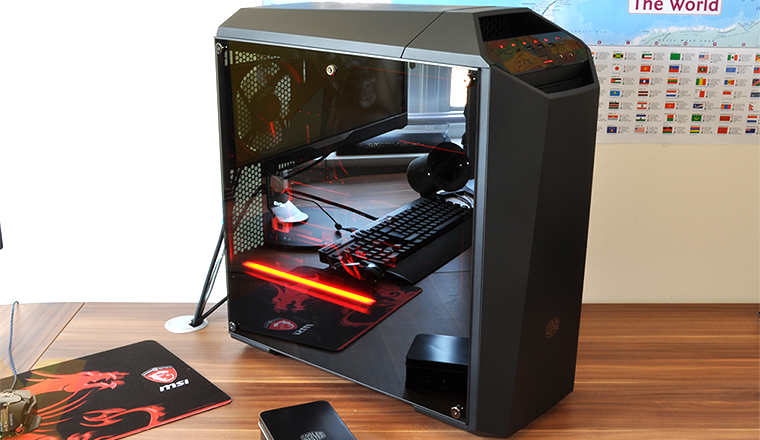 Still, these are minor niggles, and it's been a while since our Z77 test platform appeared as stylish as this. The final build looks terrific, thanks in no small part to the optional tempered glass panel that Cooler Master sent along. Easily attached and secured via a top locking mechanism, it adds another level of elegance and the dark tint contrasts spectacularly with the bundled red LED strip. There's a Sith Lord vibe about it all.