Introduction
Building a new PC is a whole lot of fun, but for the end result to live up to your early expectations, you need a solid chassis that will comfortably house the chosen hardware, keep everything cool and, if it's not too much trouble, look pretty darn good in the process.
There's no shortage of options, that's for sure, but rarely do we see an enclosure that truly tickles our fancy. One that has piqued our interest in the past 12 months is Cooler Master's MasterCase, which arrived back in August of 2015 with the promise of modular customisation in a stylish mid-tower form factor.
We liked the concept and we're pleased to find that Cooler Master has managed to maintain momentum with the launch of various accessories and, now, a new, top-of-the-line model dubbed the MasterCase Maker 5.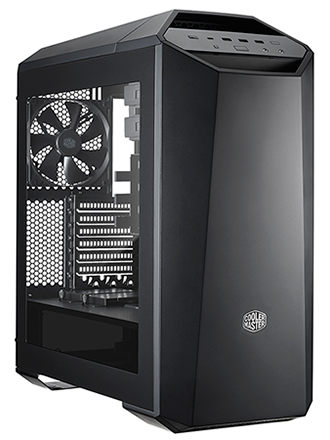 Priced at £180 and carrying a superset of MasterCase features, Maker 5 will seem instantly familiar to anyone accustomed to the range while bringing a few new bells and whistles to the table. So what's changed, exactly? Well, Cooler Master has introduced a front door, a revamped I/O panel, a built-in fan controller and lighting support as standard.
Minor tweaks, in the grand scheme of things? Perhaps, but when you consider that the original MasterCase was already rather useful, it's reassuring to know that Maker 5 is even better. Build quality remains solid throughout - Cooler Master's side panels are noticeably thicker and more rigid than most competitors' - and the paintwork is excellent throughout.
One of the toughest challenges in designing an enthusiast case, we feel, is creating a striking appearance that doesn't come across as toy-like. Maker 5, like its predecessors, succeeds by presenting a stylish, all-black appearance that's sleek and free of unnecessary clutter. It's a good-looking thing.
Of the upgrades, the refreshed I/O panel is the one that immediately stands out. Cooler Master has added an on/off switch for the internal lighting (more on that later), as well as a toggle switch to alternate between high and low fan speeds. Sandwiched in between are four USB ports - USB 3.0 Type-C, USB 3.0 and dual USB 2.0. It's nice to see a Type-C connector feature on the front of the chassis, though it's a shame Maker 5 doesn't support the very latest USB 3.1 standard.
Beneath the I/O panel is the new front door, which covers the underlying mesh frontage to create a cleaner look. There's a chance the door will stifle airflow, yet there are other positives; the entire panel is lined with sound-dampening material to help absorb unwanted noise, and if you tug gently at the top the door will drop forward just enough to allow access to an optical drive. A handy trick and if you need to remove the door for cleaning, it pulls up and off its hinges with ease.
The chassis' overall 528.6mm (L) x 235mm (W) x 548mm profile hasn't changed, and neither has the interior layout, which is logically laid out to support a mini-, micro- or standard-ATX motherboard, up to two optical drives, five hard disks and two SSDs. The hard-disk trays can also support 2.5in drives, and the five are split across 3+2 cages that can be removed and vertically relocated on the hassle-free clip-and-click column. It's a system that works well, and keeping things tidy the power supply has its own bottom compartment that is easily loaded from the back.
Turn the chassis round and we can see another upgrade in the form of a pre-installed fan/lighting hub. Powered by SATA, the hub can be used to connect half-a-dozen three-pin fans, as well as four LED strips. A single red LED strip is included in the bundle, and the associated button on the I/O panel can be used to switch between on, off or breathe lighting modes.
There's nothing out of the ordinary, yet Cooler Master's attention to detail pays dividends. The Velcro ties around back are well positioned, there's a dedicated channel for running front panel wires, tie down points are in all the right places, as are routing holes, and there's ample space to stow excess cables. These little niceties are everywhere you look, and include captive thumb screws on the side panels, tool-free optical bays, a padded PSU bay, and hinged panels that are nice and easy to align.
Heck, the company has even put some thought into the way the MasterCase is loaded into its box. When you remove the upper Styrofoam protection, there's easy access to the chassis' top handles so one person can get the case out with minimal fuss. Oh, and just to top off the presentation, all the screws are packed and labelled separately, and there's a bundled toolbox for keeping everything together. The toolbox also has a magnetic base, allowing for it to be stowed neatly inside the case.