Planning An Elaborate Build
Tidiness is paramount in such a transparent design, and In Win keeps things simple with a slim front I/O panel that includes dual USB 3.0 ports and audio jacks alongside power and reset buttons. The other point of interest is the 240mm tray attached to the bottom of the motherboard panel - this can be used to house a couple of 120mm fans and of course a 240mm radiator.
This is in our estimation a lovely-looking piece of kit, but it's not a perfect chassis. We like the fact that In Win has provisioned for a graphics card measuring up to 340mm in length and CPU coolers measuring up to 165mm in height, but considering the chassis' overall dimensions, we're somewhat surprised that Micro-ATX motherboards aren't supported.
While Mini-ITX is cool, it feels like a restriction on a chassis of this size and at this price point. It also rules out any possibility of multi-GPU graphics, and modders have already taken matters into their own hands by showing that, with a few structural tweaks, it is possible to squeeze a Micro-ATX board into the D-Frame Mini's interior.
We reckon In Win could have done more with the space that's available, but as with any Mini-ITX chassis, the shrunken D-Frame highlights the need for other components to shrink down in size. As it stands, the reliance on ATX power supplies takes up a good chunk of room on most builds, and we'd like to see other form factors step up to the fore.
Putting all the question marks to one side, we can't escape the fact that the D-Frame Mini is fun to work with. It's kind of like a dream modding project for those who don't have the time or the means to create something so elaborate from scratch.
Component installation is very straightforward, but do remember to attach your CPU cooler before installing the motherboard, as there's no cutout in the back of the motherboard tray. We do have cable-routing holes - plenty of them - plus In Win bundles cable loops that screw onto the backplate and do a good job of keeping things looking tidy.
Our Mini-ITX test build consists of an MSI Z97I Gaming AC motherboard, 16GB of Adata XPG DDR3 memory, an MSI Radeon R9 270X Gaming 2G ITX graphics card, a Corsair Force 120 SSD and a be quiet! Straight Power 10 PSU. We experienced zero complications in getting the hardware installed, however the 90-degree rotation does scupper the overall appearance somewhat - having cables sticking out the top of a PC is never entirely elegant.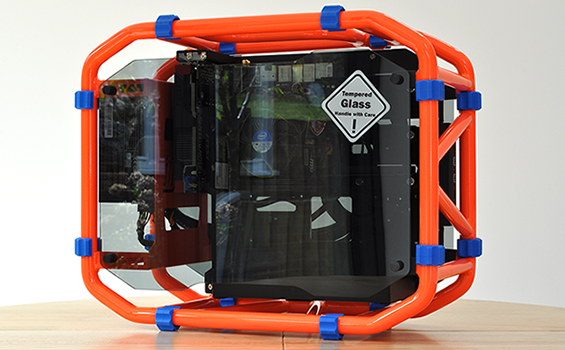 There are other, more pressing, concerns, too. While the D-Frame's appearance is full of intrigue, it's never going to do as well as a traditional chassis when it comes to protecting your components from the elements. You wouldn't want to allow drinks within a six-feet radius, just in case, and you'll always be working to keep the build free of dust. In Win includes a cloth for cleaning the glass side panels, but in truth a feather duster might have been more appropriate.
Actual cooling performance is also an interesting proposition. There's obviously no shortage of clean air, and our test components had no trouble running well within their thermal limits, but you can't easily direct airflow in the way you normally would. Similarly, you can't contain noise, either, so it's important to carefully choose your components. Plenty to consider, but then what else would you expect from an open-air design?