Working with the Silent Base 800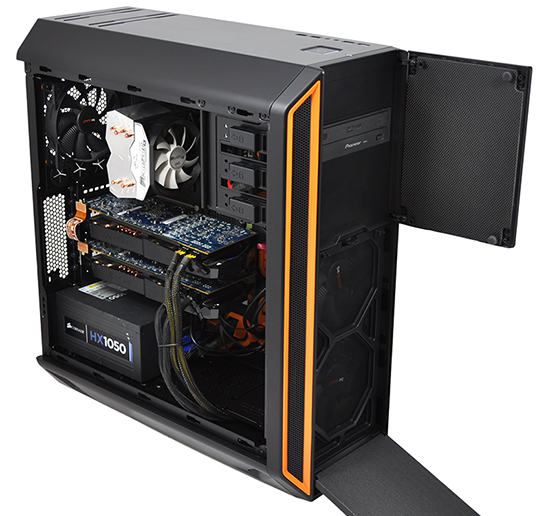 You have to install components into a chassis in order to get to know it, and when working with the Silent Base 800, you discover plenty of features you like and one or two you don't.
In the don't column, we've found the plastic hinges on the reversible front door to be basic and susceptible to damage. We've changed the door orientation on our review sample and one of the plastic hinges is already on the verge of breakdown, so do be careful if you're planning on making a similar change.
The other niggle is entirely aesthetic. See the four optical bays hidden behind the front door? Well, only the bottom three are actually usable. The upper bay merely hides the cabling attached to the top I/O panel, and we'd liked to have seen be quiet! make better use of this space. An SD card reader, perhaps? Or, better still, a built-in fan controller.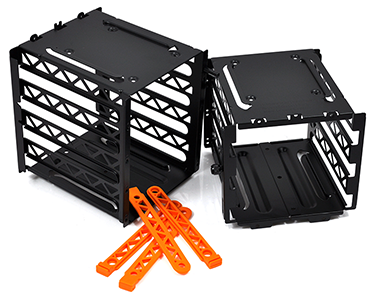 Elsewhere, there's a lot to like, starting with a flexible storage arrangement. In addition to the three optical bays (all of which are tool-free, by the way), there are seven hard-disk bays split across two modular cages (4+3).
The cages themselves feel sturdy and well-put-together, but what really sets the Silent Base 800 apart from most other chassis is that instead of using flimsy plastic trays, be quiet! includes rubber drive mounts that are designed to hold drives while absorbing as much vibration as possible. There's a bagful of these mounts included and they too are a lovely orange colour.
Going a step further, there's room on top of each cage to mount a 2.5in drive, and if you really want to mix things up, the upper three-drive cage can be removed and relocated to the optical bays. Doing so will prevent the installation of any 5.25in drives, but if you don't plan on using any, it's a good way to house hard disks while freeing up space in the interior.
We appreciate the level of flexibility, though there is a possible caveat: users building into the Silent Base 800 are going to want to keep things quiet, meaning hard disks probably aren't the way forward. With this in mind, be quiet! has a further duo of 2.5in drive trays attached to the rear of the motherboard. Both of these are removable via a thumbscrew to help simplify SSD installation.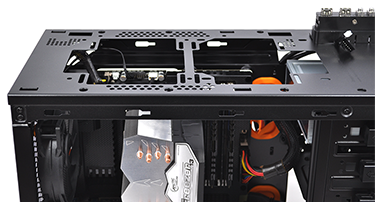 So what about liquid cooling? Well, we get the feeling the Silent Base 800 is an air-cooled solution first and foremost, but there are still three radiator-mounting opportunities.
Remove the plastic top panel and you gain access to two 120/140mm fan mounts, making this an available slot for a 240/280mm radiator. Airflow may be somewhat restricted by the top cover, which only has small slits for airflow, but there's also room for a 120/140mm radiator up front if you decide to relocate the drive cages, and of course, a single 120mm radiator could be attached to the rear.
Paying attention to the little things, be quiet! has ensured that cables attached to the top panel are easily unpluggable, so the top panel comes away without any complication.
Credit where it's due,. the Silent Base 800 is easy to build into. Stripped down and filled with our dual-GPU, Intel Z77 test platform, the chassis doesn't actually look that big. The central steel frame is modest in size, and it's the plastic front, top and bottom panels that give the case its bulk.
Four rubber-grommeted cable-routing holes are available and presented in bright, eye-catching orange, and on the whole cable management is easy to keep on top of. Covering all the basics, there's a well-sized gap above the top-left corner of the motherboard, making it easy to route a CPU power cable.
In terms of clearance, there's room for CPU heatsinks standing up to 170mm tall, graphics cards measuring up to 290mm in length (or 400mm with the drive cages removed) and ample clearance for the bottom-mounted ATX PSU. The PSU sits on rubber pads, again to cancel out vibration, and there's a sturdy pull-out dust filter fitted into the plastic base.
Nitpicking somewhat, we aren't convinced by the long rectangular flaps that be quiet! has used on its rubber grommets - the triangular flaps used by most competitors tend to do a better job of covering up gaps - and we'd liked to have seen a few more cable tie-down points.
This is however an easy chassis to work with and the end result is a good-looking build. So much so that it brings up what could be a deal-breaker for some: there's no side window. Such a feature would be at odds with the sound-dampened nature of the case, but we feel as though be quiet! may have to offer a windowed panel as an option if it's to reach its sales target.
Truth be told, we rarely look into our own systems here at HEXUS HQ, and we'd much rather be quiet! implement a quick-release mechanism as opposed to a superfluous window, but we'd be interested to hear your thoughts on the matter. Would the Silent Base 800 be better with a side window? Let us know in the comments section when you get to the end of the review, but first let's take a look at performance.