Inside the H1
Getting access to the H1's internal area entails removing four thumb screws (two on each side) allowing the panels to be removed. Note that both side panels are notched, as opposed to hinged, so reattaching them does require a little alignment.
There's a good amount of room in here with board support extending to E-ATX and, in keeping with the exterior, we like the fact that Zalman has added extra features that you may not ordinarily expect on a £100 case.
Perusing the internal cavern, we can see that a total of 10 storage bays are available. These include four 5.25in bays and six 2.5/3.5in drive trays split across two removable cages. Note that the bottom 5.25in bay has no external access, but it's usefulness isn't lost as Zalman includes a 5.25in-to-3.5in drive tray as part of the bundle, so a hard drive could be installed with the two modular cages taken out.
The optical bays are all tool-free for added convenience, and each storage tray is well designed: hard disks clip in with ease, SSDs are centrally mounted, and all six trays offer rubberised anti-vibration fixings. Better still, Zalman also puts a three-way, hot-swap SATA cable in the bundle, making cable management tidier for users with multiple drivers.
Overall tidiness shouldn't be a problem as there are eight rubber-grommeted cable-routing holes bordering the motherboard tray. The up-and-over hole for CPU power is a little tight (we had to split our eight-pin connector to get it through) but layout on the whole is good.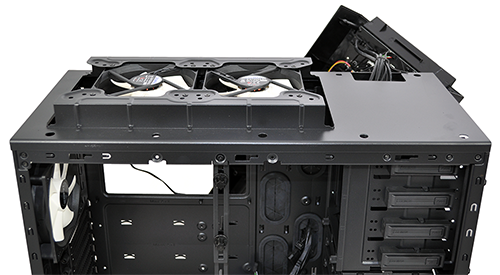 On the cooling front, the H1 comes equipped with four fans as standard. A 200mm blue-LED fan acts as a front intake, there's a 120mm rear exhaust, and the top is outfitted with dual 120s. Removing the thick top cover provides a closer look at the upper duo, and the purpose is quite clear: this whole section is specifically geared for a 240/280 radiator.
Unusually for a full-tower solution, there aren't many rad-mount opportunities elsewhere. The front panel only caters for the 200mm fan (there are no other mounting holes) and with no side or bottom fan mounts, the H1 seems to focus almost entirely on the one upgrade path - put a radiator in the roof.
There's plenty of wiggle room when it comes to picking out your other core components, though. Nine expansion slots allow for multiple graphics cards measuring up to 350mm in length (or more if you remove the drive cages), a standard ATX PSU fits in with ease and CPU coolers can measure up to 160mm tall.
Putting together our dual-GPU, Intel Z77 test platform proved to be simple and straightforward, with the H1 offering more than enough room for a high-end build such as this. A good number of cable tie-down points help keep things tidy but what we really like is the vertical GPU brace. It's position can be moved along the side easily (undo one screw to remove) and it has multiple thumb-screwed guides that provide extra support to graphics card(s).
The Radeon HD 7950 OC cards used in our build have a tendency to sag, and it's surprising how much better they look when supported and kept straight. Building into the H1 is mostly problem-free, though there is room for improvement. We'd like to see Zalman use a SATA power connector for the I/O panel, as opposed to Molex, and we'd much prefer hinged side panels. There isn't a huge amount of room behind the motherboard tray, so re-attaching the notched panel can be a chore if cables aren't neatly tied.