Inside the Graphite Series 780T
We're of the opinion that high-end gaming PCs can now be made smaller with little effort and no compromise, however there are plenty of you aiming for ATX or Extended ATX for your next PC build, and that's the market that Corsair is targeting.
On the outside, the 780T feels like a larger, bulkier alternative to the 600T, but stepping inside reveals that this is an enthusiast enclosure with much bigger ambitions.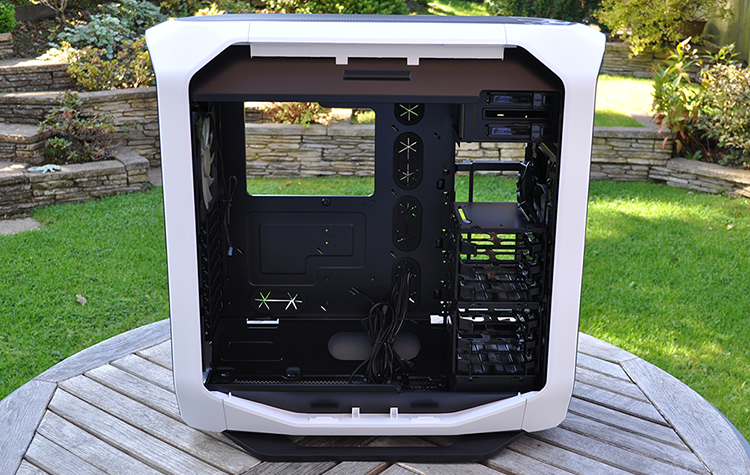 For starters, there's enough room in here to support your choice of E-ATX, XL-ATX or ATX motherboard. Micro and Mini boards are also supported, though that's obviously not the intended usage scenario.
Arriving at just the right time, the 780T is a good match for a high-end Intel X99 platform. There's so much space that the chassis is literally crying out for an X99 board in the E-ATX form factor, and given the new chipset's number of PCI Express lanes, the 780T's nine expansion slots can be put to good use with a multi-card graphics configuration.
It's this "throw-everything-at-it" mentality that makes the 780T stand out alongside its smaller Graphite Series predecessors. Whereas the 600T required a bit of planning, the 780T's larger profile means it'll pretty much accept whatever you want it to.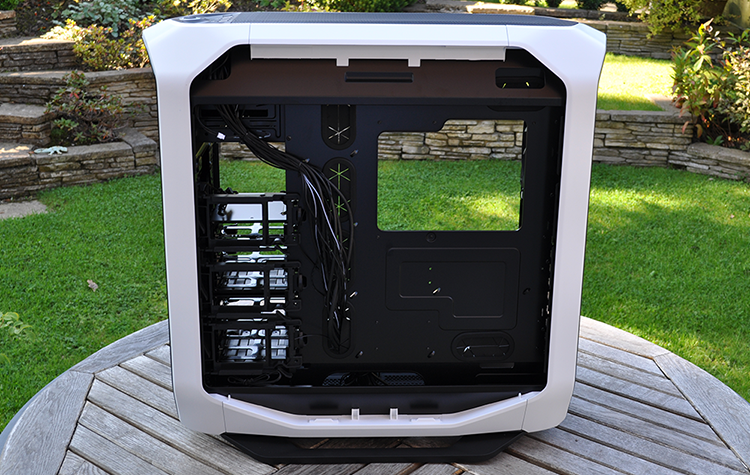 Browsing the specification sheet reveals half a dozen 2.5/3.5in hard-disk trays split across two removable cages, a trio of dedicated 2.5in SSD bays accessed via the rear side panel, and two 5.25in optical bays. The combined 11 are all tool-free for easy installation, and the only real regret is that the hard-disk trays are plastic and a little bit flimsy.
Cable management is aided via six rubber-grommeted routing holes, in addition to a large hole alongside the PSU bay, and of course there's a good-sized cutout in the motherboard tray to help with CPU cooler installation. Heatsinks standing up to 200mm tall are supported, and there's plenty of leeway in other areas - the 780T will accept an ATX PSU measuring up to 260mm in length, while graphics-card clearance stands at a generous 355mm.
You're unlikely to be left wanting in terms of component capability, and it's liquid-cooling enthusiasts who will benefit most as Corsair has paid particular attention to radiator compatibility. And yes, that means the crowd-dividing 200mm front intake has been dropped in favour of a more flexible layout.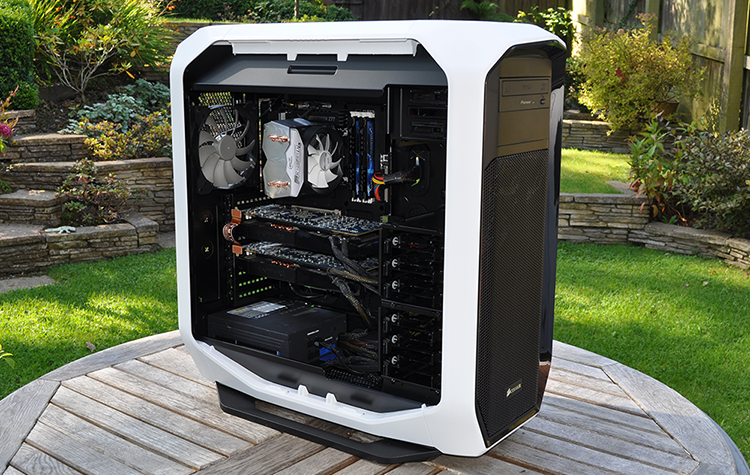 Out of the box, the 780T ships with a trio of pre-installed fans: a height-adjustable 140mm rear exhaust plus dual 140mm LED front intakes. That alone should provide sufficient airflow for high-end builds, but on a case of this size it's the rad-mount opportunities that matter.
And there are plenty of them. Removing the top and front mesh filters exposes a massive amount of potential (click here for a pic). The front of the chassis can house three 120mm fans if need be, the top has room for dual 140s or three 120s, and removing the hard-disk cages would reveal dual 120 mounts on the floor of the chassis.
While the 600T always struggled to adapt to multiple radiators, the 780T has no such problem and could house a 280/360 up front, a 120/140 at the back, a 280/360 up top and a 240 at the bottom. It's hardly lacking in possibility, and given the amount of clearance, push/pull configurations on thick radiators should be easily achievable.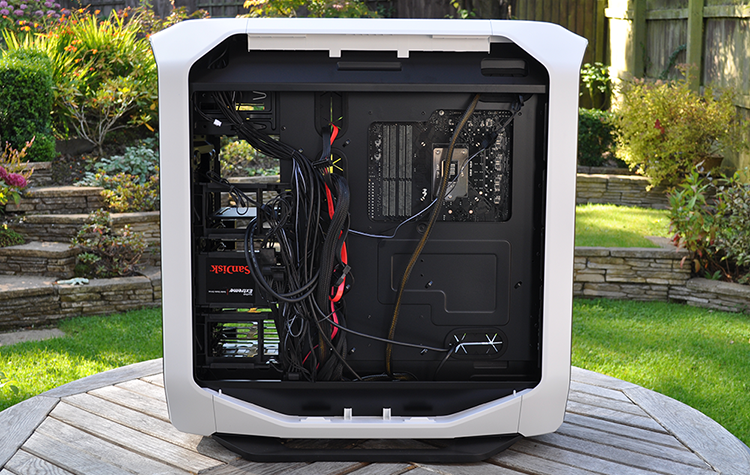 Our dual-GPU, Intel Z77 test platform went in easily and is made to look trivial in the 780T's voluminous interior. The build process was problem free for the most part, and our main criticism relates to the front I/O cabling. There's frankly a lot of it, and Corsair hasn't taken the time to sheath/combine the front-panel power connectors. Add those to the audio connector, the USB jacks, the five fan-controller headers and the SATA power connector, and you have a lot of pre-installed wiring to contend with.
Fortunately, there's a decent amount of room behind the motherboard tray, and plenty of tie-down points are available to help tidy things up. It's worth spending a bit of time on cable management, as an excess of cabling back here can result in awkward side-panel alignment. As mentioned earlier, the central latch doesn't prevent the panel from bulging on the sides, so you'll want to keep cables as neat and tidy as possible. Dust, however, shouldn't pose too much of a threat, as Corsair has removable filters on the top, front and bottom of the case, making ongoing maintenance an easy task.