It's What's Inside That Counts
Thin may well be in, but once you've spent a little time working with the Air 540, you'll appreciate the fact that this chassis is, for lack of a better word, fat. By dividing all of the system components into two categories - those that need dedicated cooling and those that don't - the extra-wide chassis is made to feel surprisingly roomy.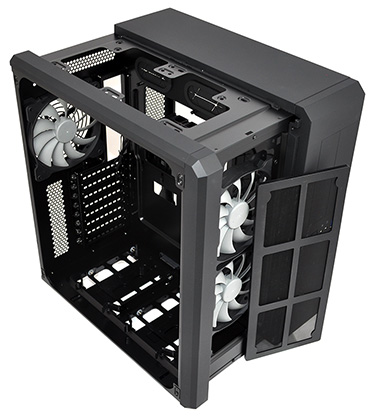 The main chamber, which focuses almost exclusively on housing the motherboard, is extremely easy to work with and, despite the chassis' reduced depth, there's ample scope for high-end configurations. Graphics cards measuring up to 320mm are supported, as is a CPU cooler standing 170mm tall and eight expansion slots that allow for quad-GPU installations.
Corsair includes a trio of 140mm Air Series AF140L fans right out of the box - dual intakes and a rear exhaust - but the stock configuration merely scratches the surface of what the Air 540 can do.
Removing the plastic top and front covers, along with the magnetic front filter, reveals all of the chassis' fan-mount locations. Provisions have been made for a rear 120/140, dual 120s/140s up top, and either dual 140s or a trio of 120s up front.
Half-a-dozen fan mounts isn't extraordinary, but we suspect enthusiasts will be licking their lips in appreciation of Corsair's commitment to liquid-cooling opportunities. There's room for a 140mm radiator at the rear, up to a 280mm in the roof and up to a 360mm radiator in the front.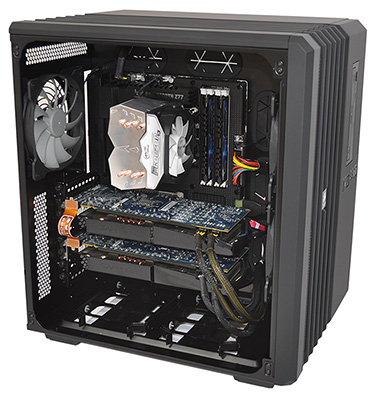 Exotic configurations aren't a problem - you might say they're encouraged - and push/pull setups are a possibility, too. There's a clearance of almost 80mm above the motherboard, so you would be able to install, say, a H100i with four fans, and there's even more room up front. Take the mesh filter out of the equation and it's possible to sandwich a couple of fans between the steel frame and the plastic front cover, once again allowing for an easy push/pull configuration (albeit depending on graphics-card length).
The dual-chamber approach is simple but effective, and relegating various components to the second chamber has freed up room for advanced cooling setups and extreme modifications. This, clearly, is a chassis that enthusiasts are going to have a lot of fun with.
Not that you need a couple of radiators to enjoy the Air 540, mind you. Even in its out-the-box configuration, the stock cooling will prove more than sufficient for most rigs, and you'll still appreciate the user-friendly build process.
A total of eight well-sized and rubber-grommeted routing holes are available (two above the motherboard, six to the right), and instead of having a few millimetres of space behind the tray to store excess cables, you have a whole chamber. The end result is an extremely tidy showcase of all your premium components - hence the near-full-size tinted side-panel window.
High-end, multi-GPU builds do look terrific inside the Air 540, but Corsair hasn't re-jigged the component layout solely for appearance's sake. The idea is to provide a clear, unobstructed airflow path from the dual front intakes to the rear exhaust and the various mesh inserts. The layout has been dubbed Direct Airflow Path™ and, though we'll examine thermal performance shortly, we reckon it's safe to assume that keeping hot-running components cool will be a breeze (excuse the pun).
Ultra-tidy on one end, messy as you like on the other. That's the approach we've taken with our test platform, which proved easy to put together but not entirely niggle-free. We found the chassis' front-panel connector cables a tad short - they reach our Asus Sabertooth just fine, but boards that don't have the relevant headers close to the bottom-right corner may be incompatible.
A surprising oversight, as is the fact that two of the eight rubber-grommeted cable holes are obstructed by the 5.25in drive bracket and are consequently awkward to use. It's a shame, also, that the ninth and bottommost cable-routing hole isn't grommeted to maintain a consistent look. Then there are the two hot-swappable drive bays, which work well enough but sit on open slots that unfortunately aren't protected with a dust filter.
There's room for improvement - hence our high hopes for a cube-shaped Obsidian - but the Air 540 offers plenty to appreciate, too. All eight expansion slot covers are vented and thumb-screwed, the optical bays are tool-free and easy to use, the removable 2.5in drive cage allows you to slot-in SSDs with ease, there's a good-sized cutout in the motherboard tray to aid CPU cooler installation, and if you keep your cables tidier than our example, you'll find plenty of room to install a reservoir.
The Air 540 is so simple to build into that it's easy to see why this enclosure is likely to be a hit. It's quirky without being silly, well-made, great to work with and it does a fantastic job of showing off your hardware. It's fair to assume that this chassis will prove popular with enthusiasts and system integrators alike, and we're looking forward to seeing what end users come up with in terms of extreme cooling and custom modifications. But before we start looking ahead, let's find out if the stock cooling is any good.