Introduction
It's true that no one chassis fits all. Many of us demand top-notch functionality, some want near-silent operation, some prefer drop-dead gorgeous aesthetics, others desire compact form factors, and there are those who want something entirely unique.
Think you fall into the latter category? Then today's review should be of particular interest, as we're taking a look at In Win's limited-edition XFrame.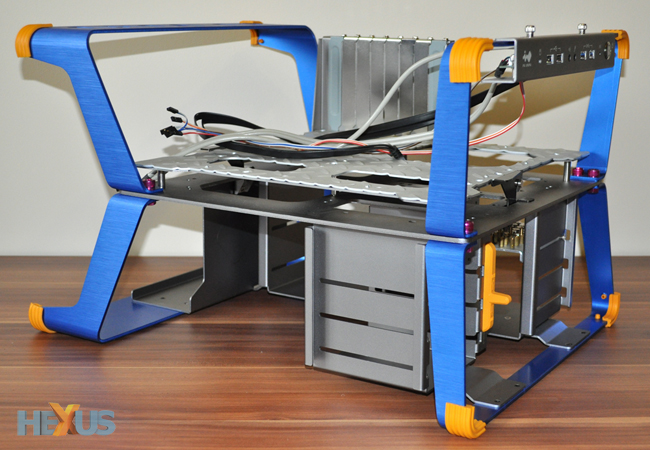 The eye-catching open-air frame is designed to double up as an overclocking test bench and an everyday chassis, and it certainly makes a statement.
Finished in an unusual mix of blue, yellow and silver, it's purposely showy and we mean that in a good way. The description had us fearing a gaudy end product, but seeing the XFrame in the flesh has allayed any such fears; it looks fantastic and it's about as unique as they come.
But there is a catch. The XFrame is designed to turn heads, and in an effort to make it feel all the more exclusive, it's also produced as a limited-run product. We hear that only 50 will be made available and as you might imagine, that exclusivity brings with it a hefty price tag of $399. That's around £300 including VAT, and at first glance you don't appear to be getting a lot of chassis for your money.
That much is true, but you could also argue that what you get is worth the outlay. This is a chassis that your mates are unlikely to have, and it's one that's fun, rare, quirky and unconventional.
The fact that the XFrame is different doesn't necessarily mean that you miss out on all of the key features you'd expect to find on a regular chassis, either. Sure, it's missing side panels and leaves your hardware open to the elements, but there are plenty of signs of normality, too.
Take for example the I/O panel, it's smart in appearance and well stocked with a disk-activity LED, two USB 2.0 ports, audio and microphone jacks, two USB 3.0 ports, a reset button and a backlit power button. What's clever is that the I/O panel can be removed and relocated - using the two thumb screws it can be attached to the XFrame's blue handle bar or to the silver central tray.
The overall design is straightforward enough; the motherboard sits on top of the tray and most other components slot in underneath, but In Win's implementation is pretty slick. The motherboard tray is removable using two robust latches, and the bottom half of the open-air frame provisions for storage with six 3.5in bays and two 5.25in bays.
The hard-disk bays are spread across two cages and use a rail mechanism to secure any installed drives. It works well, and we like how the bundled fixings are served on a 3.5in tray, but there is a major oversight; the XFrame lacks support for 2.5in disks. Considering the price tag, there should be at least a couple of mounting brackets included as standard.
There's plenty of room between the hard-disk cages to route cables, and the feeling of space is enhanced by In Win's well-positioned power-supply bay. Instead of keeping it tucked underneath, the XFrame is designed to have a PSU sat on the outside edge. This positioning has a couple of benefits; it enables the XFrame to support power supplies of just about any size, and it leaves a good amount of room for tidier cable management.
The layout is logical, but the overall design has a mix of positives and negatives. Build quality is definitely a plus point. By using thick aluminium throughout, In Win has created a skeletal frame that feels rigid and noticeably study. The chunky feel enhances the frame's strong aesthetics, the engraved logo in brushed aluminium looks great, and the yellow-rubber feet are a neat addition. There's a reason for having these feet on all sides, too, as the XFrame can be orientated any which way - though, you may have trouble using it upside down if you've installed a particularly tall CPU cooler.
And while the XFrame is nice and rigid, the design is flexible in other ways. We've already mentioned the relocatable I/O panel and the removable motherboard tray, but it's also worth noting that the entire frame is held together by screws and bolts. There's nothing stopping you from pulling it all apart - even the blue handle bars can be taken away to increase accessibility - and this tweakable design should provide plenty of modding opportunities.