Introduction
Corsair has a proven track record when it comes to PC chassis. Having first made waves in 2009 with the formidable Obsidian Series 800D, the company has churned out impressive follow ups in subsequent years.
The Obsidian line remains a strong choice for hardened enthusiasts, the Graphite range is as aesthetically desirable as they come, and the recently-launched Carbide Series is now offering a lot of what's good about Corsair chassis for under £100.
It's a dream start, but logic dictates that it's only a matter of time until Corsair slips up and launches a stinker. Fortunately, that time is yet to come, as the company's latest addition - the Carbide Series 500R - is in some ways its best effort yet.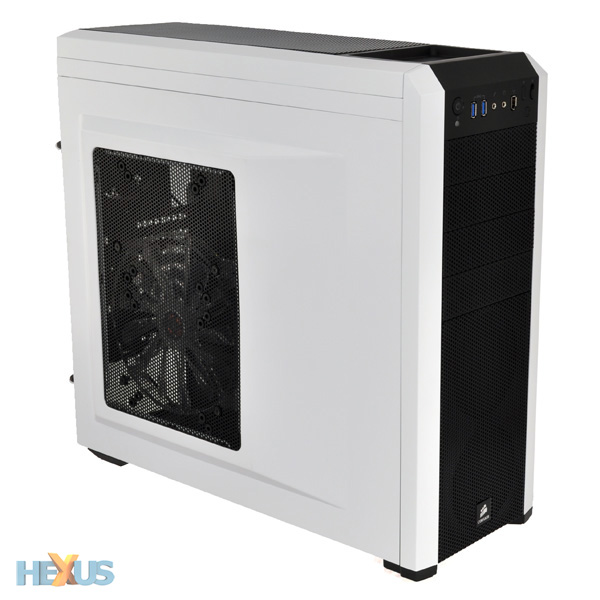 Priced at a penny under £90, the Carbide Series 500R is Corsair's second sub-£100 chassis and, as the name suggests, it's a step up from the earlier Carbide Series 400R.
Designed in Corsair's own words to offer "even more outrageous cooling flexibility," the 500R offers a handful of upgrades over its cheaper sibling, including a 200mm fan pre-attached to a mesh-windowed side panel, an integrated multi-channel fan controller and removable hard-drive cages.
The functional changes are all geared toward better thermal and acoustic performance - and we'll see what (if any) difference they make later in the review - but there are a few subtle design alterations worth noting, too. The most obvious, as you've no doubt guessed, is that the 500R is available not only in all-black, but also in white with black accents.
Corsair's already shown us that white chassis can be beautiful - the Special Edition Graphite 600T is testament to that - but the white Carbide 500R is noticeably less spectacular. The bright splash of paint continues to work well, and the white-on-black provides an interesting contrast, but the design as a whole feels a little confused. The colour scheme suggests sophistication, but the angular edges and bulging side panels tell a different story. In the end, the aesthetics wind up somewhere between cute and aggressive - an unusual middle ground if ever there was one.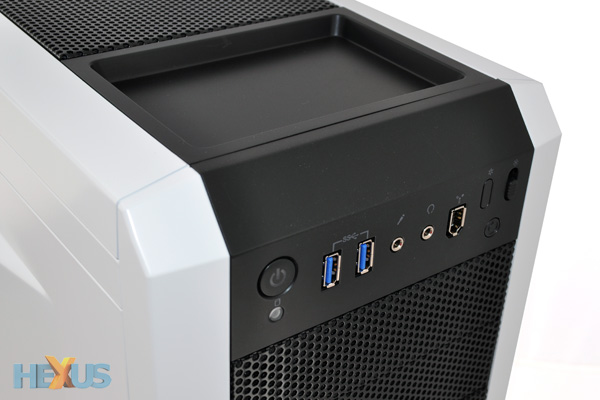 The gulf in sex appeal between Carbide and Graphite/Obsidian remains, but the 500R is visually more appealing than the 400R before it. Up front, the awkward round bulge that featured on the 400R has been replaced with an angled head that sports the I/O panel and a useful tray for storing any attached peripherals.
All of the same I/O functions remain - including two USB 3.0 ports, headset and microphone jacks, FireWire and a fan LED toggle switch - but there's now the addition of a fan controller that allows you to choose one of three speeds; low, medium or high.
The overall package is neater and smarter than the 400R, and it's finished off quite nicely by long mesh panels that extend down the front and across the top in a more traditional manner.
Corsair's sticking to the standard rule book of gaming chassis design on this one, so you'll find straight lines in all the usual places, a fair bit of mesh, some flair on the side panels and lots of internal room. Add solid build quality to the mix, and you're left with an enclosure that, while not spectacular, offers just enough external appeal for the target gaming audience.
A good start, but it's on the inside that the latest Carbide really impresses.