Introduction
Many an eyebrow was raised when Corsair announced its foray into the world of PC enclosures with the launch of the 800D back in 2009, but credit where credit is due; the company's award-winning Obsidian and Graphite Series chassis are now widely regarded as some of the very best.
As a hardware review site, there's no accolade more meaningful than a personal recommendation, so it's telling that we choose to use the Graphite 600T and the end-of-line Obsidian 700D for all of our high-end test rigs. And our admiration of the products isn't strictly business, either, if we had to cook up a shortlist of chassis for a personal PC build, both the Obsidian 650D and Special Edition White Graphite 600T would feature somewhere near the top.
It's an undoubtedly excellent range, but for many consumers there's an insurmountable problem: price. Triple-digit fees starting at around £120 for a Graphite 600T and rising to £220 for an Obsidian 800D are enough to keep these solutions out of reach of the masses, and let's face it, there are plenty of cheaper alternatives on the market. But if price is the only reason you've opted not to explore a Corsair chassis, take a good look at the new Carbide Series 400R.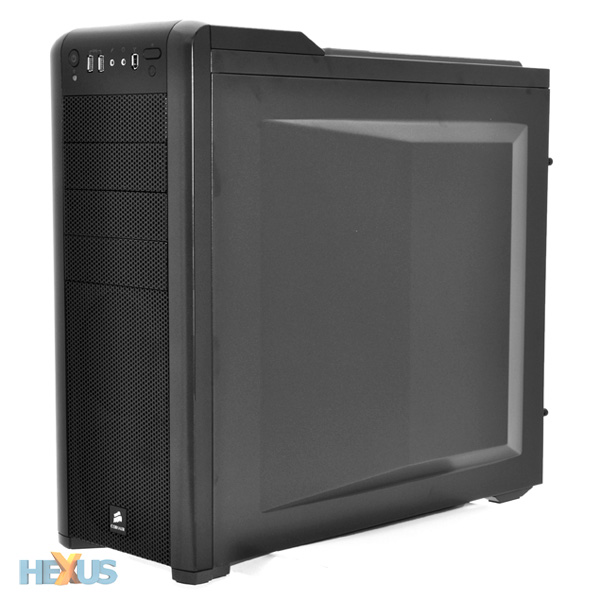 Arriving in stores next month with a double-digit price tag of around £80, the mid-tower Carbide Series 400R audaciously claims to be the best case for under 100 bucks. That's some statement, but Corsair's adamant that in expanding its product range to reach the "high-volume, aggressively-priced PC gaming segment", it has product a chassis that puts "builder-friendly ergonomics and reliability within reach of gamers whose passion for building high-performance rigs is unlimited, even though their budget might not be".
Sounds promising, but can the entry-level Carbide Series continue to maintain the standards set by its premium Graphite and Obsidian siblings?
Design
Corsair's motto for the 400R is "everything you need, nothing you don't", and at first glance it appears as though outward beauty has been placed in the list of don'ts.
Each individual will have a different reaction - and there's always chance the 400R will be love at first glance - but in all honesty, it just isn't doing anything for us. Perhaps we've been spoiled by the Obsidian's clean lines and the Graphite's smooth curves, but for whatever reason, the Carbide comes across as a flashback to gaming chassis of old.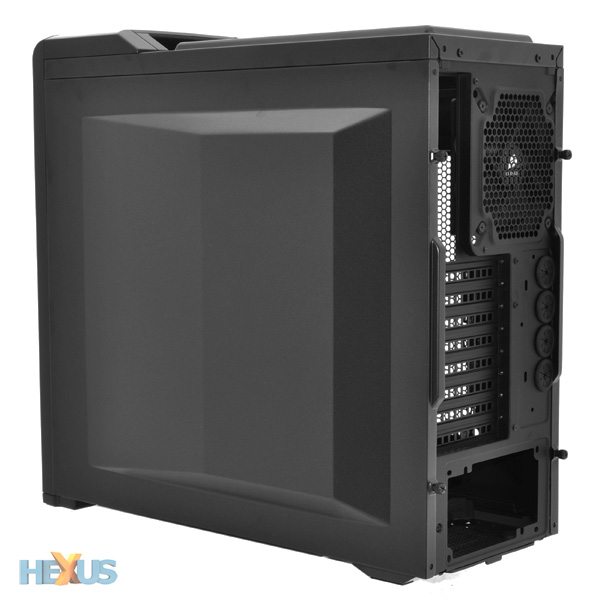 The awkward protrusions on each side panel, combined with the jagged edges and the visible LED-illuminated fans suggest that Corsair's targeting the stereotypical gamer, not the refined enthusiast.
The end result isn't quite off-putting, but the 400R exterior isn't doing anything to stimulate our senses, either. This might be Corsair's cheapest chassis to date, but it's also the least attractive. The good news is that exterior looks are one of few grievances; set to work with the 400R and its steel frame and black plastic accents feel well built and tightly knitted together.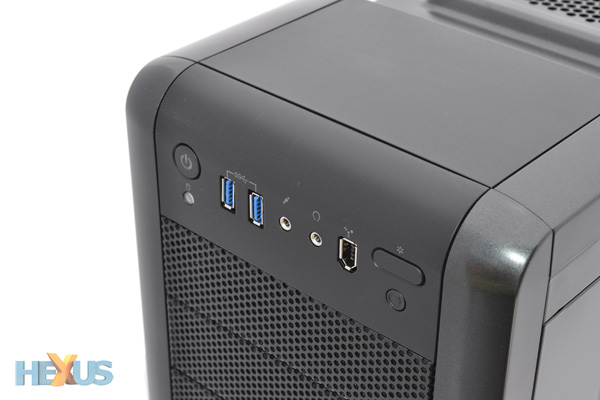 On the rounded front edge - which doubles as a makeshift carry handle - an array of neatly-presented I/O ports provide a power button with white LED, USB 3.0 connectivity, microphone and headset audio jacks, FireWire, a fan LED on/off switch and a reset button. What's useful is that the SuperSpeed USB 3.0 ports connect directly to a supporting motherboard header, and, if you don't yet have USB 3.0 functionality, Corsair provides an adaptor that'll allow you to use the ports at USB 2.0 speeds.
Clever thinking, but we're not sure how much use the target audience will get out of the solitary FireWire port. Given the choice, we'd rather see that replaced by eSATA, or better still, more USB ports.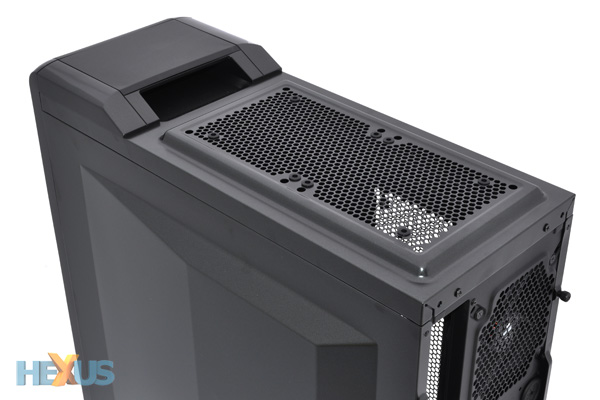 Elsewhere, the chassis' exterior hints at serious cooling potential - and Corsair's spec. sheet doesn't disappoint. Out the box, the 400R ships with two 120mm white-LED front intakes and a single 120mm rear exhaust, but for those who need enough airflow to cool a small nuclear reactor, the chassis supports a whopping 10 fans in total.
In addition to the pre-installed trio, the Carbide Series enclosure can accommodate a 120mm/140mm fan mounted at its base alongside the PSU, a pair of 120mm/140mm fans on the left side panel, a further two 120mm fans on the hard-drive cage, and another pair of 120mm/140mm fans up top. And if that doesn't satiate your appetite for cooling, Corsair's quick to point out that the mesh top panel could instead house a 240mm liquid-cooled radiator - ideal, of course, for Corsair's own Hydro H100.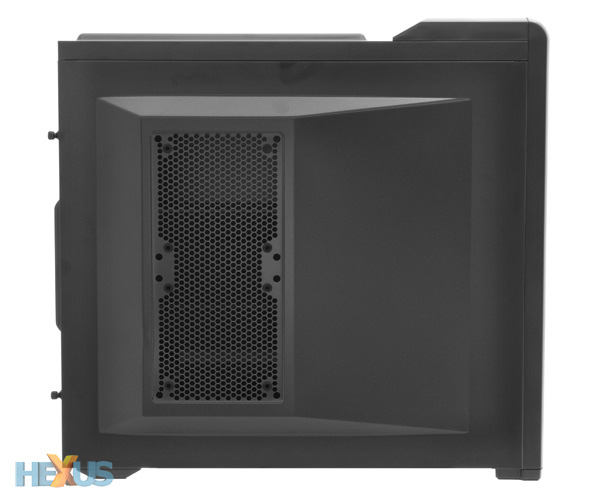 Cooling potential shouldn't be a problem, but what's the Carbide 400R like to work with, and which features - if any - have been cut to meet the sub-£100 price point?