Inside the Obsidian 650D
Removing the side panels reveals an internal frame that's almost identical to the Graphite Series 600T.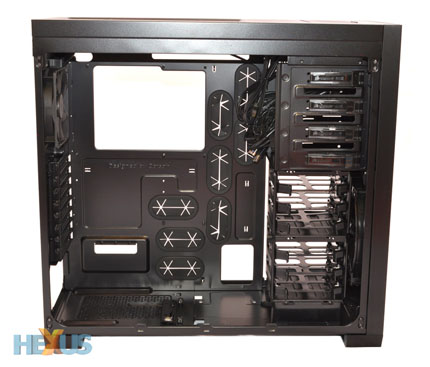 But that's not a criticism by any means. Like the Graphite 600T, the Obsidian 650D has a sizeable cutout in the motherboard tray for easy CPU cooler installation, eight expansion slots for multi-GPU setups, four tool-free 5.25in drive bays, six tool-free 3.5in/2.5in drive bays and eight well-placed cable routing grommets.
There's more than enough cable routing options to maintain a clean-looking build - as well as close to 20mm of room between the motherboard tray and back panel to hide any excess - and there's a surprising amount of room to work with, making the 650D a joy to build into.
Some of the longer graphics cards currently on the market - including the Radeon HD 6990 and GeForce GTX 590 - fit in with over an inch to spare, and should you need any additional room, the hard drive bays can be reconfigured to suit your requirements.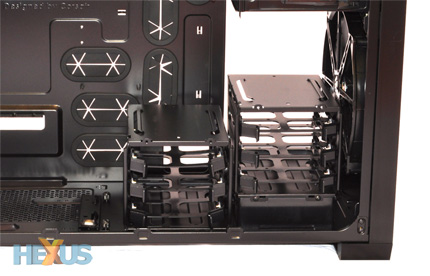 Again, like the 600T, the two drive cages - each offering three tool-free bays - can be stacked horizontally or vertically, or removed completely. Positioning them alongside one another, as shown above, still leaves plenty of room for an ATX PSU and allows the front 200mm intake fan a clear route to any installed GPUs.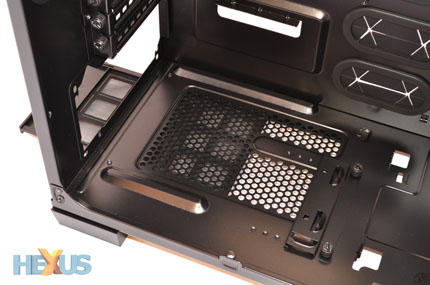 Speaking of the PSU mount, it too is identical to the 600T - bottom-mounted and equipped with a removable dust filter and an adjustable, thumb-screwed retention clip that mounts to the front of the PSU.
Maintaining everything that was good about Corsair's first mid-tower solution, the new 650D offers a simple, elegant design that's excellent to work with. We were able to install our X58 test rig quickly and easily, and we reckon the end result looks pretty impressive: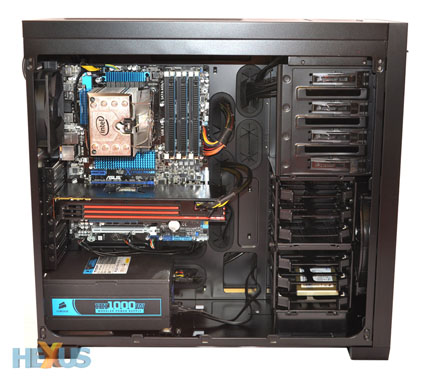 Although not as cavernous as the 700D/800D models, the smaller 650D still has plenty of room to spare. Long graphics cards or tall CPU coolers shouldn't be a problem, and Corsair has raised the roof slightly compared to the 600T, making it easier to install a liquid-cooled radiator. By removing the top 200mm exhaust, the 650D can quite comfortably accomodate a 50mm-thick 240mm rad and two 120mm fans.
You do lose the compartmentalised approach of the full-tower Obsidian Series models, but as far as mid-tower chassis are concerned, the 650D ticks almost all of the right boxes. Can it provide enough cooling potential to win over high-end users, though?