Introduction
Corsair is adopting a new naming convention for its computer chassis. The series identifiers that we've come to know - Graphite, Carbide, Obsidian, etc. - are being set aside for plain ol' numbers that will be pre-fixed with iCue if the case is deemed to have smart features.
Enter the iCue 220T RGB Airflow, a 'smart' mid-tower solution with lots of RGB lighting, high airflow potential and an £88 price tag.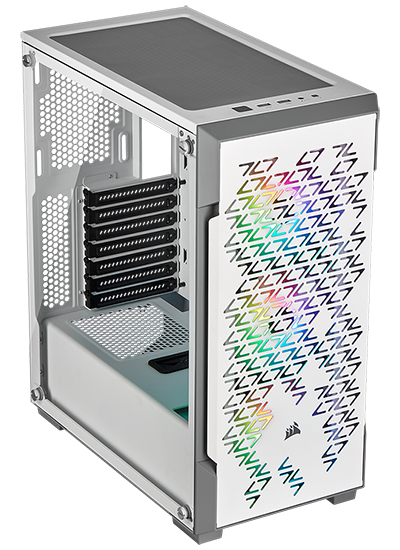 Available colour options include both black and white, but it's the latter that has caught our attention. I quite like the external appearance; the colour scheme, bolstered by those RGB fans, has an '80's technicolour vibe about it, and overall dimensions of 395mm (L) x 210mm (W) x 450mm (H) make it relatively compact for a mid-tower solution. Then again, one man's meat is another man's poison, and some in the office really haven't taken to the 220T's appearance. It's an acquired taste, for sure.
Build quality is good, with Corsair using a steel frame that exhibits excellent rigidity, and the ventilated steel front cover, which snaps easily into place, is reassuringly solid. The same could be said about the full-size tempered glass panel - it's suitably strong and provides a clear view of the interior - though we're not convinced it needs to be edge-to-edge. Without any border, the fixings that hold the steel together are clearly visible in each corner, detracting from the overall finish.
That front panel will elicit mixed reactions, but in practise it does work well with the accompanying RGB accents. Corsair includes a trio of its new three-pin SP120 RGB Pro fans as part of the bundle, and all three are pre-wired to a SATA-powered Lighting Node Core hub that can support up to six RGB fans. It's an easy way to synchronise lighting with other Corsair gear, but there are some obvious limitations. The fans aren't PWM controlled, for example, and the Core RGB hub is limited compared to Corsair's Pro models; there's no option to attach RGB strips, nor can you attach fan power cables. In its default configuration, the 220T can handle RGB effects just fine, but its fans will occupy three motherboard headers (there aren't any splitters included).
On the inside, there's room for an ATX, Micro-ATX or Mini-ITX motherboard, graphics cards can measure up to 300mm in length and CPU heatsinks can stand up to 160mm tall. Rounding out the provisions, we have seven expansion slots and half-a-dozen fan mounts. There's room for three 120s or two 140s in the front, two 120s or 140s up top and a 120 at the back, allowing space for up to a 360 rad in front or a 240 in the roof. Reasonable limits, and it's the absence of a dedicated storage column that makes capable mid-tower solutions of 2019 more petite than older models.
iCue 220T's storage takes a two-pronged approach; a pair of 2.5in sleds are attached to the back of the motherboard tray; and a removable drive-cage for a pair of 2.5in or 3.5in drives is located at the end of the PSU compartment. Cable management is decent, with three rubber-grommeted holes, plenty of up-and-over routes, and of course a PSU shroud to hide any mess, but the case does miss out on modern niceties such as the ability to vertically mount a graphics card.
As you would expect on any Corsair case, there's good filtering throughout. The top is lined with a magnetic mesh insert, pulling away the front steel cover reveals a full-height filter, and there's a small pull-out filter beneath the PSU bay, too. Most of the essentials are covered, but it's a shame the I/O panel doesn't include support for USB Type-C. All you get are two USB 3.0 Type-A, a combination audio port and the customary power and reset buttons. There's also no HDD activity LED, which you may or may not miss.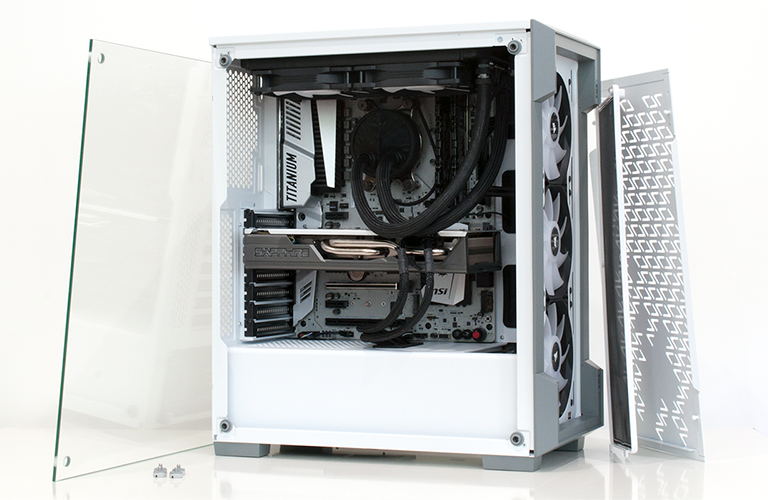 Corsair's specifications read quite well, but you have to build into a chassis to truly get to know it. Our liquid-cooled AMD Ryzen test platform looks extremely smart inside the case - the colour scheme just so happens to work really well - but there were a couple of niggles along the way. Firstly, the top radiator proved to be quite a squeeze, despite the offset rails, and secondly, we weren't able to insert our power supply without removing the hard-disk cage. It's possible to put the cage back in after installation, and shorter supplies may well slide by with no issues, but cable management can be more awkward so we preferred to complete the build without the cage in situ.
Keeping things tidy didn't prove difficult - despite the half-a-dozen fan cables (three to the lighting hub, another three to motherboard headers) - and it's especially nice to see a rubber-grommeted hole in the roof of the PSU shroud, providing a neat path for PCIe cables. Putting together a high-end build is easy enough, but liquid-cooling potential isn't going to be as generous as some of the larger cases; trying to fit radiators in both the front and the roof would be difficult, and we reckon it's a case, if you excuse the pun, of one or the other.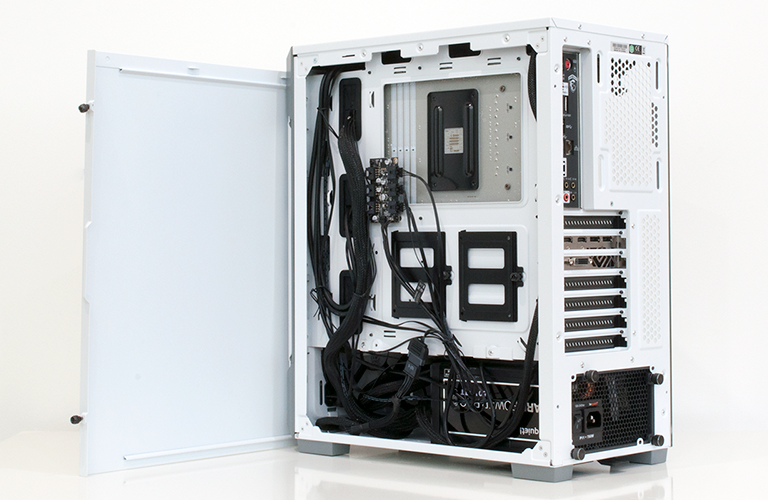 Though there's only 15mm of clearance behind the main section of the motherboard tray, the gap increases to 20mm at the far end, where the steel tapers off. Plenty of cable tie-down points help prevent any bulging, however the notched side panel can be a chore to attach if cables stick out even slightly.
We're intrigued to hear your take on the chassis' appearance - do let us know if it's your cup of tea using the comments facility - but for now, let's run some quick tests before reaching a conclusion.