Introduction
Is it possible to create a much smaller PC using a regular ATX motherboard? We weren't so sure, but after spending the past few days with Cooler Master's MasterBox Q500L chassis, our expectations of a compact mid-tower enclosure have been reset. Not only has the case managed to house our liquid-cooled AMD Ryzen hardware, it has also thrown up plenty of fun surprises along the way.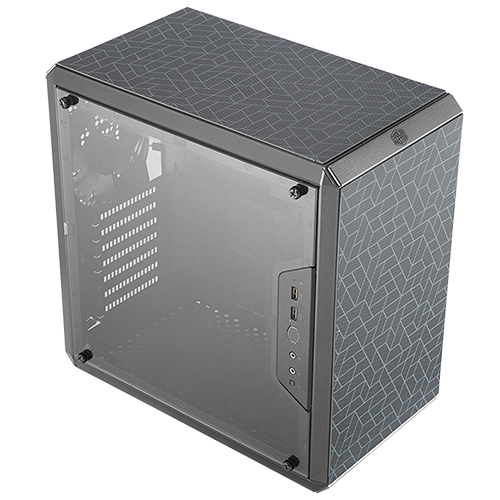 Housing a high-end build shouldn't be a problem for any mid-tower in this day and age, but there are a couple of key facts that help the Q500L stand out from the crowd. Firstly, it is readily available for the small sum of £49.99, and secondly, the case measures just 381mm (H) x 386mm (L) x 230mm (W) in size. Such dimensions aren't exactly tiny - we're not talking Corsair One levels of compact - but for a self-build this is one of the most petite ATX solutions around. To put things in perspective, the Q500L has an internal volume of 34L, exactly half that of our be quiet! Dark Base 700 test platform.
Being affordable and compact are the major plus points, and such attributes don't necessarily translate to a case that feels cheap or limited. Indeed, when we first removed the Q500L from the box, we were pleasantly surprised at the simple effectiveness of the exterior design. Bevelled edges help soften the appearance while making the box appear even smaller, the near full-size transparent side panel provides a good look at the innards, and the mesh filters lining the top and front are covered in a neat pattern that we actually quite like.
It's a cute lil' thing, but what endears us to the case is Cooler Master's attention to the smaller details that builders are likely to appreciate. For example, the solid rear side panel has four thumb screws that double as rubberised feet, allowing the user to lay the case flat during the build process. There's technically no reason why the chassis can't be used as a horizontal solution, but if you really want to get inventive, there are also provisions to flip the case into an inverted layout. The rubber-tipped feet on the underside simply pop out, allowing for the Q500L to be turned on its head. A clever trick, especially if you've been on the lookout for a chassis that is windowed on the right side. Deployment options are plentiful.
Want more flexibility? You might be thinking that the default position of the I/O ports - on the right side of the windowed panel - aren't ideal, so you'll be pleased to hear that the entire I/O module can be relocated to the top, front or bottom, on either side of the case. There's also an option to move the PSU bracket. Installed by default at the front of the case, this can be moved higher or lower courtesy of the fully-perforated front panel, or if you're using a Mini-ITX motherboard, the PSU bracket can be reverted to its usual position in the bottom-left corner. The perforated panelling on the top, front and bottom comes in handy when mounting fans - they can be attached just about anywhere - and there's not a great deal of detriment to overall rigidity.
In terms of hardware support, the Q500L is more accommodating than you'd think. There are seven expansion slots, and motherboard support includes ATX, Micro-ATX and Mini-ITX. It is technically possible to install an E-ATX board measuring up to 269mm in length, but doing so would result in the some of the cable-routing holes being obscured. We reckon a Micro-ATX board could be a sweet spot, as the space saved at the bottom of the case could be repurposed for fans, or if you're liquid cooling, perhaps a pump and reservoir.
There's certainly scope for plenty of fans. You can, in theory, install two 120s or 140s in the roof, a further two 120s on the bottom, a 120 on the back, plus a 120 on the front, provided your PSU isn't overly long. Lots of potential, though it's a shame Cooler Master only includes one basic fan as part of the bundle, a three-pin 120mm blower mounted to the back. Elsewhere, graphics cards can measure up to 270mm in length (or 360mm if the PSU is shorter than 160mm), and there are two storage caddies attached to the back of the motherboard tray. These can hold either four 2.5in SSDs (two apiece), two 3.5in HDDs (one apiece) or two SSDs and one hard disk.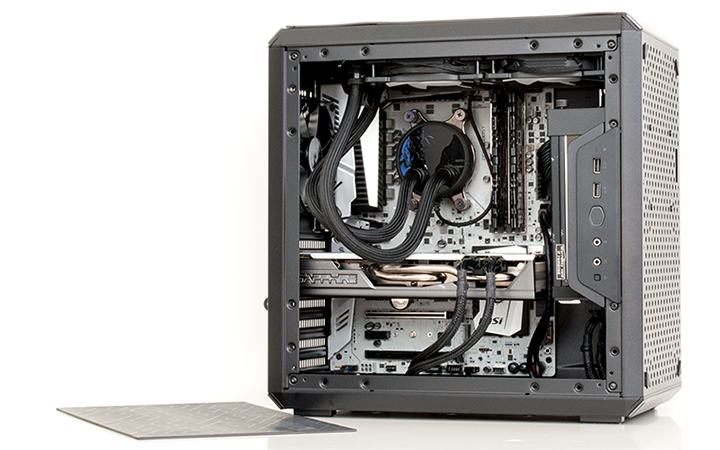 We had doubted whether or not our test hardware would fit, but here's the proof. AMD Ryzen 7 processor, 240mm Fractal Design liquid cooler, MSI X370 ATX motherboard, Sapphire Radeon RX 580 and a be quiet! Dark Power Pro 11 power supply all installed with minimal fuss. Though you can't just bung everything in as you would with a much larger case - all the components fit snug so there's some thought and consideration needed - there's a satisfaction to completing the intricate layout, and is it just me, or does a case look better without lots of empty space?
Cable management is surprisingly decent - there are provisions to get cables over the top of the motherboard tray, and 30mm of clearance in the back is ample - yet while the finished build looks very tidy, we did come away feeling as though Cooler Master could have elevated the chassis from good to great with a few simple tweaks. The rear exhaust could certainly be a higher-quality PWM unit, we'd liked to have seen USB Type-C on the I/O module (all you get is the standard mix of two USB 3.0 plus a pair of audio jacks), and though the tinted acrylic side panel does the job, it isn't the most rigid and will flex even when pressing the power button. A glass panel would be preferred, but of course you can't have everything for £50. On that note, there are no RGB lights in sight; no bad thing, in our estimation.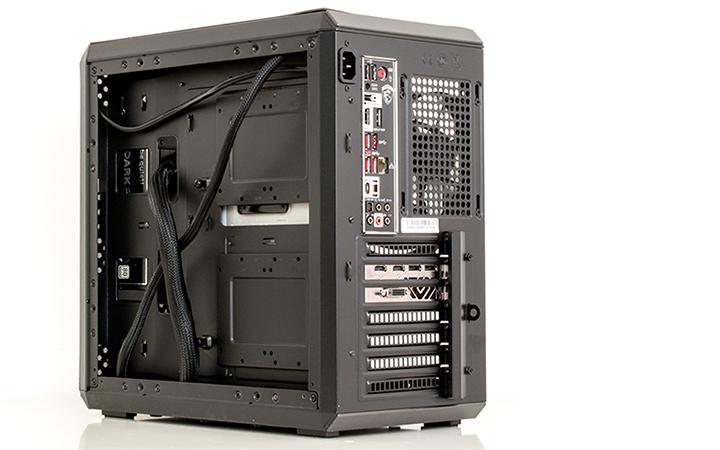 We've ultimately enjoyed building into the Q500L, and for those who have previously invested in Q Series accessories, it's worth noting that Cooler Master has retained compatibility between generations, meaning you can still use the optional Q300 carry handles, or the solid top and front panels. Colour us impressed, but can it deliver the performance to match? Let's move on over to the benchmarks.