Google has launched a new competitor to the likes of WhatsApp, WeChat and LINE. Google Allo is now available for Android and iOS. As well as the core functionality of messaging among contacts, Allo features a built-in assistant, making it a "smarter messaging app".
Smart Assistance
Why do you need a 'smart assistant' in your messenger app? Google Group Product Manager Amit Fulay writes that such a feature is very useful as "too often we have to hit pause on our conversations - whether it's to check the status of a flight or look up that new restaurant". Google Allo is thus designed to help you make plans, find information, and express yourself all from the same app. It also learns over time, so should improve the more you use it.
The assistant is summoned in your chat by starting a line with @google. Then you can get the assistant to help with the following:
Suggesting nearby restaurants or movies to check out
Research travel destinations, flights and hotels
Get updates on news, weather, traffic, sports and flights
Get funny diversions such as a suggested funny YouTube clip or play games directly within your chat.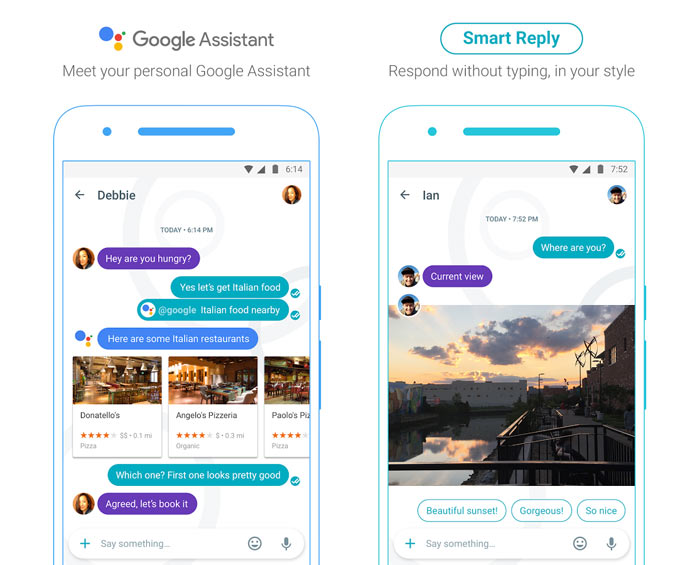 General chat features
Google hasn't gone all-in on the assistance and neglected core messaging functionality. Allo is laced with nice features for easier, richer chats and conversations. First of all Smart Reply helps you keep up with a conversation even if you are busy with something else. Smart Reply can suggest responses to various statements, queries and even to pictures it recognises. As you can see in the video, Smart Reply gave three one-tap reply options to a picture of a tortoise on a skateboard; Awesome, I wanna try!, or So brave. A sunset picture example is shown in the image above. Like the @google assistant functionality, Smart Reply is said to improve over time.
All messenger users seem to enjoy sprinkling their messages with photos, emojis and stickers and Google Allo is said to be a "rich canvas" for such activity. A nice UI touch I noticed was the scaling of emoji and text by dragging the 'send' button up and down. There's lots of free sticker packs available from the start (25) if that appeals to you. Last but not least Google Allo has some colour inking functionality which is useful for annotating photos, charts, maps and so on - or just for fun.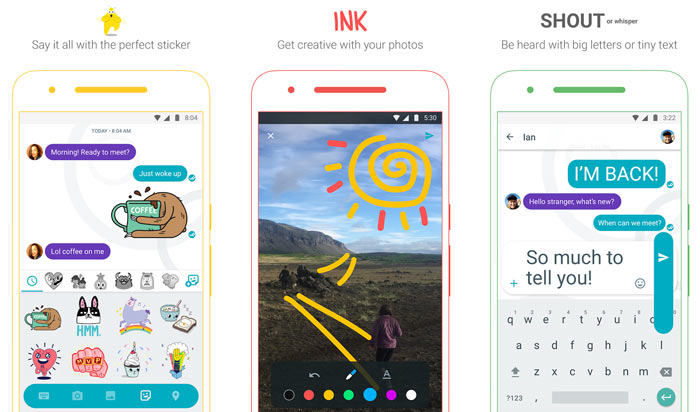 For the security conscious Google has included an 'Incognito mode' with messaging featuring end-to-end encryption and additional privacy features like discreet notifications and message expiration.
Sometimes it's hard to get a new chat app to take off but Google has smartly allowed those who don't have Allo to reply via text (SMS) or app preview message. If either of those events occurs Google encourages you to download the dedicated Allo app.