The Opera browser has just been updated and released with the headlining feature of a free, unlimited VPN. Accessible via a simple toggle switch at the side of the address bar, the built-in VPN is configurable to alter virtual location and other settings. The Opera blog claims that "VPN should be an essential tool for all internet users".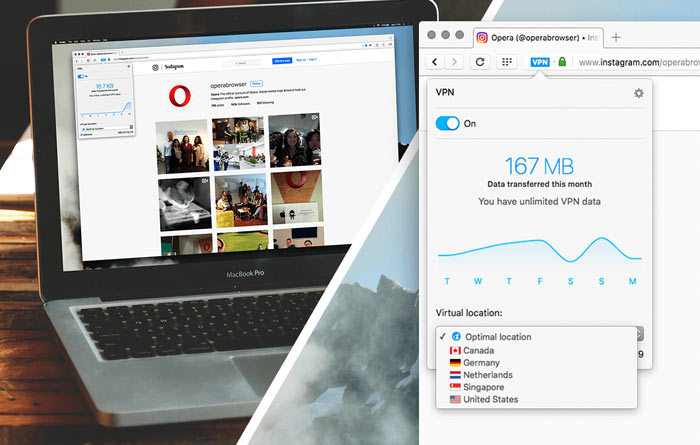 Before you see the VPN toggle button in the browser tool bar it must be enabled. To do this you go to the top left menu and click to reveal the settings menu, click this and then in the pane that appears select 'Privacy & Security'. It is here that you will find a toggle to enable a quick toggle setting near the browser address bar.
Now you have the easily accessible VPN button and you can click it to toggle the VPN on and off. You will notice a data transfer graph just beneath the toggle, and lower down is a Virtual Location selector dropdown menu. By default the virtual location is set to be an automatic 'optimal location' but you can manually select one of five locations to look at geo-specific and locked sites, for example. The optimal location chosen by Opera will be selected for its speed, latency, location, and server capacity – so its probably best to leave it as is unless you want some region-specific feature.
Talking up the VPN feature and its impact on privacy, Krystian Kolondra, SVP of Opera browser for computers, said "If people knew how the internet truly works, I believe they all would use a VPN." Kolondra hopes that this new standard Opera feature will become an essential tool, in the same way a lock and key is essential to your house.
Opera says that the browser VPN feature is powered by its subsidiary, SurfEasy. The VPN utilises a secure 256-bit AES encrypted connection to the VPN virtual locations and is a no-log service, "which means neither Opera nor SurfEasy will store any information about a user's browsing history".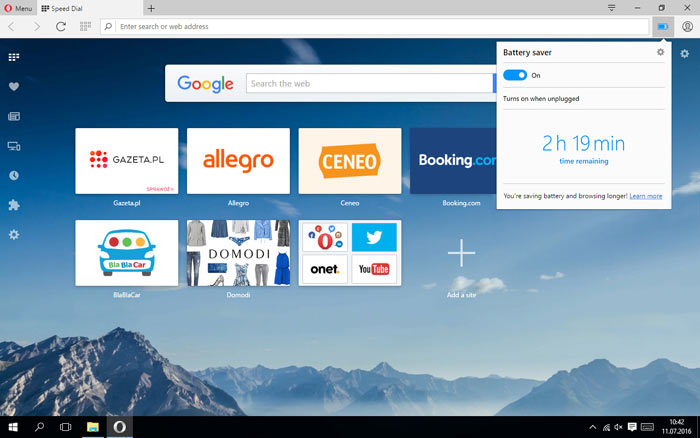 Other improvements that feature in the new version of the Opera browser include RSS in personal news, a revamped automatic battery saver, and Chromecast support on YouTube (via an extension).