Earlier this December Mozilla appeared to throw in the towel with regard to its Firefox OS. Following the Mozilla developer event 'Mozlando', Ari Jaaksi, Mozilla's SVP of Connected Devices explained to TechCrunch "...we weren't able to offer the best user experience possible and so we will stop offering Firefox OS smartphones through carrier channels". Jaaksi didn't put a metaphorical full stop there but added "We'll share more on our [Firefox OS] work and new experiments across connected devices soon". Now it looks like the Firefox OS team have significantly shifted focus to other devices such as; HDMI sticks, routers, tablets and even a 'Firefox Pi' keyboard computer.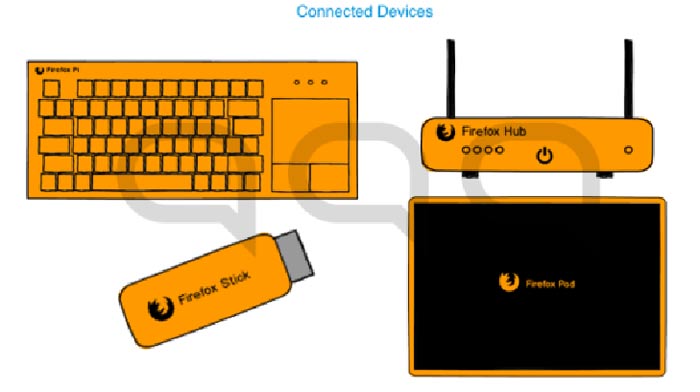 VentureBeat reports on a leaked document exposed by Spanish site Hipertextual, which provides information about four proposed Firefox OS connected devices, their USPs and target markets. Mozilla's chief legal and business officer, Denelle Dixon-Thayer, explained the leaked document to VentureBeat as follows: "we are still at the early stages of exploring and prototyping new use cases for Firefox OS in the world of connected devices as an open source project with a clear focus on the user benefit and experience". So its concept work, not firm plans. Nevertheless there's some interesting concepts...
The Firefox Pad is pretty self explanatory, it's just a tablet with Firefox OS and "no telephony stack to worry about". It would focus on safety, privacy and simply providing a browser experience with automatic updates. The Firefox Stick would add smarts to your HDMI TV screen. With it you could cast content from the web and mobiles "with no gatekeepers". However DRM and content partnerships must be in place for it to succeed.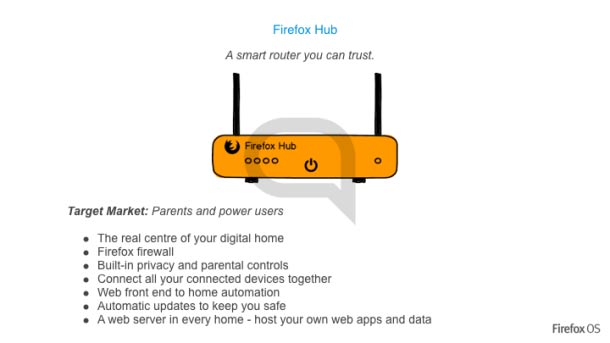 More interesting is the Firefox Hub, "a smart router you can trust". Again this plays to Mozilla's strengths of privacy, use friendliness and auto updates. I particularly like the Firefox Pi, as it reminds me of the old keyboard computers I grew up using. As you might guess the Firefox Pi is built with a Raspberry Pi at its heart. It uses the keyboard computer form factor which integrates a touchpad and mouse buttons to the right. Mozilla thinks this could be paired with "millions of obsolete analogue TVs in India", and would be useful not just for consumption but creation.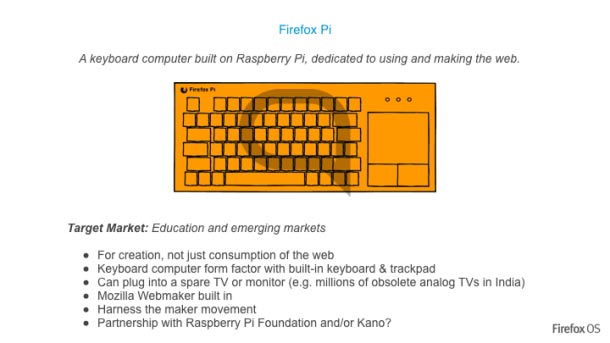 Unfortunately we probably won't see the more interesting Firefox device proposals very soon but will probably still see tablets and smart TVs featuring the OS released in the meantime.