Mozilla's popular web browser, Firefox, has started to block Adobe Flash content as its default behaviour. If you are a Firefox user who has updated to the latest version of the browser you might have already noticed this change.
Earlier today the head of the Firefox support team at Mozilla, Mark Schmidt, Tweeted the 'big news'.
BIG NEWS!! All versions of Flash are blocked by default in Firefox as of now. https://t.co/4SjVoqKPrR #tech #infosec pic.twitter.com/VRws3L0CBW

— Mark Schmidt (@MarkSchmidty) July 14, 2015
The move comes in the wake of a Tweet from Facebook's chief security officer, Alex Stamos, saying that "It is time for Adobe to announce the end-of-life date for Flash and to ask the browsers to set killbits on the same day." Mozilla's Schmidt retweeted Stamos and was perhaps inspired by the Anti-Flash proclamation from such an industry big hitter as Facebook.
After his 'big news' Tweet about the blocking of Flash Schmidt added "To be clear, Flash is only blocked until Adobe releases a version which isn't being actively exploited by publicly known vulnerabilities." Then added "For now... ;)".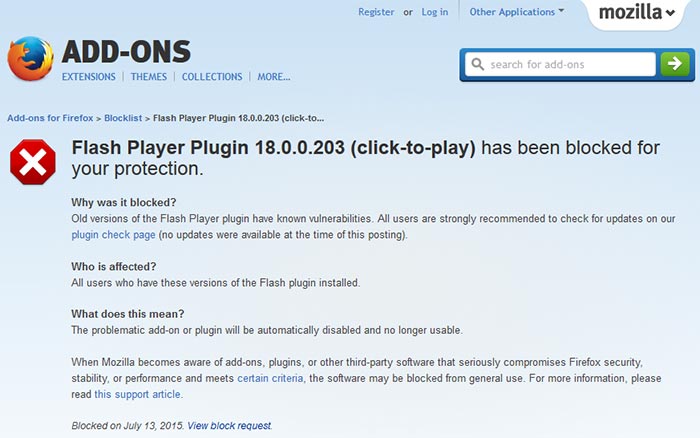 Adobe Flash has seen more than its fair share of vulnerabilities during its history. It started off as a compact plugin to add animation and multimedia to the web with very efficient use of bandwidth. Over time the plugin grew in capabilities, complexity and size and it became increasingly common as an attack vector inside the various internet browsers. It's had some big name detractors for years now. Famously Apple's Steve Jobs wasn't fond of the plugin. In addition to Flash's vulnerabilities it has been known to eat battery life, be used to play unwanted bandwidth hogging video adverts and so on.
Some companies have already moved away from Flash, with the most notable of these being YouTube. In January this year it demoted Flash so that visitors to the video site were greeted by HTML5 video players by default.