Microsoft will bring out all its big guns to take part in a Windows 10: 'The next chapter' event, set for 21 January 2015. The event will take place at the Microsoft Redmond campus and CEO Satya Nadella will be on stage supporting Terry Myerson, Joe Belfiore and Phil Spencer who will talk about the Windows 10 consumer experience.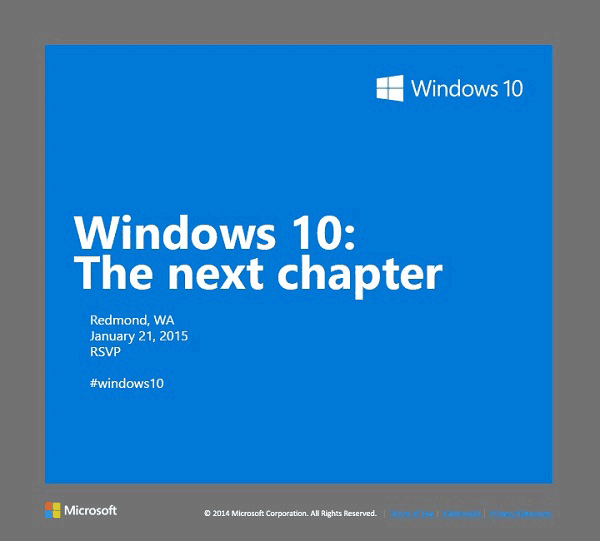 Details about what will be discussed or demonstrated at the event are scarce on the official Windows blog. However ZDNet's Mary J Foley has some insider information about the day's agenda. She says that we are likely to see the first combined Windows Phone-Windows RT Windows 10 mobile SKU revealed. This is software that brings together Intel and ARM based tablets and Windows Phones, exclusively running the modern UI style of Windows apps.
At the same time a January Technical Preview (JTP) of Windows 10 is expected to become available to Windows Insider Program members. This version of the next Windows OS is supposed to include Continuum for 2-in-1 device mode switching and could also be the first official Cortana integrated build. We expect a Consumer Preview for Windows 10 release to be at least announced too. Other things we could see or hear about are DirectX 12 and more Xbox One developments, thanks to Phil Spencer's headlined presence.
As we heard earlier in the week Windows 10 is expected to be officially released in 'fall'. We should also hear at least a few more details about the controversial Windows monetisation plans. ZDNet says that Microsoft will likely RTM all of its Windows 10 SKUs simultaneously - the desktop, tablet, phone and server versions of the OS. That would be a symbolic demonstration that it is a unified OS, if nothing else.
For non-attendees there will be a live webcast set up so you can soak up the latest Windows 10 consumer information as it is released. Information about how and where to watch the streams will be revealed nearer to the date.