Microsoft has clued us in on the next bundle of updates for Windows - which won't be called Microsoft Windows 8.1 Update 2. The Windows 8.1 August Update will be released on Tuesday 12 August. All updates from now on, whether they be features or security related, will simply roll out as and when they are ready during forthcoming Patch Tuesdays. There will be no more "waiting for months and bundling together a bunch of improvements into a larger update," wrote Brandon LeBlanc on the Windows Blog.
LeBlanc explained "customers can expect that we'll use our already existing monthly update process to deliver more frequent improvements along with the security updates normally provided as part of 'Update Tuesday'. So despite rumours and speculation, we are not planning to deliver a Windows 8.1 'Update 2'." This mechanism will remove the milestone updates "in order to respond more quickly to customer and partner feedback," so we can expect less dramatic but more timely updates in the future.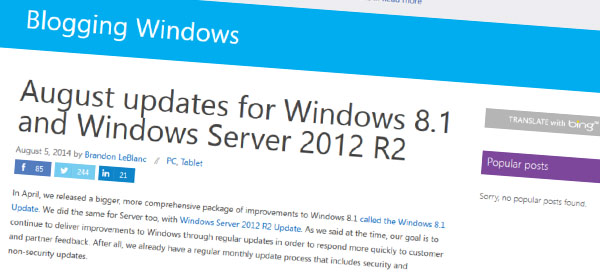 Examples were given of feature updates that have been released outside of major milestone updates already this year; the Windows Store refresh and update to OneDrive bringing new sync control are notable.
August Update
So what do we have in this Windows Update? Nothing very major, really… The headline improvements are:
Improvements to touchpad control, precision and user setting flexibility.
The option to let your computer Miracast Receive.
Reducing the number of login prompts for SharePoint Online.
As mentioned above those new features as well as a range of behind the scenes improvements, fixes and patches will arrive on 12th August. If you have Windows Update auto updates turned on you should get the new software "in a timely manner". If you can't wait then you can prod Windows Update to check on the date to make sure it snaffles the update for you as soon as it's available.
While the monthly and orderly addition of improvements and various fixes to Windows might appeal will there be anything lost if milestone releases are banished? I know that some of the big Windows Updates can really catch the media spotlight – good publicity for Microsoft/Windows. Also the Milestone releases were pretty easy for software and hardware vendors to refer to in compatibility notes, e.g. 'requires Windows 7 SP1 or above'.