According to the most recent data from Net Applications, Google's Chrome browser has surpassed 20 per cent market share for the first time, reports ComputerWorld. In other Google Chrome news, beta versions of Chrome compiled for 64-bit computers were made available for the first time last week.

July's data is good for Google Chrome but as its market percentage fortunes are on the up some other browser(s) must be on the way down. The Mozilla Firefox browser was the biggest casualty and is now just a whisker above 15 per cent market share. As Google Chrome reaches its milestone of 20.4 per cent market share, Mozilla's unenviable position is its lowest market share since October 2007. In fact Mozilla seems to be having a bad run at the moment, as July represents the ninth straight month of decline.
The timing is especially bad for Mozilla, suggests ComputerWorld, as it is due to renew its Google search contract in the coming months. Using Google as the default search engine netted Mozilla the vast majority of its income ($272 million) in 2012. Mozilla will be in a weaker bargaining position this year with its run of market share losses.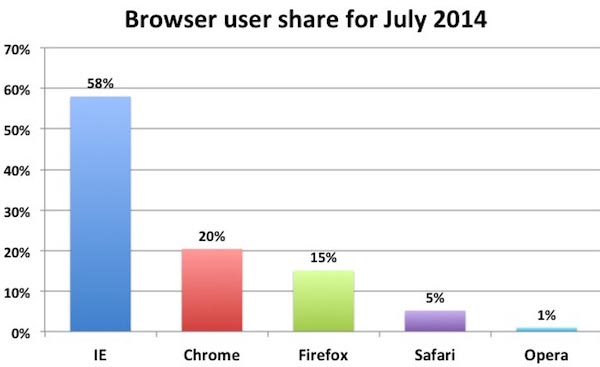 Google Chrome beta 64-bit
If you are running a 64-bit version of Windows 7 or 8 then you might be interested to know that Google Chrome is now available in beta in a 64-bit edition. Google says that this 64-bit app should work faster, especially with graphics and multimedia heavy pages. Also it should be more secure thanks to being able to make use of Windows 8's "high entropy Address Space Layout Randomisation," reports ZDNet.
Previous 64-bit Chrome builds (such as for the Canary dev channel) were actually slower than 32-bit Chrome in tests. However this more advanced beta version, and the stable general release due in September, should live up to expectations.