Microsoft OS designers are working with an aim to help convert more Windows 7 stalwarts into new Windows buyers with the next major OS version. The core focus on making these Windows 7 desktop, mouse and keyboard users happy is in bringing a new mini Start Menu into play.
However the default UI you get when you first install Windows 9 will depend on the hardware you put it upon. Currently in Windows 8.1 your system may or may not show power and search buttons on the Start screen and, depending upon your hardware, will start up as default to either the desktop or Modern UI. In Windows 9 Threshold this installation differentiation will go further, suggests Mary J Foley on ZDNet.
Desktop and laptop users are said to be getting the Windows desktop environment front and centre as default. Two-in-Ones with touch screens will get an interface depending upon the keyboard being attached or not, tablet and other mobile device users will get the Modern UI. With the new Start Menu users will be able to customise both the desktop and MUI apps which appear on it. We got a glimpse of this menu at BUILD in April.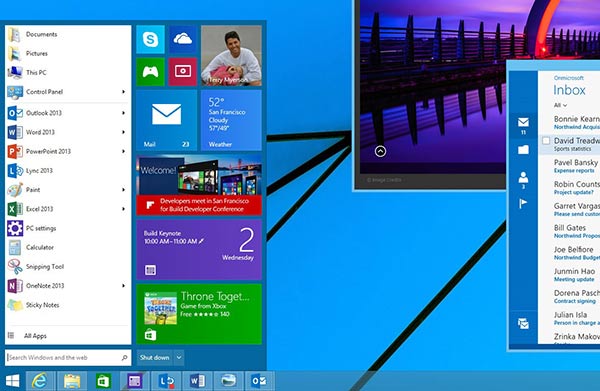 Moving onto Threshold on phones and tablets, the OS will install for these systems in Modern UI mode, supporting split screen multi-tasking. On mobile the SKU is said to be able to install to either ARM-powered phones and tablets or Intel powered mobile devices.
A free update for Windows 7 users?
The final release of Windows 9 Threshold is due in spring next year and might well be free for users of Windows 7 SP1 and Windows 8.1 according to ZDNet. Ms Foley also says that we will get a public preview release of the new OS in autumn this year.
On the topic of Windows updates, we should find Windows 8.1 Update 2 arriving next month sometime. This isn't going to be earth shattering and might be released quietly among other updates and fixes on the 12th August 'Patch Tuesday'. Apparently the Windows development team are keeping all the interesting, innovative and exciting stuff for Threshold now.