Microsoft has revealed a wide range of new features and functionality destined for the Windows Phone platform in Windows Phone 8.1. The updates are meant to help reinforce Microsoft's assertion that Windows Phone is "the world's most personal smartphone". There's a lot of new features and customisation options being introduced and the headline grabbing debut of the Cortana personal digital assistant. Let's get on and run through what's new.
Lock screen
Windows Phone's lock screen is going to get a wide range of 'Lock Screen Themes' thanks to a new app which lets you personalise this initial window into your windows phone. We are promised the facility to make all sorts of different visuals and animations.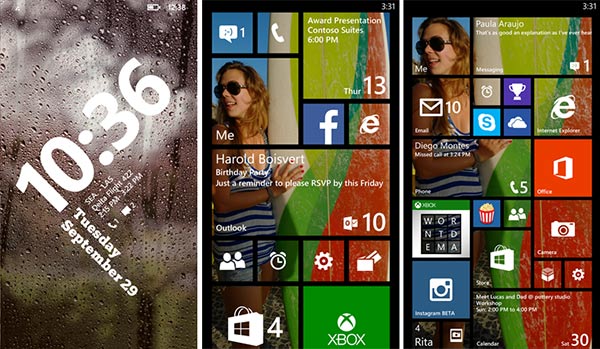 Start Screen
Previously Microsoft made larger screen devices capable of packing in more tiles onto their Start screens. This feature will now be brought as an option to all users. Also you can see a user selectable Start background picture behind these tiles. Both of these introductions help you make the WP interface more 'you', without destroying the finger friendly tile layout and overall visual signature.
Action Centre
Microsoft has supplemented the immediacy of its Live Tiles with an Action Centre pulldown menu which shows notification summaries from any app, whether it's pinned to the Start screen or not. This pull down also includes quick access toggles such as Wi-Fi, Flight Mode, Bluetooth and Rotation Lock.
Cortana
Microsoft proudly calls Cortana "the world's first truly personal digital assistant". The assistant took form following research about how human personal assistants worked best. The assistant learns about the user and stores the info in a 'notebook' (editable), which helps it serve the user better. Cortana can also be proactive and give advice and alerts concerning activities you might be expected to undertake – such as about traffic problems on your commute home. Users communicate with Cortana using natural language typing or speaking. If you don't speak to request something Cortana, likewise, responds silently.
Joe Belfiore showed off Cortana reminder functionality. First he told Cortana to remind him to buy a certain CD when at the mall – Cortana understood and asked which local mall it would be. Then he set a 'People reminder', to be reminded of something the next time he called his sister on the phone, via text or in an email.
Cortana will fetch you personally customised news, weather, stocks, flights info and so on via Bing. The assistant can also work with third party apps. Microsoft namechecks compatible apps such as; Skype, Twitter, Facebook and Hulu Plus.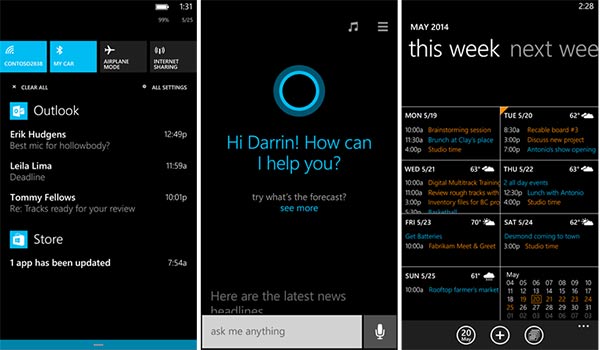 Word Flow Keyboard
This is the new gesture keyboard in Windows Phone. Apparently it's a world record holder already as the official world record for smartphone input, previously held by the Swype keyboard on a Samsung Galaxy S4, was trounced by 8 seconds by a Word Flow user.
There are several more improvements and tweaks to Windows Phone functionality and utility including Data Sense, Wi-Fi Sense, Storage Sense, and Battery Saver – which help you make the most of your smartphone's resources. Also Internet Explorer 11 for Windows Phone is to be introduced to keep you in sync with all your Windows devices.
Windows Phone 8.1 will be rolling out to existing Windows Phone 8 users in the next few months. Meanwhile Microsoft/Nokia has some new Lumias which will be released in April with Windows Phone 8.1 pre-installed. More on those later.