Google has launched an update to its Chrome web browser. This latest 'stable channel' release is version 32.0.1700.95 (Platform version: 4920.71.0). Chrome 32 is now available on PC, Mac and Linux and contains some pretty noteworthy new features – let's have a look though them.
Windows 8 Metro mode
One of the most significant changes is within Chrome's Windows 8 Metro mode. If you set Chrome as your default browser and launch it in full-screen mode you get something which operates/looks very similar to ChromeOS upon your Windows device.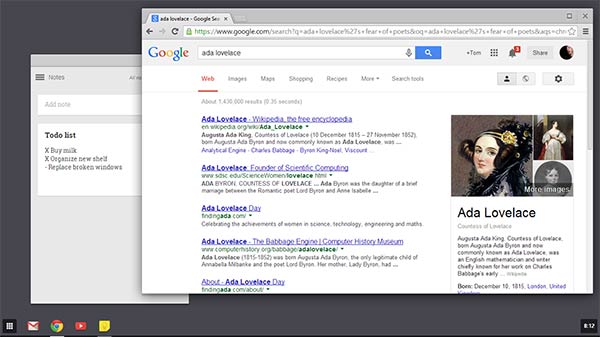 The touch-friendly Chrome browser in full screen displays the Google services app launcher on a strip at the bottom of the screen, just like Windows desktop's pinned apps. There you can see shortcuts already installed for popular Google services like YouTube, Gmail and Google Docs. Click any of these and a new tab opens in Chrome to accommodate the service. Going further than this and moving closer to a 'cuckoo' multi-window OS, Chrome allows users to snap browser panes around different parts of your screen. Some computer users might be happy to spend their whole computer time in this environment once it is enabled.
Tab indicators for sound, webcam and casting
There's a screenshot embedded below showing the 'noisy tabs' feature in action. You can see the different kinds of 'noise' are represented by different visual indicators and it's clear to see the difference between a tab which contains a source of music, webcam activity or video casting.

Security is also featured in the update with automatic blocking of some malware files as well as 11 security fixes. Last but not least - not mentioned in the Chrome blog but highlighted by TNW - a beta preview of 'supervised users' is available in the new browser. To use it navigate to 'chrome.com/manage' and, as the supervisor, you can manage users and implement various browsing restrictions.