We know quite a bit about Windows 8.1 now. Last week we saw the new Start Button and boot-to-desktop options confirmed then Microsoft revealed a lot of other features coming to Windows 8.1 on its official blog, just before the weekend. There's an official Windows 8.1 Preview page now up on Microsoft's site too with a handy link to a blog post detailing What's New in Windows 8.1.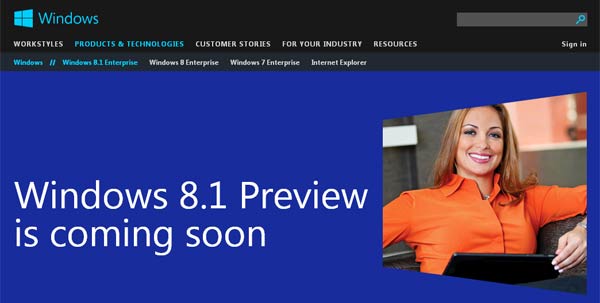 In a blog post entitled "Modern Business in Mind: Windows 8.1 at TechEd 2013" Microsoft has outlined many benefits Windows 8.1 will bring to business users. The benefits fall into three main categories which are; Networking features optimized for mobile productivity, Security enhancements for device proliferation and mobility and Improved management solutions.
A large amount of these new features make it much easier for office workers to Bring Your Own Device (BYOD). Helping mobile workers to stay connected with colleagues and clients while staying secure.
Mobile productivity
Mobile productivity is made easier and improved by the following new features; NFC tap-to-pair printing, Wi-Fi Direct printing, Native Miracast wireless display, Broadband tethering and Auto-triggered VPN. Microsoft's blog says that for NFC printing you don't need to buy a new printer but "you can simply put an NFC tag on your existing printers to enable this functionality". The Miracast wireless display also uses NFC to project your display wire-free.
Security enhancements
Mobile BYOD devices present a new set of security challenges for companies. Microsoft has worked on Windows 8.1 to help protect corporate data and devices. Two new features aiming to enhance security are; the support of Modern Access Controls such as fingerprint biometrics and smart cards, also better Malware Resistance is built in via Windows Defender which will help detect known and unknown malware. IE will also scan binary extensions before potentially harmful code is executed.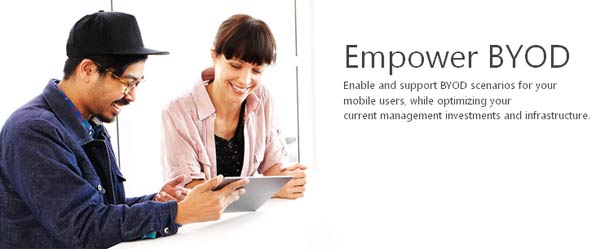 Management solutions
With improved IT controls "IT departments can now control the layout of the Start screen on company-issued devices to ensure key apps are easily accessible." Start Screens can easily be made standard/consistent throughout the company and users prevented from tinkering. Also Microsoft Windows 8.1 has a new feature called 'Remote business data removal' to clean company data from machines while leaving personal data intact. Also Open Mobile Alliance Device Management (OMA-DM) capabilities are built into the OS. A feature called 'Workplace Join' controls access to secure company data, allowing only registered and trusted devices.
Looking at Windows 8.1 on devices that may be used in public, like schools or for kiosk use, there are a couple of new management options. Firstly 'Assigned Access' restricts users to a certain Windows Store application "so the user only experiences the specified application and is unable to access system files and other applications". A new 'Windows Embedded 8.1 Industry' for POS Systems, ATMs, and Digital Signage now provides a broader set of device lockdown capabilities.
Microsoft also took the opportunity to remind Windows XP users of the "need to begin testing and migrating to a modern operating system – like Windows 7 or Windows 8" before April 2014.
The public preview of Windows 8.1 will be released on 26th June to coincide with the Build developer conference in San Francisco.
Upgrading Windows from 1.0 to Windows 8 Pro
An interesting Windows installation video has been published on YouTube showing a user installing Windows 1.01 and upgrading all the way to Windows 8 Pro. If you are feeling nostalgic and have a spare 1hr and 7mins you might want to have a look, below.